Disposable Vapes For Stoptober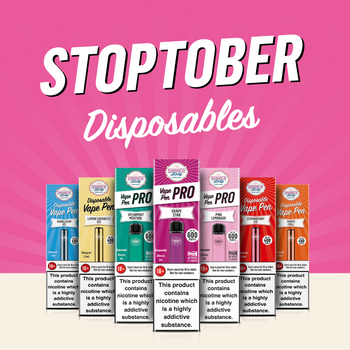 Stoptober is here and there's no reason why you finally can't stop the smoking you've been wanting. Giving up smoking is great for your health and quality of life. It is also important to have a strong support structure around you, this can include family, friends and loved ones to push you to the finish line.  
If you don't know about Stoptober, It's a Public Health England campaign for 28 days during the month of October every year. It gives the resources, support and motivation to put an end to your smoking habit permanently.
The premise is simple, if you can stop smoking for 28 days, you're five times more likely to stop permanently. Scott Crosby, Tobacco Control Program Manager at Public Health England, said that "Quitting smoking will not only immediately improve your physical health but also your bank balance. Research shows that if you can make it to 28 days smoke-free then you are 5-times more likely to quit for good."
What Do I Need To Do Before Stoptober Starts?
There are a few things to keep in mind when you attempt to stop smoking for good. The first of which is letting people know you've decided to stop. If you've more smokers in your group, you can ask them not to smoke in front of you.
You'll also understand your smoking habit and triggers. For some people, it's more of a stress thing and some have a habit of smoking after a meal or in their free time. Knowing what triggers you, you can easily prepare something in advance to ignore that trigger.
The next thing you should work on removing any temptation before Stoptober. Remove your cigarettes from your place and minimize your time around smokers.
If you're wanting to try a disposable e-cigarette, you can visit our page on disposables and try out one for yourself. Vape Dinner Lady has a special collection of disposable vaping devices with world-renowned flavours. We have the 400 puff vape pen and the 600 puff vape pen pro.
Vape Dinner Lady Disposable Vapes For Stoptober
Vape Dinner lady is one of the renowned vaping brands in the UK and internationally. We have a wide range of disposable vapes with the best flavours around the world.
Dinner Lady's Disposable Vape Pen
Available in a selection of 13 best flavours such as Desserts, Sweets, Fruits, Ice, Menthol and Tobacco ranges. Specially reformulated by the Dinner Lady's development team to match the specific output deliverance, coil and battery performance of the device, the Vape Pen provides optimum flavour and performance.
The Vape Pen contains 1.5ml of 20mg of nicotine salts and a 1.6ohm organic cotton coil. The Vape Pen Pro device contains 2ml of 20mg Nicotine salts and a 1.6-ohm coil. Both devices provide a smooth throat hit with an enhanced flavour and discreet cloud production.
Dinner Lady's New Vape Pen Pro
Available in a selection of 14 best flavours such as Fruits, Ice, Menthol and Drinks. The Vape Pen Pros battery compliments the coil to give the user a great throat and maximum flavour.
The device is made of premium stainless-steel disposable + PETG (Polyethylene terephthalate glycol) rubber paint with a silk print. The Dinner Vape Pen Pro delivers up to 600 puffs. Prefilled with 2ml of 20mg nicotine salts.
Flavour ranges available in our disposables – Menthol, drinks, desserts, fruits, sweets, tobacco and ice.
Final Thoughts
Stoptober is here so take this challenge and be a part of the community. You can visit our online shop and explore our Dinner Lady E-Liquids or our disposable Vape Pens. If you would like to read further on about that Stoptober campaign click here. We are with you in this Stoptober Campaign. 
Thanks, from everyone at Dinner Lady.