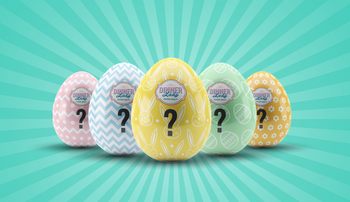 It's All Over! Follow us on Social to be the first to hear on future offers!
To celebrate the launch of our eggs-celent new website we are hosting a bank holiday weekend giveaway! Each day of the bank holiday you can take part to win a product from a selected range for free.
All you have to do is:
1. Head to www.vapedinnerlady.com
2. Find the three eggs, hidden across the different pages.
3. Unscramble the letters to get your codeword.
4. Put your chosen free product in your basket and use your codeword as the discount code!
IT's FREE SHIPPING ALL WEEKEND TOO, SO DON'T MISS OUT!
*Limited number available. Offer only available on 11/04/2020. Must be aged 18+ and a UK resident. Cannot be used in conjunction with other offers.