Uppen and Uppen Plus: Vape Kits with a Difference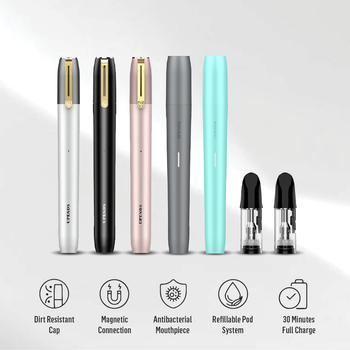 With complicated operating systems, numerous buttons, heavyweight manuals and huge information screens, first-time vapers can feel overwhelmed when making the switch from smoking to a less harmful alternative.
Recognising the complexity of many vaping devices, Upends designed one of the most simple, stylish and user-friendly devices on the vape market. 
A SIMPLE YET STYLISH DESIGN
With a sleek, stylish and incredibly simple design, Upends are all set to revolutionise the vaping market. Designed in the classic shape of a pen, both the Uppen and Uppen Plus are comfortable to hold, easy to use and incredibly reliable.
Draw activated
Not unlike a cigarette, the Uppen and Uppen Plus are draw-activated. simply inhale and go. Without any complicated buttons or menu systems, Upends made simplicity a priority to help smokers transition away from traditional cigarettes to a less harmful alternative.
Convenient, easy set up with simple maintenance
Forget studying heavy manuals that contain unnecessary information. The Upends manual is two pages long with clear illustrations to accompany the instructions. 
Included with a micro-USB charger, Upends devices are simple and easy to maintain. The pod is also equipped with an auto-focus magnetic feature to ensure mess-free and leak-free refills every single time.
Simple and stylish
Incredibly lightweight at just 39g, the Uppen is compact and convenient to use on the go and store in your bag or a pocket when not in use. Made from adonised aluminium, the two Upends devices are also sturdy and durable. 
With a stylish cap, the Uppen and Uppen Plus are protected from dust, dirt and pocket fluff while ensuring e-liquids remain fresh for an extended period of time.
SAFETY FIRST: ANTI-BACTERIAL PROPERTIES
Launching the very first anti-bacterial vape pen, the Uppen by Upends is an innovative vape kit that promises safety and functionality as well as style. With a mouthpiece manufactured from food-grade, plastic material that is incorporated with nanometric silver, the Uppens and Uppens Plus have been tested against three common bacteria. 99.9% effective against Escherichia coli, Staphyloccus aureus and Candida albicans, Upends' pen-style vape kits provide enhanced hygiene. Meanwhile, the Uppen cap protects the device from both dust and dirt. Protecting the e-liquid from exposure to air when not in use, the cap prevents airborne impurities from penetrating into the e-liquids. It even reduces the flavourings' oxidation process, allowing your e-liquid to retain its original freshness, even after several days of no vaping.
GREAT FLAVOUR: THE FIRST STRIP COIL
The first mesh coil to be installed in a pod device, the Etchip coil is a real gamechanger. Created using a highly accurate etching technique, the Etchip has a high resistance that allows for a more even heat distribution compared to wire rolls. Paired with a flax-based absorbent, the Etchip provides a superior vape each and every time.
From the very first puff, users experience flavourful and fulfilling vaping with fast, thick vapor, and none of the unpleasant burnt taste so common to many devices.