Swap to Stop: the new initiative led by the NHS Stop Smoking Service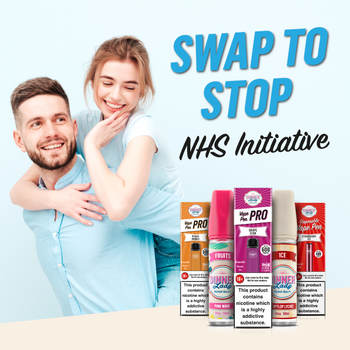 One million smokers will be urged to switch smoking for vaping as part of a new initiative led by the NHS stop smoking service coined swap to stop. The swap-to-stop campaign is designed to support the government's aims to make England smoke-free by 2030.
Behind the initiative
According to Action on Smoking and Health (ASH), smoking accounts for over 70,000 deaths in the UK each year and is the leading cause of preventable deaths. The NHS also reports that smoking increases the risk of developing more than 50 health conditions including cancer, heart disease and respiratory issues.
Thankfully, the Office for National Statistics reports that smoking rates have significantly declined in recent years across the United Kingdom. Despite this, smoking rates in the UK remain stubbornly high with around 6.6 million adults still smoking.
NHS Stop Smoking Services
The NHS stop smoking service is a government-backed scheme to give smokers the help, support and advice they need to stop smoking. The service is provided by trained advisors who offer one-on-one support and provide access to stop-smoking aids and nicotine replacement therapies (NRTs) to help manage cravings. The NHS stop smoking service has a proven track record of helping smokers with research showing that people are up to three times more likely to stop successfully with support from the national service.
Swap to Stop
With vaping reported to be 95% less harmful than smoking by Public Health England, the swap-to-stop campaign encourages smokers to switch smoking for vaping. As part of the initiative, one million smokers will receive a free vape starter kit and behavioural support to help them swap cigarettes for vapes in an effort to help them stop completely.
As part of the campaign, pregnant women will be offered up to £400 in vouchers to help them stop smoking and a consultation will be held to consider placing education leaflets in cigarette packets. These initiatives are in addition to plans to tighten vape sale measures to prevent vaping from growing in popularity amongst both non-smokers and young people.
Is vaping the best way to stop smoking?
A 2019 study by University College London found that between 50,000 and 70,000 smokers stop using e-cigarettes each year.
With e-liquids offering a replacement source of nicotine and e-cigarettes easing the most common habitual elements of smoking, vaping is an extremely helpful tool for adult smokers looking to stop smoking.
Dinner Lady
According to the NHS, approximately two-thirds of people who combine vaping with expert support successfully stop smoking. Dinner Lady supports the swap-to-stop campaign as a marker of significant progress in reducing smoking and smoking-related illnesses.
With details about the free vape starter kits yet to be released, we've compiled a helpful guide to vaping with a range of beginner-friendly vapes to choose from. For further help and advice, don't hesitate to get in touch with our helpful support team for additional information.