Uppor: A Super Value Pod Mod with Super Performance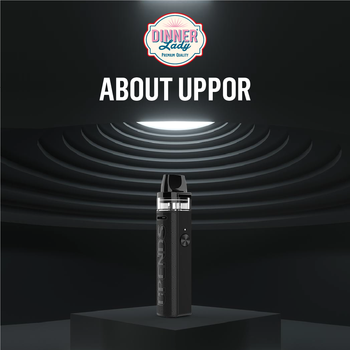 Disposables, pens, pods, pod mods, box mods, RDAs, squonk mods….
The vaping world is growing fast with innovative vape kits suited to all vaping styles. But one device stands out from the crowd: the pod mod.
WHAT IS A POD MOD?
A pod mod kit combines the power of a box mod vape with the ease and convenience of a mod pod vape. There are two types of pod mod: closed system and open system. Find out more about the difference between the two here.
Open-system pod mods house a small pod. Like tanks, most pods are refillable and reusable. Pods have many benefits over tanks. To name a couple, pods are often equipped with push-fit coil systems that help to reduce mess, while being more compact to make on-the-go vaping more convenient.
Due to its versatility and ease of use, a pod mod kit is one of the most popular vape kits on the market. In fact, a pod mod vape is so popular that it is used by new and experienced vapers alike.
UPPOR: SUPER VALUE, SUPER PERFORMANCE
Upends latest device, the Uppor, is exactly that: a combination of convenience, power and value. Intended for intermediate vapers with some prior vaping experience, the Uppor bridges the gap between a pen-style e-cigarette and a box mod kit.
For fans of the Uppen and Uppen Plus, the Uppor is a great next step into the world of vaping. Slightly bigger yet still as convenient as the Uppen, the Uppor is a pod mod starter kit that functions as a great introduction to sub-ohm vaping.
With a built-in 1000mAh battery and an adjustable output wattage (14 or 18W), the Uppor is well-equipped to provide plenty of vapour. Priced at just 19.99, the Uppor is not only powerful but excellent value for money.
THE BEST POD MOD VAPES
The best pod mods combine the power of a box mod kit with the ease and convenience of a mod pod vape. But with so many cheap pod mods and high-end pod mods on the market, it can be difficult to find the very best kit for your needs.
When it comes to vaping equipment, whether it be hardware or consumables, it's key to find high-quality products. But that doesn't mean that premium products must come at a premium price. Like Dinner Lady, there are plenty of vape brands that offer premium products that are of great value for your hard-earned money.
Take recognised brands such as Smok, GeekVape, Uwell and Vaporesso, for example. All of these brands have a good reputation for making sturdy vape hardware at an affordable price point. They also have multiple features and functions to make each product stand out from the crowd.
Like some of the leading vape hardware brands, Upends is committed to developing innovative vape kits with a difference. Like the original Uppen, the Uppor is equipped with an antibacterial mouthpiece that keeps your vape kit hygienic. This superb pod mod also contains a silicone sleeve to protect the mouthpiece from dust and the chassis from surface damage.
Flavour is at the heart of each design element. That's why the silicone sleeve helps to reduce e-liquid oxidation and pollution to keep your favourite flavour fresher for longer. Plus, included with the Uppor are two coils with different ohm resistance levels: 0.5 and 0.8ohm. Each coil has a different wick that is designed specially to enhance the flavour of your chosen e-liquids.
No matter your vape preference, whether it be mouth to lung (MTL) or direct to lung (DTL), the Uppor coils are built with Etchip 3.0 technology to produce plenty of vapour.
Small and lightweight, the Uppor is sure to become a beloved part of your vaping equipment.
WHAT E-LIQUID FORMULATION SHOULD I USE?
The best e-liquid for refillable open pod mods depends on the output wattage and coil resistance used.
When opting for high VG e-liquids like Dinner Lady Shortfills or 30:70 e-liquids, vapers should opt for a higher wattage level and coils of a resistance of under 1.0ohm. This is because high VG e-liquids are typically thicker and more viscous than PG-based e-liquids and need a higher wattage to heat up the e-liquid quicker. The same goes for coils.
When vaping with PG-based e-liquids such as Dinner Lady 50:50s or Nic Salts, vapers should combine a lower wattage with a higher resistance (over 1.0ohm) coil. This is because higher wattages tend to give a stronger throat hit that can be overpowering when vaping with higher nicotine concentrates. Higher resistance coils also tend to heat liquids slower, which means less vapour and a more subtle vaping experience that most closely resembles vaping.
CHOOSING E-LIQUIDS FOR THE UPPOR
The best part about the Uppor is that two different resistances coils are included, allowing each vaper to experiment with different vaping styles.
Vapers that prefer a MTL vape with subtle vapour and a throat hit that is most like smoking should combine the 0.8ohm coil with a 14W output wattage.
Vapers that prefer a DTL vape with plenty of flavour and vapour, on the other hand, should pair the 0.5ohm coil with Shortfills or 30:70 e-liquids and the 18W output wattage.
Our bundle deals are a great way to make even bigger savings on this superb vape kit. Shop them here.