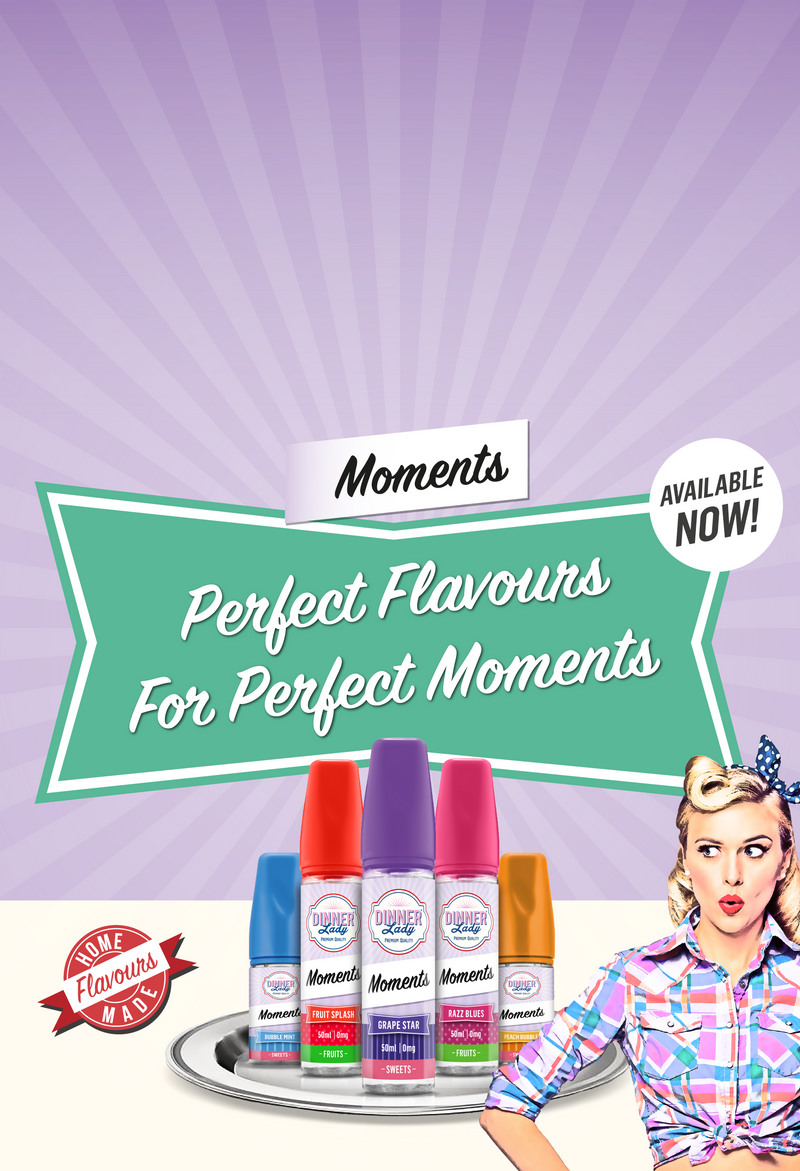 Collection:

DINNER LADY MOMENTS RANGE

DINNER LADY MOMENTS E-LIQUID RANGE
The Moments range is the first range of e-liquids to be launched in over 2 years by Vape Dinner Lady. All 5 of the flavours in the MOMENTS range have been selected based on best-selling flavours found in markets around the world.

Re-imagined by Dinner Lady, each flavour has been developed to create a rich aromatic vapour exclusive to Dinner Lady. Available for the first time from Dinner Lady, each flavour fills a gap in our current e-liquid offer to provide the customer with a comprehensive range to broaden consumer appeal. Each of the 5 flavours in the range occupies best market position being manufactured from premium quality ingredients and formulation.

The moments range are available in our Shortfills and Concentrates formulation with a selection of flavours under our fruits and sweets range.

Shortfill 50ml Bottles

Following the EU's Tobacco Products Directive of 2016, e-liquid containing nicotine can only be sold in 10ml bottles. Dinner Lady Shortfills contain 50ml nicotine-free e-liquid in a 60ml bottle, allowing vapers to add either a Nic Shot (Nicotine Shot) or CBD Shot to create their own, DIY Shake and Vape formulation. Often referred to as Cloud-Chasing Vape Juice, Shortfills combine 70% VG and 30% PG to create impressive, dense clouds with a rich flavour.

Typically used for sub-ohm vaping, Dinner Lady Shortfill e-liquids can be used with either Box Mod or Pod Mod devices, both of which have higher outputs and can be used with high ohm coils to vaporise thicker, high VG liquids a higher temperatures to create thick, fluffy clouds.
Concentrates 30ml

Despite being a worldwide market leader in creating realistic flavours, Dinner Lady recognises that some vapers like to experiment. Concentrates are the ideal e-liquids for vapers who like to create their own DIY flavour combinations. Concentrate e-liquids are 100% PG, serving as the perfect base on which to create a unique flavour palette.

Dependant on the way the Concentrate is mixed the E-Liquid can be either 50:50 or 30:70. If the mix is 50:50 then we recommend to vape the Liquid in a MTL style (Mouth to Lung). If the mix is 30:70 then we recommend to Vape in a DTL style (Direct to Lung)
AWARD-WINNING E-LIQUIDS
A vision encompassed by just two people, Dinner Lady is alive and kicking and now employs more than 200 people to continue the dream of making premium e-liquid flavours at a great price point. Alive and kicking four years later, Dinner Lady has won over 40 awards and has grown an international presence within over 96 countries, fully establishing itself as a global vape market leader. To support this growth, Vape Dinner Lady has heavily invested into quality assurance, manufacturing systems and most importantly, its people. Innovation, creativity, integrity, customer dedication and our own Dinner Lady E-Liquids. We highly value all this at Vape Dinner Lady.