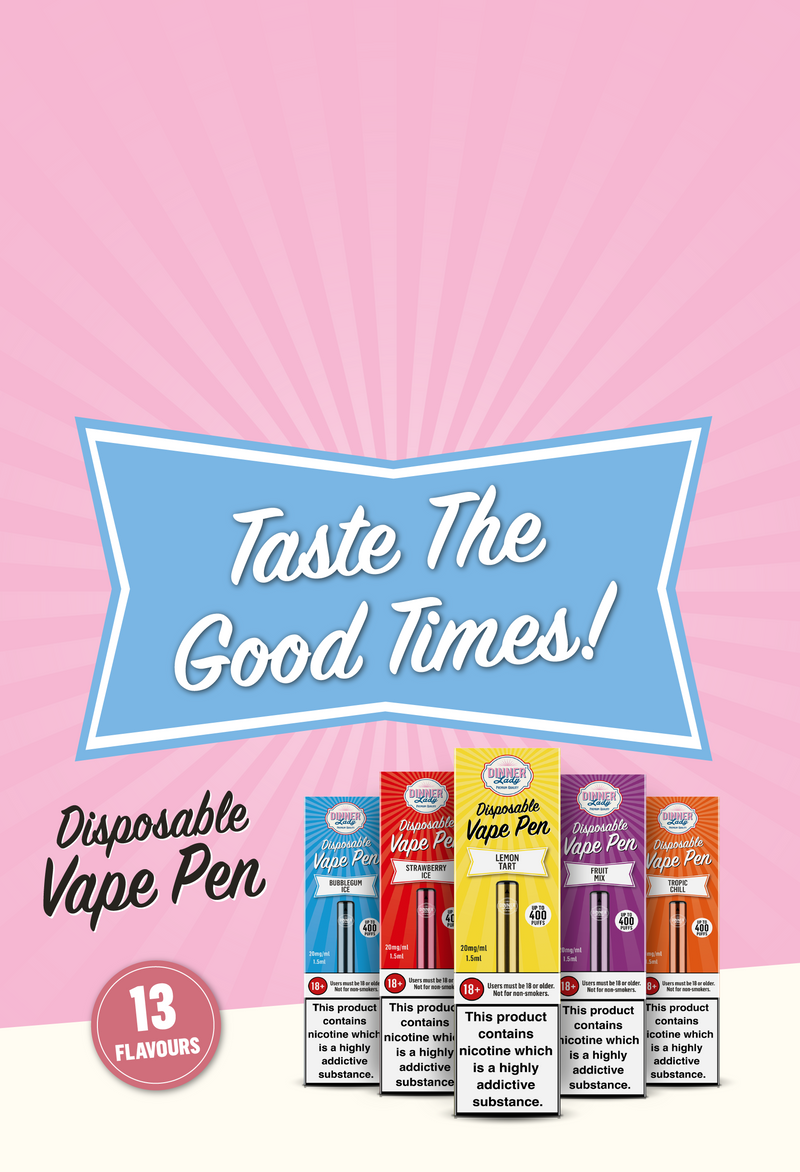 Collection:

Disposable Vape Pen

DINNER LADY DISPOSABLE E CIGS & VAPE PENS
KEY FEATURES

• Charged and ready to vape straight out of the box
• Up to 400 puffs – the equivalent of 20 cigarettes
• Slim and discreet aluminium design with a premium metallic finish
• Comfortable and ergonomic food-grade mouthpiece
• No fuss, no leaks, no refilling
• Sealed for freshness
Introducing the Dinner Lady Vape Pen – the only disposable device to be prefilled with Dinner Lady's award-winning e-liquids.
Available in a selection of 13 flavours including several best-selling and brand-new flavour profiles from the Desserts, Sweets, Fruits, Ice, Menthol and Tobacco ranges. Specially reformulated by Dinner Lady's development team to match the specific output deliverance, coil and battery performance of the device, the Vape Pen provides optimum flavour and performance that is unrivalled by any disposable device on the market.
With a 1.5ml prefilled e-liquid tank containing 20mg of nicotine salt e-liquid, each vape provides the equivalent of 3mg of nicotine per vape. Utilising premium nic salt e-liquid, Dinner Lady's Vape Pen provides a smooth throat hit with enhanced flavour and discreet cloud production for a mouth to lung (MTL) style vaping experience that most closely resembles the sensation of smoking a traditional cigarette.
Equipped with a bespoke 1.6ohm organic cotton coil and an impressive grade A, Li-Ion 350mAh battery, this disposable pen provides up to 400 puffs – the equivalent of smoking 20 cigarettes – for a simple and convenient vape that is designed to help you transition from smoking to vaping with ease.
Made from a stainless-steel body and complete with fibreglass installed within the airflow panel, Dinner Lady's vape pen is fireproof and can withstand over 9kg of pressure. The micro control unit (MCU) also provides the ultimate battery protection while the printed circuit board (PCB) controls voltage for extra safety when vaping.
FLAVOUR PROFILES
Including Dinner Lady's award-winning Lemon Tart and the popular Strawberry Macaroon, the Desserts Vape Pen range is inspired by traditional British desserts. Both Lemon Tart and Strawberry Macaroon provide an excellent flavoured vape that satisfies vapers with a sweet tooth.
The Fruits range includes the original Pink Berry flavour and a brand-new Fruit Mix formulation which blends red berries, grapes, currents and citrus fruits for the ultimate fruit vape.
Responding to the popularity of the Ice flavour range, the Vape Pen is available in six Ice flavours, including Tropic Chill (formerly Citrus Ice), Mango Ice, Strawberry Ice, Banana Ice, Bubblegum Ice and a twist on the classic sweet formulation – Lemon Sherbet Ice. Incorporating koolada for a cool and icy exhale, all Ice flavours provide a refreshing vaping experience.
Including two original flavours – Blue Menthol and Fresh Menthol – the Menthol Vape Pens are great for former menthol cigarette smokers. Combining fruity and sweet flavours with menthol, both Menthol options are fresh, light and cooling replacements for traditional menthol tobacco products.
Part of the Tobacco range, Dinner Lady's Smooth Tobacco Vape Pen provides a twist on classic tobacco for a sweet and woody taste. Smooth Tobacco is ideal for existing smokers who prefer familiar flavours while transitioning from smoking to vaping.
Dinner Lady Disposable Vape Pen Reviews
★★★★★
Don't just take our word for it - our disposable Vape Pen has been highly reviewed by independent, reputable and experienced vape websites. Here is what they had to say about the Dinner Lady disposable;
My Cigara
"Dinner Lady disposables incorporate many of the features that vape lovers have come to expect from a quality disposable vape, the most important of which is convenience".

Read the full review.
A Shady Review
"The flavour from these disposable vape pens are also really good, as soon as you take them out of the wrapper you can smell the flavour".

Read the full review.
WHERE TO BUY THE DINNER LADY DISPOSABLE
Buy Online
You can purchase our disposable e-cig direct from Dinner Lady on our website - you can save with our Mix & Match Three Pack - select 3 flavours for just £10.00 or our single flavour three packs, also £10.00.
Buy In Store
The Dinner Lady Disposable is stocked in leading retailers across the UK - making it easier than ever to try for the first time or ensure that you are never too far from a replacement.
• ASDA - 350 Stores nationwide.
• Euro Garages - 500+ Petrol Stations across the UK.
• Argos - available for Click & Collect nationwide.
• Spar - selected stores nationwide.
• Nisa Local - selected stores nationwide.
• Bargain Booze - selected stores nationwide.
For more information on stocking the Dinner Lady Vape Pen please contact us on sales@vapedinnerlady.com.
How to Use Our Disposable Vape Pen
We designed the Dinner Lady disposable Vape Pen to be as easy to use as possible. Here is our step-by-step guide to getting the most from your disposable.
1. Open the outer cardboard box and remove the contents
2. Tear the foil packaging and remove the disposable device
3. Remove and discard of the silicon plug at each end of the device
4. Activate the vape by drawing on the end of the e-cig – an LED light will glow on the bottom of the e-cig
5. The LED light will flash when depleted – at this point, safely dispose of the device