OPENING A VAPE STORE: ARE YOU THINKING OF OPENING A VAPE SHOP? SOME THINGS TO CONSIDER...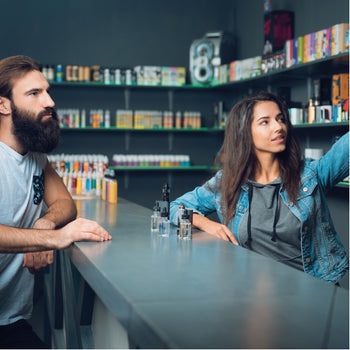 With vaping backed by Public Health England (PHE) as 95% less harmful than cigarettes and the industry projected to be worth more than $13.7bn globally in 2021, it's easy to see the appeal of opening a vape shop - wherever you are in the world.
And with Dinner Lady's premium quality award-winning e-liquids distributing into 96 countries across the globe, we're the perfect in-demand brand to support any new vape store venture and to help increase your sales.
So whether you're opening a vape store in the UK, the EU, the USA or any other corner of the globe, here's a guide to help you get started.
SHOULD I OPEN A PHYSICAL BRICKS AND MORTAR VAPE STORE OR AN ONLINE STORE?
There are various pros and cons to opening either a physical or an online vape store. While having a physical store can be more costly, it allows to you develop more personal connections with your customers. You're able to offer face-to-face sales support to figure out their needs and can offer the chance to sample products before buying, enticing consumers to make their purchase.
On the other hand, starting an online vape shop can be significantly cheaper and gives you greater potential at growing a customer base from a much wider area than a store's immediate locality - customers can be nationwide, or even worldwide. With the growing popularity and added convenience of shopping online, particularly amid the COVID-19 pandemic, having an online store can also be more sustainable than a brick-and-mortar shop.
WHY NOT BOTH?
Why not combine the reach of an online presence with the personal touch of a local store? Having both an online presence and a physical store could do wonders for your vape business. While a local shop can better service local customers and provide a personalised service that can't always be achieved online, the convenience of having an online store can also help to ensure repeat purchases by customers who may not have the time to return to the shop or gain new customers by reaching audiences from further afield.
HOW MUCH DOES IT COST TO OPEN A VAPE SHOP?
The cost of opening a vape shop varies depending on factors including store location, store size and inventory/stock levels and many more. When opening a vape store, business owners should account for regular expenses including rent (either for physical premises or an online domain, e-commerce platform or web developer), day-to-day operating costs, insurance, inventory, payroll, advertising and interior design.
While rents can be higher for stores in prime locations, the premium price can often be justified by the increased customer footfall. On the other hand, city centre locations can be less convenient for repeat customer access, while repeat custom can be gained by a reliable and trustworthy online presence.
It's also important to assess what other vape stores are established in the area. While competition can be a great incentive to develop your vape business, it's important that your store has a unique selling point to set it apart from the competition. This could be a competitive pricing strategy, stocking the latest e-liquid flavours and brands or the most recent devices, or even offering the very best in customer service, with incentives such as a loyalty reward scheme. All this will appeal to existing vaping customers and help the store to truly thrive in the vaping market.
HOW DO I GIVE THE BEST CUSTOMER SERVICE?
No matter whether you have a physical or online store, customer service is key. Your customers (and potential customers) should be at the heart of every decision you make. While competitive pricing can generate some interest and even a short period of success, ongoing success is guaranteed by creating a fantastic customer experience.
As a vape shop owner, you're not just a business owner - you need to be a vape expert, someone who customers will rely on to support their vaping journey thanks to your specialist knowledge. You are the customer's first port of contact for helping them vape safely and choose vape kits, liquids and accessories that suit their needs and experience. By keeping up to date with the latest vaping trends, products and legislation and sharing this with inquisitive customers, you will soon become - and remain - their favourite vape store and the one they buy from time and time again.
What's more, by having a friendly approach, reliable delivery process with excellent packaging, convenient opening hours and dependable access to the products customers want need, customers are more likely to be satisfied and return when their vape supplies are low. What's more, customers are even more likely to return if they are rewarded for their loyalty.
WHAT TO STOCK IN MY VAPE STORE?
Having the right stock for your customers is a vital step to success. From e-liquids to devices and accessories, it's important to have something for every type of vaper.
For new vapers, 50:50 e-liquids and Nicotine Salts are essential, along with a great first vape device that provides a mouth to lung (MTL) vaping experience without a significant price tag. Even better, many new vapers will be interested in disposable devices – we recommend Dinner Lady's disposable Vape Pen, which is pre-charged and prefilled with Dinner Lady's superior quality flavour e-liquids for convenience and ease of use.
More experienced vapers will likely require 30:70s, Shortfills or Concentrates. Having more experience and having tried plenty of flavours already, it's most important to have a generous selection of flavours and to be among the first to stock the latest releases. Stocking more advanced vaping devices such as box mods will only enhance the convenience for experienced customers, providing all their vaping needs in one location.
HOW TO KEEP UP TO DATE WITH THE LATEST VAPING KITS?
Keeping up to date with the latest vaping trends is vital for any vape business and this can easily be achieved through an enthusiasm for all things vape. Having a social media presence for your store is not just great for marketing – it also allows you to stay in touch with your customers and keep an eye on the competition and the top vaping brands.
However, as you may know already, keeping up to date is only half of the battle. Being the first to stock the latest products is the next hurdle, and this can only be overcome by having a great relationship with a reputable and reliable distributor or wholesaler who can provide a continuous supply of everything you need, when you need it.
GREAT - HOW SOON CAN I START?
Time to get started with your very own vape store! Stay tuned for further blogs with information on legislation and regulations, insurance, licensing, interior design and marketing.
Don't hesitate to email sales@vapedinnerlady.com to find out how Dinner Lady can support your business by providing premium e-liquids, marketing and promotional support and much more. Alternatively, complete the form below and a member of our world-class sales team will get in touch as soon as possible.