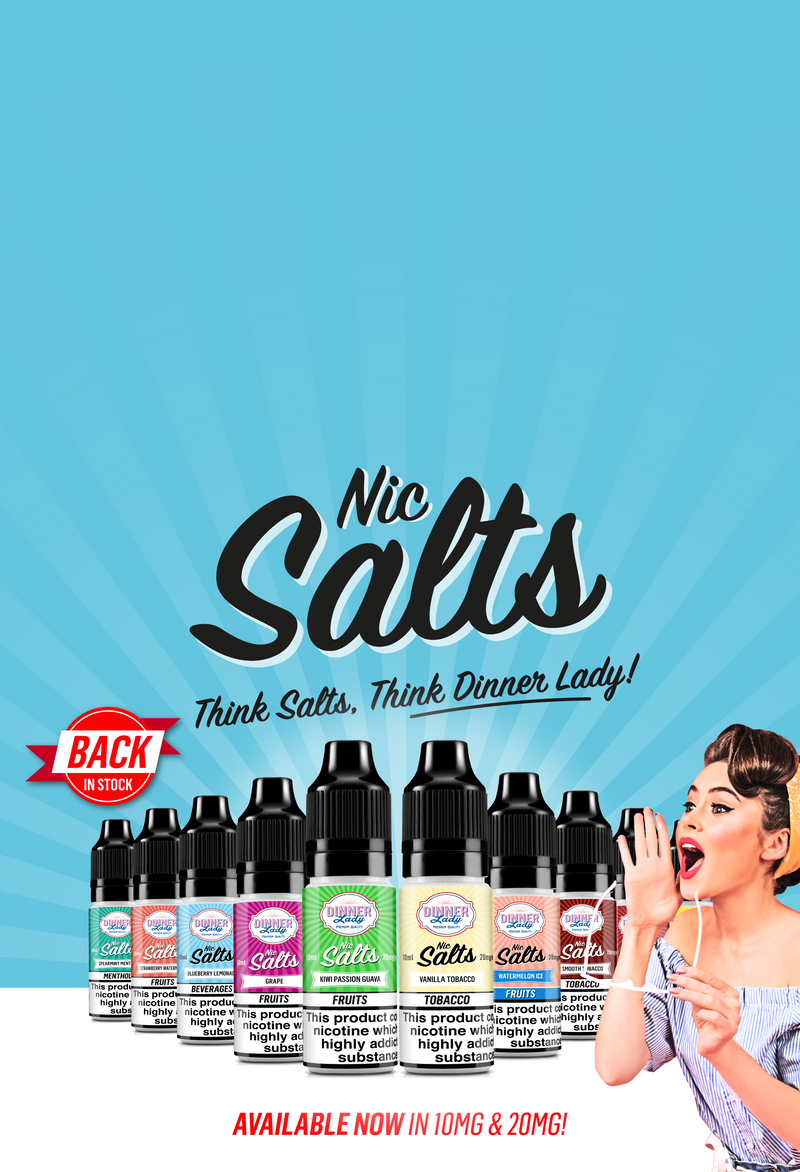 Collection:

Nicotine Salts 10ml E-Liquids

Nicotine Salts E-Liquids
Introducing Dinner Lady's new and enhanced range of Nicotine Salts, featuring 10mg and 20mg nic salts options! Our revamped Nic Salt collection includes both newly crafted and reformulated flavours, delivering the exceptional taste and quality Dinner Lady is known for.

Our mouth-to-lung (MTL) Nicotine Salts are available in two strengths – 20mg and 10mg – making Dinner Lady Nic Salts the perfect choice for those looking to gradually reduce their nicotine intake.
New Nicotine Salts Flavours

Dinner Lady's refreshed 10mg and 20mg Nic Salts range brings 15 new flavours and 3 fine-tuned profiles for an enhanced taste experience. The collection welcomes tropical-inspired flavours such as Kiwi Passion Guava and Tropical Ice, new fruit-inspired profiles like Peach Bubblegum and Grape, and extends the best-selling selection with classic dessert-inspired dishes like Vanilla and Key Lime Tart.

Optimised Flavour Profiles

Fans of our award-winning Lemon Tart will appreciate the newly reformulated Lemon Tart profile, optimized explicitly for the Nic Salt collection. Experience this nostalgic delight – now better than ever!

Explore the improved formulas for our best-selling Bubblegum and Smooth Tobacco flavour profiles, offering maximum taste satisfaction.
Nicotine Salts Frequently Asked Questions (FAQs)
1. What are nicotine salts?

Nicotine salts (or nic salts) are a type of processed nicotine used in vape juice. They are created by adding an acid to pure nicotine, resulting in a smoother nicotine hit.

2. How are nicotine salts different from regular nicotine?

Regular nicotine, also referred to as freebase nicotine, is extracted directly from tobacco. On the contrary, nicotine salts are produced with the addition of benzoic acid, which reduces the pH value of nicotine and changes it into its salt form. This form is smoother and more stable, providing a more satisfying nicotine hit at higher levels, such as 10mg and 20mg nicotine salts.

3. What is nic salt e-liquid?

Nic salt e-liquid, also known as vape juice or e-juice, is a type of vape liquid used in e-cigarettes and vape devices. It contains nicotine salts instead of freebase nicotine, providing a more satisfying and smoother vaping experience, especially for those seeking a similar intensity to traditional smoking.

4. Who should consider using nic salt e-liquid?

Those who are looking for high nicotine strength e-liquid or individuals seeking a smoother, more satisfying vape experience may consider using nic salt e-liquid. Additionally, those attempting to quit smoking traditional cigarettes may find our 10mg and 20mg nic salts options more similar to the experience of smoking.

5. Can nicotine salts be used in all vape devices?

Not all vape devices are suitable for nicotine salts. High-powered devices may deliver too much nicotine when used with nic salts. Nicotine salts, like our 10mg and 20mg options, are typically used with lower-powered mouth-to-lung devices.

6. Are there any risks associated with using nicotine salts?

As with any nicotine product, there are risks involved with the use of nicotine salts. Nicotine is an addictive substance and can lead to nicotine addiction. Overall, it is important to use any nicotine product responsibly and understand its potential risks.

Experience the premium quality, smooth hits, and wide variety of flavours in Dinner Lady's nicotine salts e-liquid collection. Ideal for those transitioning from smoking to vaping, the 10mg and 20mg nic salts options provide the satisfaction and intensity needed to make the switch. Choose Dinner Lady Nicotine Salts for your next step in the vaping journey.