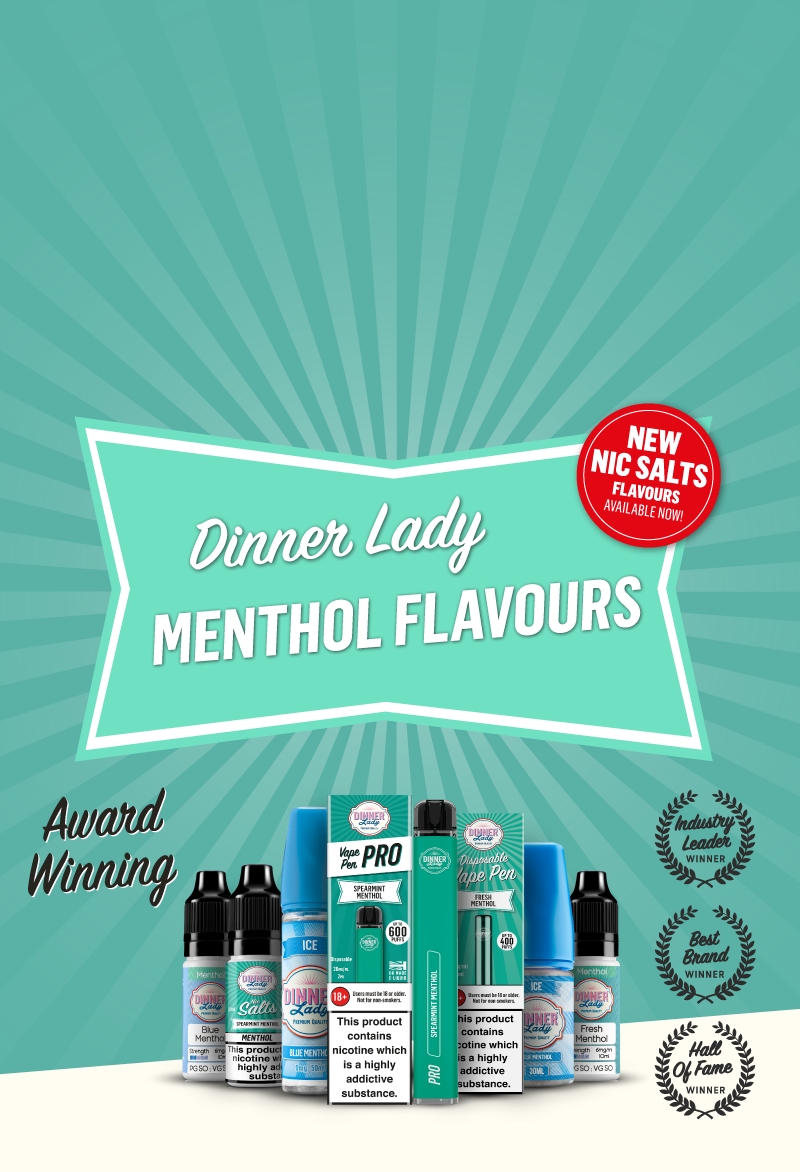 Collection:

Menthol Flavoured E-Liquids

Menthol E Liquid Flavours
With great flavour comes great responsibility and Dinner Lady has invested heavily into making sure that our customers enjoy the best possible vaping experience.
Launching in 2016 with a mission to create a superior customer experience for vapers everywhere,
Dinner Lady immediately grabbed the attention and tastebuds of vapers around the world. Creating premium e-liquids with incredible flavours, Dinner Lady prides itself on helping smokers transition from harmful cigarettes to vaping.
Sweet, fresh and light, Dinner Lady's Menthol flavour range functions as a direct replacement for traditional menthol tobacco products. Dinner Lady's range of menthol e-liquids has grown significantly since the introduction of the menthol tobacco ban of May 2020 to continually provide smokers with a suitable, cheaper, and less harmful alternative to smoking tobacco.
While often associated with mint flavourings, it is the cooling properties of menthol that makes it ideal for vape juice. The fresh and cooling sensation makes it a great flavour to combine with both minty and fruity flavours, creating products such as cherry menthol and blue menthol, both of which combine fruit and mint for the ultimate vape flavour.
Dinner Lady also caters for those old school smokers and vapers who have a long-standing preference for the traditional minty flavours and has created the best mint-menthol flavours in the industry. Flavours include Spearmint, Ice and Fresh Menthol, all of which are highly praised for creating a cooling sensation combined with a fresh mint for an incredibly smooth vape.
Each flavour is available in a wide range of e-liquid sizes and formulations, including 50:50 10ml bottles, 30:70 Shortfill 50ml bottles, 10 and 20mg Nicotine Salts and 30ml Vape Juice Concentrates for DIY vapers. This extensive range ensures that there is a menthol flavour e-liquid for every type of device and flavour preference.
50:50 10ml Bottles
Available in a variety of nicotine strengths from 3mg to 18mg, Dinner Lady 50:50 e-liquid bottles combine even measures of Propylene Glycol (PG) and Vegetable Glycerin (VG) combined with food-grade food flavourings for the perfect balance of flavour and vapour that is ideal for new vapers transitioning from smoking to vaping.
50:50s work best with low watt devices with a higher ohm coil such as simple pen-style devices and refillable pod vape kits for a mouth-to-lung inhalation method that feels most like smoking.

30:70 High VG 10ml Bottles
High VG e-liquids contain of 30% Propylene Glycol, 70% Vegetable Glycerine and food-grade flavourings for impressive cloud production with a rich flavour. All Dinner Lady 70:30 High VG e-liquids are premixed with nicotine in strengths of 3mg or 6mg. These premixed formulations provide a cost-effective method of sampling Dinner Lady flavours.
Typically used for sub-ohm vaping, Dinner Lady High VG 30:70 e-liquids can be used with Box Mod devices which have higher outputs and can be used with high ohm coils to vaporise thicker, high VG liquids a higher temperatures to create thick, fluffy clouds.

30:70 High VG Shortfill Bottles
Following the EU's Tobacco Products Directive of 2016, e-liquid containing nicotine can only be sold in 10ml bottles. Dinner Lady Shortfills contain 50ml nicotine-free e-liquid in a 60ml bottle, allowing vapers to add either a nicotine or CBD "shot" to create their own, DIY Shake and Vape formulation. Often referred to as Cloud-Chasing Juice, Shortfills combine 70% VG and 30% PG to create impressive, dense clouds with a rich flavour.
Typically used for sub-ohm vaping, Dinner Lady Shortfill e-liquids can be used with Box Mods which have higher outputs and can be used with high ohm coils to vaporise thicker, high VG liquids a higher temperatures to create thick, fluffy clouds.
Nicotine Salts
A relatively new innovation with the advantage of being most like smoking, Nicotine Salts are an effective nicotine replacement option with a reputation for providing a smoother vape, a higher flavour intensity and a longer-lasting hit. Nic Salts are compatible with most mods and vapes that have a low wattage setting.
Nicotine Salts are best suited to devices with a lower wattage and a higher ohm coil such as a pen or refillable pod kit for a mouth-to-lung inhalation method that feels most like smoking.
Menthol Disposable Vape Pens
Part of the Menthol flavour range, Spearmint Menthol, Blue Menthol and Fresh Menthol are available in a Disposable Vape Pen formulation, providing 20mg of Nicotine Salts in a convenient format that is pre-charged, pre-filled and ready to vape straight out of the box. Dinner Lady's disposable e-cigarette is ideal for experienced vapers looking for a convenient way to switch from smoking to vaping.
The first and only device to be pre-filled with Dinner Lady's award-winning e-liquid formulation, Dinner Lady's disposable e-cig provides a fuss-free means for new vapers to transition from smoking to vaping. No charging or topping up, simply inhale and go.
To use, simply take the Vape Pen from the box, remove and discard the silicon plug and activate by drawing on the end of the pod. When depleted, dispose of and start anew.
AWARD-WINNING E-LIQUIDS
A vision encompassed by just two people, Dinner Lady is alive and kicking and now employs more than 200 people to continue the dream of making premium e-liquid flavours at a great price point. Alive and kicking four years later, Dinner Lady has won over 40 awards and has grown an international presence within over 96 countries, fully establishing itself as a global vape market leader. To support this growth, Vape Dinner Lady has heavily invested into quality assurance, manufacturing systems and most importantly, its people. Innovation, creativity, integrity and customer dedication are all highly valued at Vape Dinner Lady.