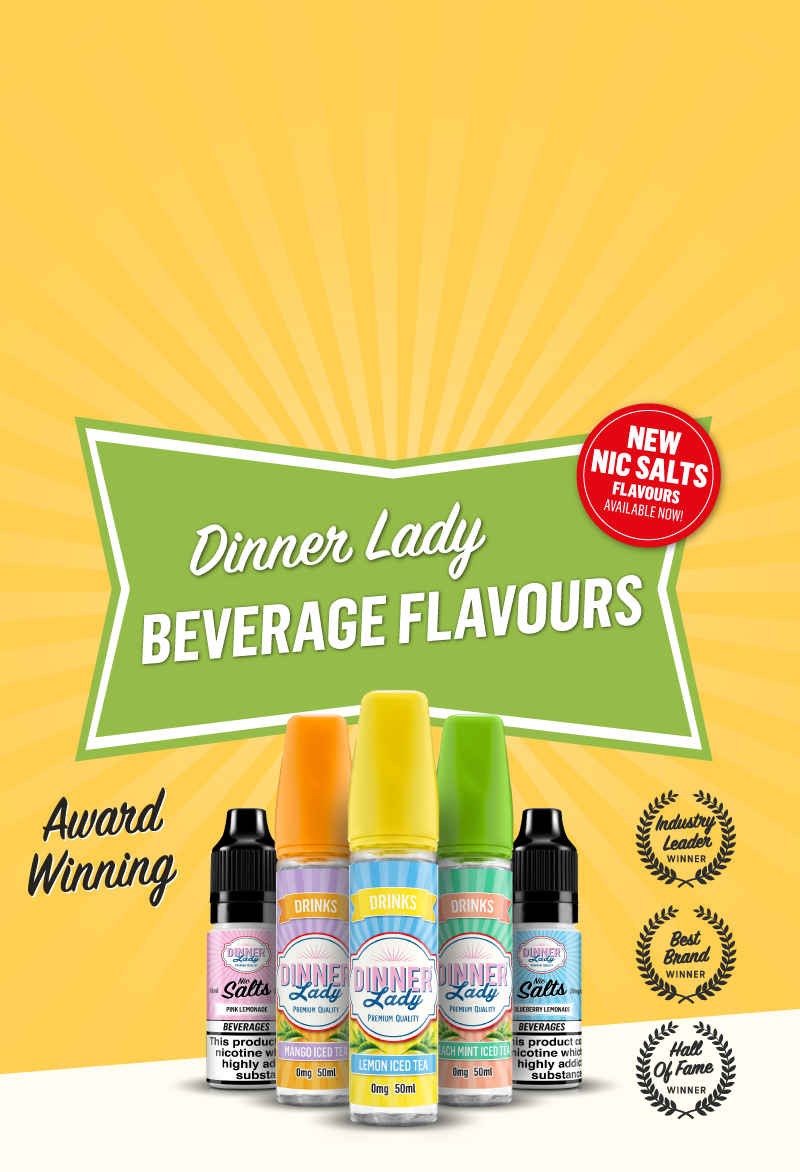 Collection:

Beverages Flavoured E-Liquids

Beverages E-LIquid Flavours
Introducing Dinner Lady's Beverages e-liquid range – new for 2023! Including three thirst-quenching flavours, the range is delightfully
refreshing with a range of cool summer flavours to be enjoyed throughout the
summer and beyond. Without further ado, let us introduce:
Blueberry Lemonade
A sweet but tangy concoction of blueberry and homemade lemonade served on the rocks for a refreshing chill on a warm summer's day.
Pink Lemonade
A fruity blend of red berries, Pink Lemonade serves a delightful blend of strawberries and tangy lemonade on ice.
Red Thunder
A refreshing take on a British favourite energy booster, Red
Thunder is packed to the brim with flavour – without the caffeine!
Beverages Compositions
The Dinner Lady Beverages E-Liquid range is exclusively
available in Nic Salt 10ml formulations.
What are Nic Salts?
Naturally forming in tobacco leaves, salt nicotine most
closely resembles the experience of smoking a cigarette. Salt nicotine is extracted from the tobacco leaf and blended with benzoic acid to create a Nic Salt
e-liquid with optimal absorption and smooth throat hit that's ideal for both heavy and light smokers.
Salt nicotine is naturally flavourless and blends seamlessly
with all flavour profiles to create impressive Beverage-inspired e-liquid flavours.
50:50 E-Liquid
Containing equal amounts of Propylene Glycol (PG) and
Vegetable Glycerin (VG), Nic Salts are inhaled first into the mouth and then into the lungs – just like you'd smoke a cigarette. Because of their similarities to smoking, 50:50 e-liquids are popular with existing mouth-to-lung (MTL) vapers and adult smokers who are new to vaping.
Although Nic Salts are just as versatile as freebase 50:50
vape juices and can be used in various pen-style vape kits and pod devices, they are capable of delivering higher nicotine strengths with a smooth throat hit.
New to Vaping?
A refreshing twist on British beverages, the Dinner Lady
Beverage e-liquid range serves as a great starting point for adult smokers switching to a less harmful alternative.
Check out Dinner Lady's Ultimate Beginners Vaping and Nicotine
Strength guides for more info.