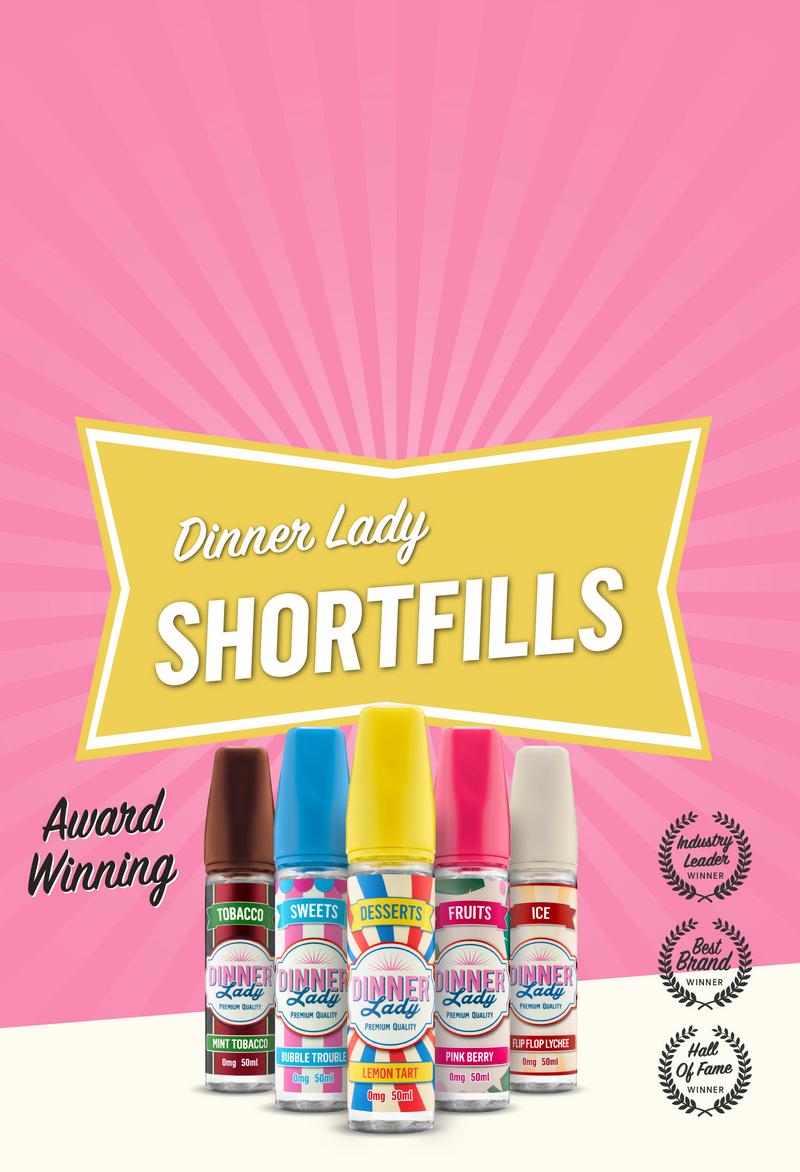 Collection:

Shortfill 50ml E-Liquid

Shortfill e-liquids
What is a Shortfill?
Our 50ml shortfill e-liquid are underfilled bottles of nicotine-free e-liquid that allows room for a 10ml nicotine or CBD "shot", allowing vapers to create their own DIY shake and vape formulation.

Following the EU's Tobacco Products Directive of 2016, e-liquid containing nicotine can no longer be sold in bottles more than 10ml. To continue providing vapers with the best quality and value for money, Dinner Lady launched Shortfills.

Often referred to as cloud-chasing vape juice, Dinner Lady shortfills combine 70% VG and 30% PG to create impressive, dense clouds with a rich flavour.
To use shortfills, simply unscrew the lid, remove the cap and squeeze the desired amount of nicotine or CBD into the shortfill e-liquid. Replace the lid and shake thoroughly to mix the formulation, wait a few minutes for the bubbles to settle and then fill your tank and start vaping.

Which Vape Kits are most suitable for Shortfill E-liquid?
As our shortfill e-liquids are high VG, they are therefore typically used for sub-ohm vape kits with higher power outputs.
We have a range of sub-ohm vaping kits which you can find here.
Adding Nic Shots to a Shortfill?
A nicotine shot (also known as a nic shot), is a flavourless 10ml eliquid which can be vaped on it's own but most often combined with a shortfill e-liquid.

When you mix your 0mg shortfill with the nic shot, this will cause the nicotine to dilute.
For example, if you add an 18mg nic shot to a 50ml shortfill this will create 60ml of 3mg liquid.
Need more help with choosing the right E-liquid for you?
Need more information on selecting the right e-liquid, then look no further! Check out our easy-to-read guide on e-liquids to get you started.

Alternatively, you can reach out to our experts by contacting our customer service team who will be happy to help you choose the perfect e-liquid for you and provide you with information on all of our latest products!