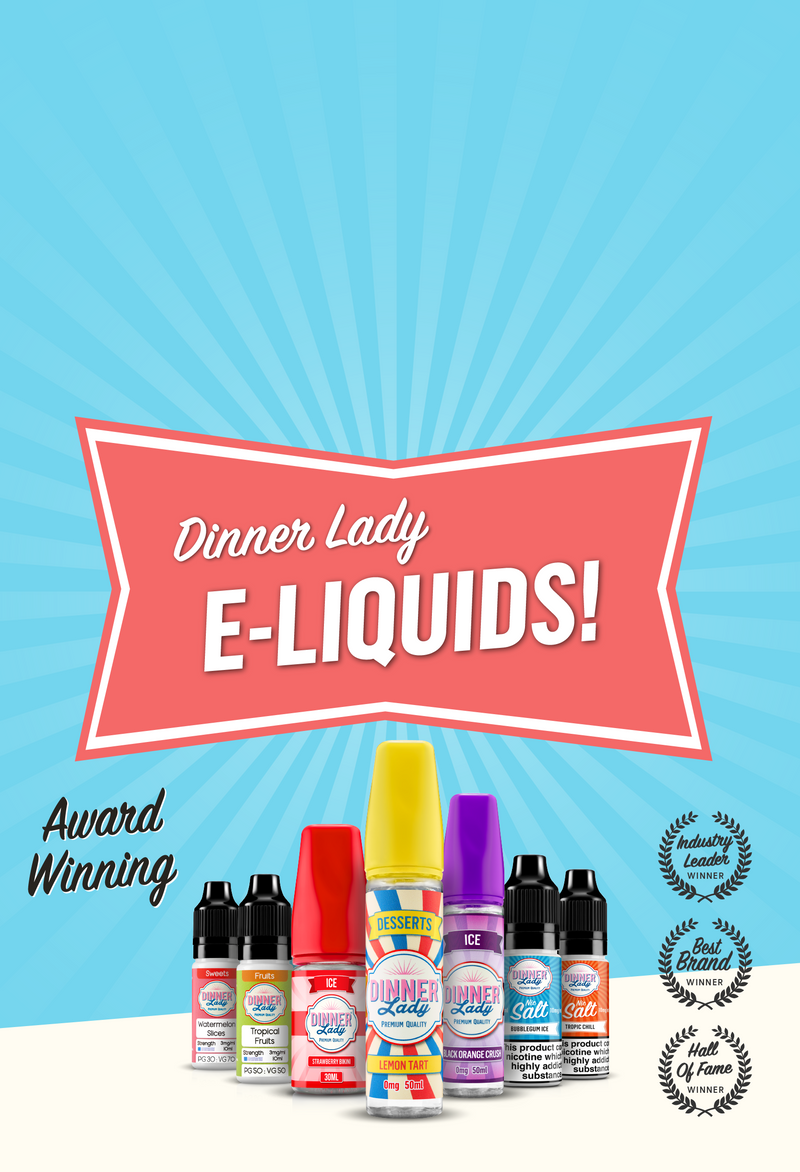 Collection:

E-Liquids & Vape Juice

What you need to know about e-liquids
Since launching in 2016, Dinner Lady has won over 40 international awards for quality and innovation. Their investment into the launch and development of award-winning e-liquids has been reflected in their growth to a market-leading manufacturer and international supplier of premium e-liquids.

E-liquid, one of the core components of an e-cigarette, vape kit or pod, is referred to with dozens of names which include e-juice, vape juice, vape liquid and pocket fuel. No matter what you choose to call it on the outside, we are confident that you'll remember Dinner Lady e-liquid by what's on the inside: its incredible flavour and exceptional quality.

Renowned for premium quality e-liquids with a realistic range of flavours, Dinner Lady has hundreds of premium E-Liquids to choose from, each with a wide range of flavours, nicotine strengths, consistencies and sizes. From 50:50, Nicotine Salts, Shortfills (aka Shake & Vape), 30:70 PG:VG, Nicotine Shots, Concentrates and CBD, Dinner Lady is sure to cater for existing and new vapers alike.

Unlike tobacco, which can contain more than 70 carcinogens as well as nasties such as carbon monoxide and arsenic, e-liquid contains only four components: Propylene Glycol (PG), Vegetable Glycerin (VG), food-grade flavourings and nicotine ranging in strength from 3mg up to the legal limit of 20mg. VG is a thick and syrupy liquid that produces a high level of vapour when heated that creates a smoke-like effect on exhale. PG is of a lower viscosity and is an effective medium for carrying flavour compounds and providing the smoking-like hit at the back of the throat. Dinner Lady's food-grade flavour combinations include the award-winning Lemon Tart flavour and a variety of other flavours across Desserts (featuring the award-winning Lemon Tart), Fruits, Sweets, Tobacco, Menthol and Ice.

Which e-liquid should I buy?
Standard 50:50 10ml bottles
With an even blend of VG and PG, 50:50 e-liquids provide a balance offlavour delivery and vapour production. Dinner Lady 50:50 liquids are versatileand can be used in a range of devices to provide both an MTL (mouth to lung)and a DTL (direct to lung) inhalation hit. 50:50 liquids are available in arange of flavours with 4 different nicotine strengths; 3mg; 6mg; 12mg and 18mg.
Buy Dinner Lady 50:50 e-liquid now
Nicotine Salts 10ml

Nicotine Salts (also commonly known as Nic Salts) are a relatively new innovation with the advantage of being most like smoking due to the strength of the nicotine and the chemical composition of the compound being quickest to enter the bloodstream.

As Nicotine Salts are the most similar form of nicotine that you would find in tobacco, they are an effective nicotine replacement option with a reputation as a smoother vape with a higher flavour intensity and longer-lasting hit. Nic Salts are compatible with most mods and vapes that have a low wattage setting.

Shop Dinner Lady Nic Salts now
High VG 30:70 10ml

As Dinner Lady's High VG 30:70 10ml e-liquid bottles contain a high VG percentage, they are thicker in consistency than those with a higher PG composition and so create impressive clouds when vaped. Often called sub-ohm juices, High VG e-liquids are best in high-power devices such as box mods. These Dinner Lady liquids are available premixed with 3mg and 6mg nicotine strengths for convenience.

Find Dinner Lady High VG 30:70 bottles here
Shortfills 30:70 10ml

Following the EU's Tobacco Products Directive of 2016, e-liquid with nicotine can only be sold in 10ml bottles. Dinner Lady Shortfills contain 50ml nicotine-free e-liquid in a 60ml bottle, allowing vapers to add either a nicotine or CBD "shot" to create their own, DIY Shake and Vape formulation.

Often referred to as Cloud-Chasing Juice, Shortfills combine 70% VG and 30% PG to create impressive, dense clouds with a rich flavour.

Shop Dinner Lady Shortfill bottles here
Nicotine Shots

Dinner Lady Nicotine Shots are designed to be added to Shake and Vape (Shortfill) ranges. Each 10ml Nicotine Shots contains 18mg of freebase nicotine and, when added to a Shortfill bottle, creates a 60ml bottle of 3mg 30:70 (PG:VG) vape juice.

Concentrates 30ml

Despite being a worldwide market leader in creating realistic flavours, Dinner Lady recognises that some vapers like to experiment. Concentrates are the ideal e-liquids for vapers who like to create their own DIY flavour combinations. Concentrate e-liquids are 100% PG, serving as the perfect base on which to create a unique flavour palette.

Shop Dinner Lady Concentrates here