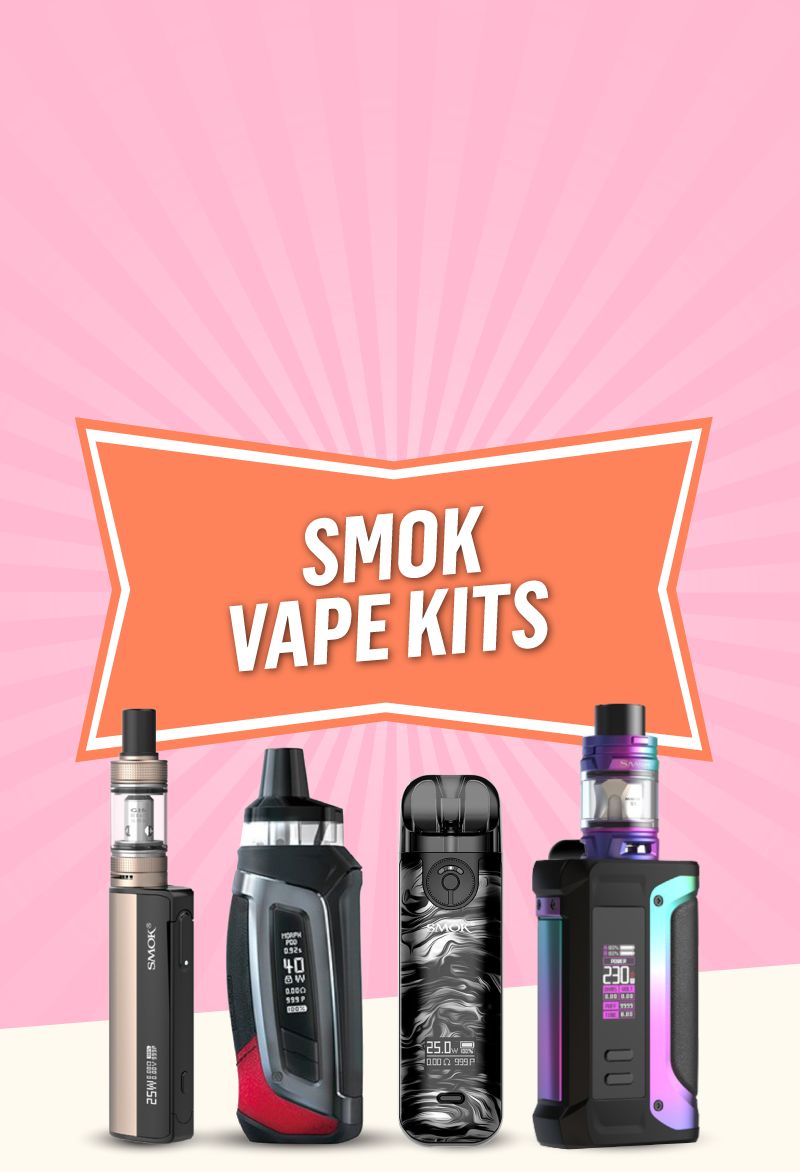 About Smok
Since launching, Smok has made huge waves in the vaping world due to their experimental, innovative and technologically advanced mods and pods.

Launching the industry's first dual-coil cartomizer, Smok allowed vapers to experience a whole new level of flavour and vapour production in a time when dual coils were a complete novelty. Soon after, Smok launched cotton-less technology within their tanks and coils to prevent dry hits. When variable wattage became increasingly popular, Smok created Rocket, Shuttle and Silenus mods, all of which were easy to use.

Following the increasing demand for more powerful devices that catered to sub ohm vaping styles, Smok launched the groundbreaking TFV4 – the first tank capable of producing similar vaper to the atomizer builds and the driving force for their reputation as an industry-leading vape brand.

Smok coils are well regarded as being among the best on the market due to their ability to produce intense flavour and impressive clouds. What's more, the huge range of resistances also provides vapers with the ability tailor their vape to their personal preference without needing to replace their tank.

Continuing to experiment in the world of sub ohm vaping, Smok is now one of the best-known, go-to brands for sub ohm vaping. One of the true pioneers in the vaping market, Smok has dedicated significant research to creating hype-worthy devices that are unrivalled by their competitors.

Producing excellent starter devices such as the Nord Pod and Fetch Mini in addition to advanced devices like the Arcfox and Rigel Mini, Smok has a wide range of products that will appeal to vapers of all preferences and experience levels. No matter the device you choose, Smok focuses on high quality products that empower vapers to choose a healthier lifestyle by enjoying a healthier alternative to tobacco.

What type of device is best for me?

Smok Pens – Pen-style devices like the Smok Vape Pen Nord 19 and Stick V9 provide satisfying amounts of nicotine combined with great flavours and a smooth vape for an ideal introduction into the world of vaping.

Smok Pods – Pods like the Smok Gram 25 and Morph Pod 40 are convenient and easy to use while on the go. Like pen devices, pods provide a similar sensation to smoking a traditional cigarette and are best suited to Nicotine Salts or 50:50 e-liquids. As pods often integrate coils within replaceable pods, Pod devices promise ease of use and easy maintenance.

Smok Pod Mod – Much like a Pod, but with the extra capabilities of a Mod, Pod Mods like the Smok RPM80, RPM80 Pro, Fetch Pro and Alike are the way to go when flavour means everything to you. Unlike Mods, Pod Mods often integrate coils within replaceable pods and so promise ease of use and easy maintenance. Delivering rich flavours in a simple and convenient device, Pod Mods are great for intermediate vapers who require ease and simplicity of use combined with more control over the vaping experience.

Smok Box Mod – A large and powerful vape with numerous power and control capabilities, these devices are best suited to more experienced vapers who prefer a direct to lung (DTL), sub-ohm vaping style. The Smok Arcfox and Rigel Mini produce rich flavour and impressive vapour when paired with High VG e-liquids such as Dinner Lady 30:70 e-liquids and Shortfills (Shake n Vapes).