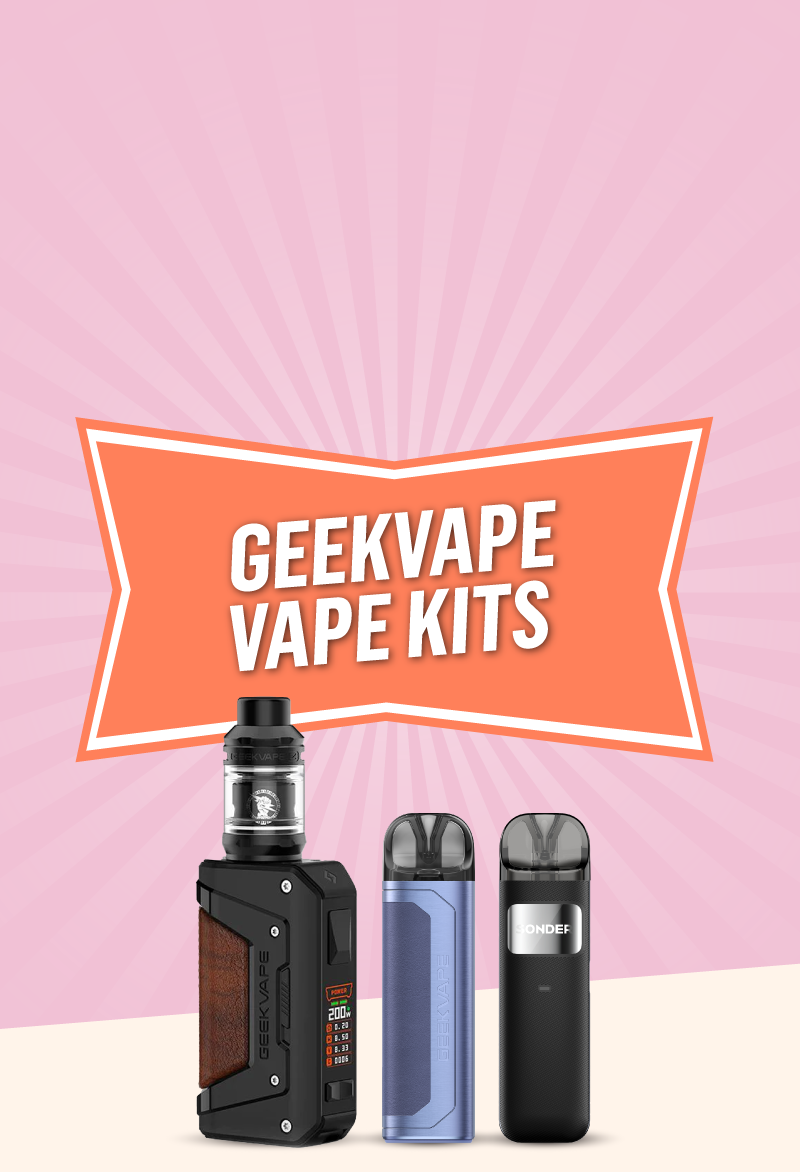 About GeekVape
Established in 2015 with a mission to create a healthier future, GeekVape soon became reputed for their advanced vaping technology.

Launching rebuildable tanks such as the Peerless RDTA and the Zeus RTA, GeekVape soon became known for their focus on producing rugged and reliable devices. Keen to develop their range of durable devices even further, GeekVape launched the world-famous Aegis range whose popularity propelled GeekVape to exponential growth.

The GeekVape Aegis range is legendary both in reputation and in scale. Now including over 12 devices, all Aegis devices are built to a military-grade IP67 rating that is shockproof, dustproof and even waterproof for protection against outdoor usage and accidental damage. Built with durability in mind, the Aegis does not easily succumb to wear and tear and it is precisely this exceptional durability that has allowed the brand to gain a prominent position within the vaping market.

For even more reliability, GeekVape have developed an innovative and powerful AS chipset that is designed to complete all complex tasks including superfast power, maximum user protection and optimized accuracy to make the user experience even better. Creating premium coils to match their reputable devices, the GeekVape G.Coil system boasts a superior flavour production on every puff for both mouth to lung (MTL) and direct to lung (DTL) vapers. Implemented with cotton, the G.Coil system eliminates dry hits for longevity and remarkable performance.

Selling over 30 million units (including over 10 million mods) worldwide, GeekVape are taking the vaping world by storm. Designing devices that not only look stylish but offer an excellent vaping experience that suits the needs of both beginner and advanced vapers, GeekVape has gained a reputation for high quality and reliability in just five years that only continues to grow.

What type of device is best for me?

GeekVape Pods – Pods like the Aegis Pod are convenient and easy to use while on the go. Like pen devices, pods provide a similar sensation to smoking a traditional cigarette and are best suited to Nicotine Salts or 50:50 e-liquids. As pods often integrate coils within replaceable pods, Pod devices promise ease of use and easy maintenance.

GeekVape Pod Mod – Much like a Pod, but with the extra capabilities of a Mod, Pod Mods like the Aegis Boost LE are the way to go when flavour means everything to you. Unlike Mods, Pod Mods often integrate coils within replaceable pods and so promise ease of use and easy maintenance. Delivering rich flavours in a simple and convenient device, Pod Mods are great for intermediate vapers who require ease and simplicity of use combined with more control over the vaping experience.

GeekVape Box Mod – A large and powerful vape with numerous power and control capabilities, these devices are best suited to more experienced vapers who prefer a direct to lung (DTL), sub-ohm vaping style. The Legend 2 produces rich flavour and impressive vapour when paired with High VG e-liquids such as Dinner Lady 30:70 e-liquids and Shortfills (Shake n Vapes).