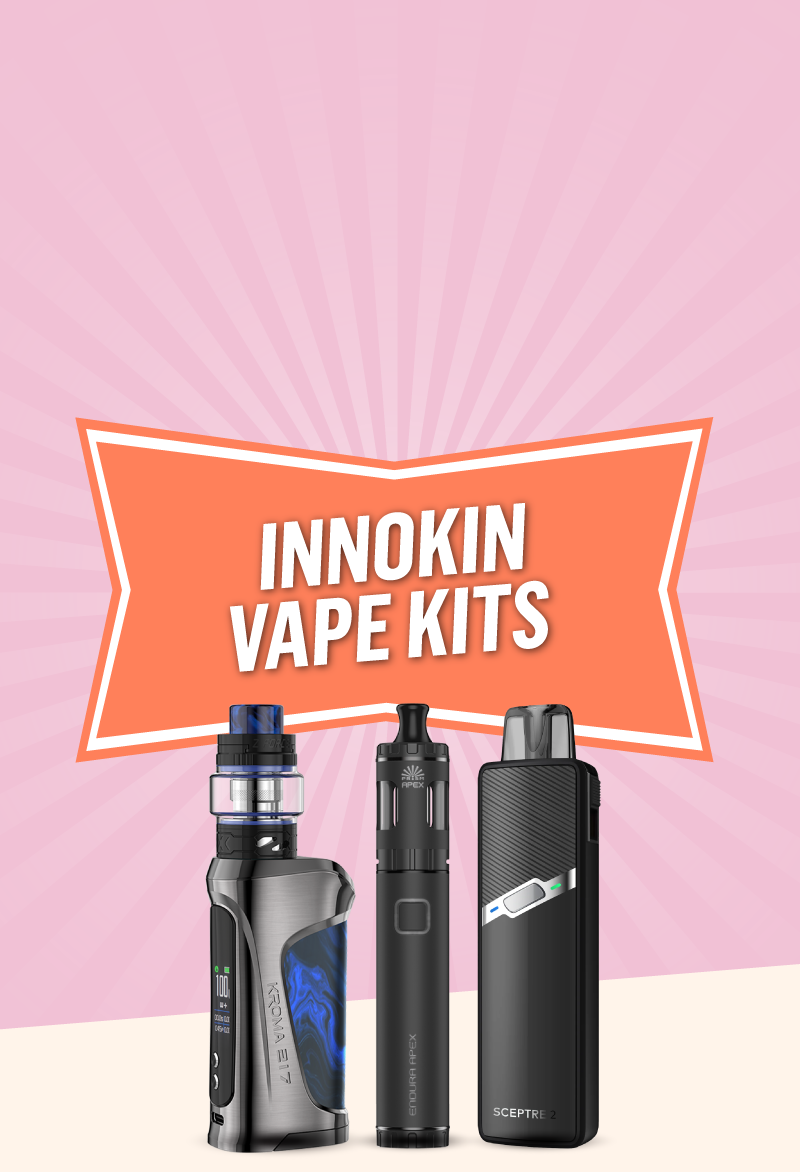 About Innokin
Founded in 2011, Innokin has grown to be a market-leader in creating innovating vaping technologies that are popular with vapers around the world.

Rooted in a concern for the environmental impact, Innokin's ethos is dominated by adopting and creating a safer alternative to smoking cigarettes and a more sustainable alternative to the wasteful nature of disposable e-cigarettes. Now well-known for their Endura and Jem pens, Innokin have perfected the mouth to lung (MTL) vaping experience within a functional yet stylish design that is ideal for entry to mid-level vapers.

Not stopping there, Innokin soon launched vape kits for the more experienced vape enthusiast with the introduction of the MVP mod. Equipped with more advanced navigation and power systems, Innokin's new devices allowed vapers to tailor the vaping experience to their exact preference and thus established a standard which has become commonplace within the vaping industry. The popularity of such devices led to Innokin's development of innovative devices such as the Cool Fire and Kroma, both of which are powerful devices made especially for cloud chasing fans.

Popular for their accessories as well as their devices, Innokin iSub and Zenith series are hailed today for their top-filling format that provides a mess and fuss-free maintenance method with superior leak and flood prevention capabilities.

No matter your vaping style, there is an Innokin device for everyone – Innokin cater for those that are looking to make the switch from smoking to a convenient vaping method as well as the more seasoned vapers looking for a powerful vape.

Succeeding in their goal of combining innovative and stylish design with high quality, Innokin created intuitive and simple to use technology and now boast an impressive 35 invention patents, 122 design patents and 286 patents for utility models and processing.

What type of device is best for me?

Innokin Pens – Pen-style devices such as the Innokin Endura T20-S Kit and Endura T18ii provide satisfying amounts of nicotine combined with great flavours and a smooth vape for an ideal introduction into the world of vaping.

Innokin Pods – Pods like the Innokin IO and EQ are convenient and easy to use while on the go. Like pen devices, pods provide a similar sensation to smoking a traditional cigarette and are best suited to Nicotine Salts or 50:50 e-liquids. As pods often integrate coils within replaceable pods, Pod devices promise ease of use and easy maintenance.

Innokin Box Mods – A large and powerful vape with numerous power and control capabilities, these devices are best suited to more experienced vapers who prefer a direct to lung (DTL), sub-ohm vaping style. Box Mods like the Innokin Kroma iSub B, Kroma-A Zenith, Coolfire Z50 and Kroma Zenith all produce rich flavour and impressive vapour when paired with High VG e-liquids such as Dinner Lady 30:70 e-liquids and Shortfills (Shake n Vapes).