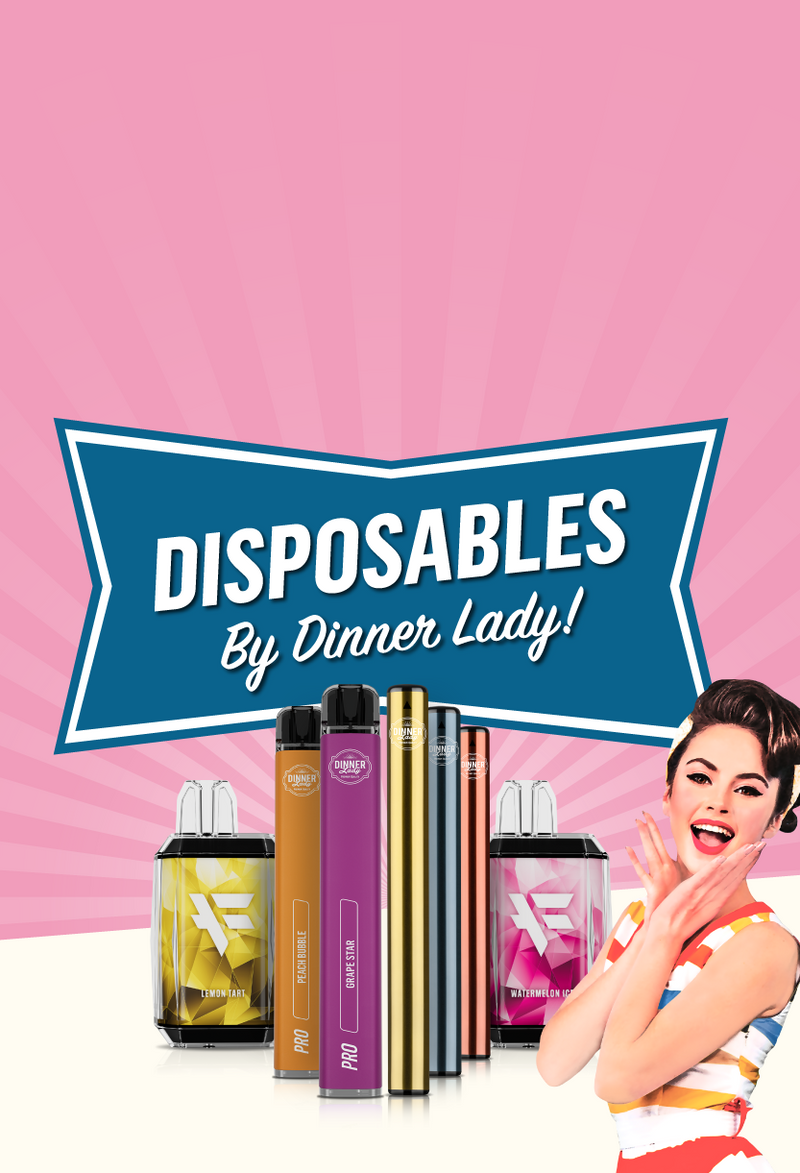 Collection:

Disposable E-Cigarettes
DINNER LADY DISPOSABLE E CIGS & VAPE PENS
Prefilled, pre-charged and ready to vape straight out of the box, Dinner Lady's selection of Vape Pens are the ideal vape starter kit for new and experienced vapers alike.
Designed for former smokers with a slim and discreet design, disposable e-cigarettes are similar in shape and size to a traditional cigarette. Simple to use, disposable Vape Pens are an effective way for adult vapers to try a safer alternative to smoking without the upfront investment of a traditional vape mod and without the commitment of learning how to vape.
But that's not to say disposables aren't great for existing vapers! Many experienced vapers love the convenience and ease of disposable e-cigs. Why? Because disposable Vape Pens are ideal for hassle-free nights out and vaping on the go. Think vaping on-the-go without the need for handbags or large pockets to contain your bulky vape kit.
Charged and ready to vape straight out of the box, disposable e-cigarettes require zero maintenance with no fuss, no fear of leaks and absolutely no refilling or recharging necessary. Once depleted, simply dispose of your Vape Pen and replace.
No matter your choice – whether it's the trusty disposable Vape Pen or the new Vape Pen Pro, Dinner Lady's disposable e-cigs contain 20mg nicotine for a satisfying mouth-to-lung (MTL) throat hit, great flavour and discreet cloud production. If you like the idea of stealth vaping, Dinner Lady's disposable vapes are for you!
Key Features:
• Charged and ready to vape straight out of the box
• Slim and discreet
• Comfortable and ergonomic food-grade mouthpiece
• No fuss, no leaks, no refilling
• Sealed for freshness
Created with the aim of developing the best disposable vaping devices in the UK, Dinner Lady's disposable Vape Pens are the only ones of their kind to be pre-filled with Dinner Lady premium e-liquid. Made with ease and convenience in mind, Dinner Lady's Vape Pens are the easiest disposables to use when transitioning from smoking to vaping.
THE OG DISPOSABLE VAPE PEN
Our first launch was the disposable Vape Pen; the first ever e-cigarette to be pre-filled with Dinner Lady's premium e-liquid. With a 350mAh battery, a premium organic cotton coil wick and 1.5ml of the very best flavoured e-liquid, this disposable e-cig delivers exceptional power with up to 400 puffs per device. Available in 13 flavours across different flavour ranges, the disposable Vape Pen showcases the very best of Dinner Lady.

Dinner lady Disposable Vape Pen Pro
So, whether you're looking to make the switch to a less harmful alternative or are on the lookout for a convenient device to vape when out and about, Dinner Lady disposable e-cigarettes are made with you in mind.
WHY DINNER LADY DISPOSABLES?
FLAVOUR
Flavour is the heart and soul of Dinner Lady – after all, we are renowned for our multi-award-winning Lemon Tart! So, when we created our disposable Vape Pens, flavour was at the forefront of the design process. Including 13 Vape Pen flavours and 14 Vape Pen Pro flavours, there's plenty of great tasting vapes to choose from.
CONVENIENCE
Pre-filled, pre-charged and ready to vape out of the box, both the Vape Pen and the Vape Pen Pro are great for vaping on the go. Plus, with no need to refill and absolutely no need to re-charge, Dinner Lady's disposable e-cigarettes are simple and convenient to use.
STYLE
Finished with a premium aluminium chassis, both the disposable Vape Pen and the Vape Pen Pro are made with adult vapers in mind. Simple yet stylish, Dinner Lady Vape Pens fit discreetly in your pocket or handbag without drawing unwanted attention. Plus, with subtle vapour production, our two disposable e-cigs are ideal for stealth vaping. Find out more about Stealth Vaping here.
DINNER LADY DISPOSABLE VAPE PEN REVIEWS
★★★★★
Don't just take our word for it - our disposables have been highly reviewed by independent, reputable and experienced vape websites. Here is what they had to say about the Dinner Lady disposables;

Disposable Vape Pen Reviews
My Cigara
"Dinner Lady disposables incorporate many of the features that vape lovers have come to expect from a quality disposable vape, the most important of which is convenience".

Read the full review.

A Shady Review
"The flavour from these disposable vape pens are also really good, as soon as you take them out of the wrapper you can smell the flavour".

Read the full review.
Disposable Vape Pen Pro Reviews
Ecig Click
"Dinner Lady return with the Vape Pen Pro and serve up a variety of flavours designed to suit the casual or mainstream vaper. By lowering sweetness levels and curbing the intensity of Menthol, you're less likely to turn your nose up at these disposables".
The Electonic Cigarette
"Dinner Lady has returned to the market once again with a brand new disposable vape: the Vape Pen Pro. This new disposable really ramps up the flavour compared to its previous design".
My Cigara
"Thanks to their Vape Pen Pro series, Dinner Lady have managed to stand out and establish themselves as a serious contender in the ever-expanding and very competitive disposable vape market".