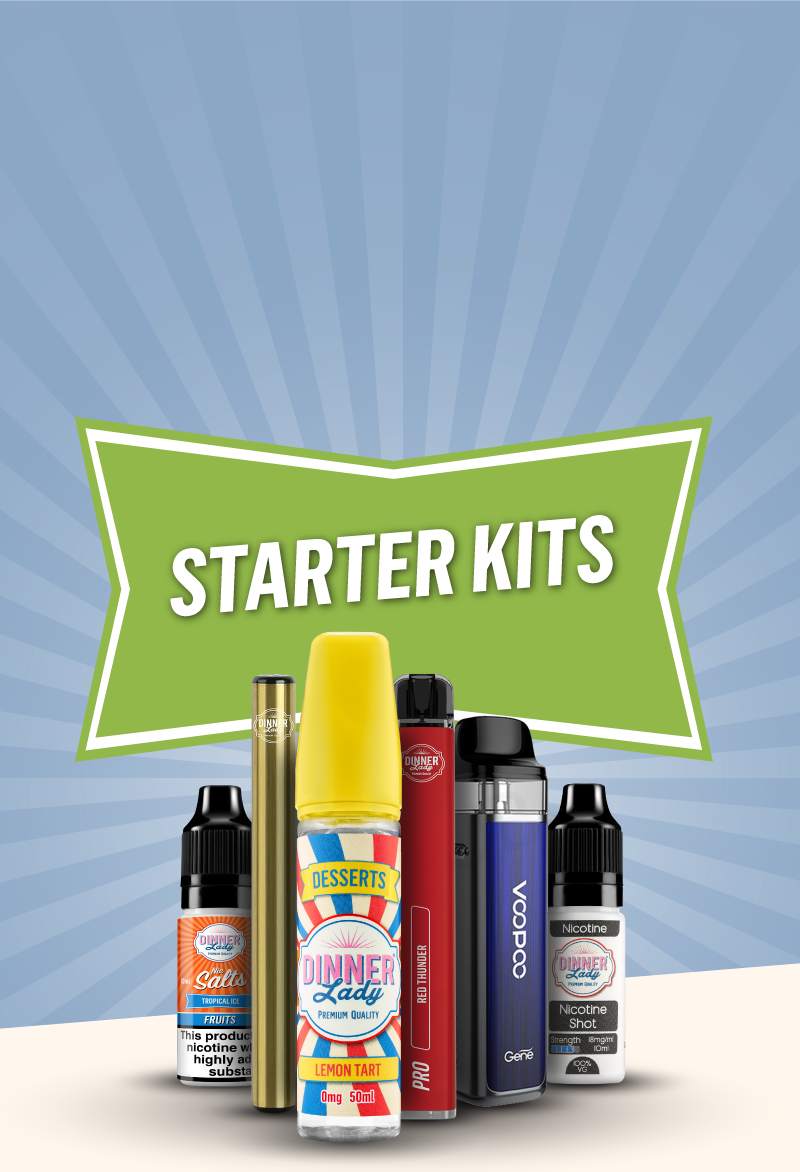 Collection:

Vape Starter Kits & Bundles
VAPE STARTER KITS
Make excellent savings with Vape Dinner Lady's range of e-liquid bundles and vape starter kits.
E-LIQUID BUNDLES
What better way to try Dinner Lady's award-winning e-liquid flavour range than with a multipack of your preferred formulation? With special offers on 50:50s, 30:70s, Nic Salts and Shortfills, vapers are in for a real treat.
VAPE KITS
From pens and pods to pod mods and box mods, Dinner Lady's range of vape kits has something for everyone – no matter your experience level or preferred vaping style.
Best paired with 50:50s or Nic Salts, pens and refillable pods are great for those new to vaping and more experienced vapers that prefer the convenience of a smaller device.
Usually best suited to 30:70s and Shortfills, pod mods and box mods are ideal for more experienced vapers seeking a real cloud chasing thrill. Producing impressive vapour and flavour, pod and box mods cater to a sub ohm, direct-to-lung (DTL) vaping style.
The extensive range includes some of the very best vape kits from popular vaping brands such as Smok, GeekVape, Vaporesso, Innokin, VooPoo, Uwell, FreeMax, Aspire and more.
NEW TO VAPING?
You've come to the right place! The sheer variety of vape kits available on the market can overwhelm any vaper, especially those making the first steps from smoking tobacco products to a less harmful alternative.
From multipack e-liquids to vaping kits, Dinner Lady's bundles are equipped with everything you need to start your vaping journey. Dinner Lady's range of vape kits includes a plenty of pen-style and refillable pod devices that are super simple to use, making your entry into the world of vaping as enjoyable as possible.
Paired with the very best Dinner Lady e-liquids, simply select your device of choice, pick your favourite e-liquid flavour and ideal strength and away you go.
We also offer 3 pack disposable bundles. Disposable vapes are designed with new vaper in mind as they require no previous knowledge of vaping and come ready straight out the box.
TRANSITIONING TO SUB OHM
The natural next step for experienced vapers is to transition to a high-powered, sub ohm vape kit. Compatible with Shortfills, such devices allow vapers to transition to e-liquids containing 0mg e-liquids – the most ideal option for those looking to become completely vape-free.
For more information about sub ohm vaping including the best devices and e-liquids to choose for cloud chasing, read through the Sub Ohm Explained blog here.