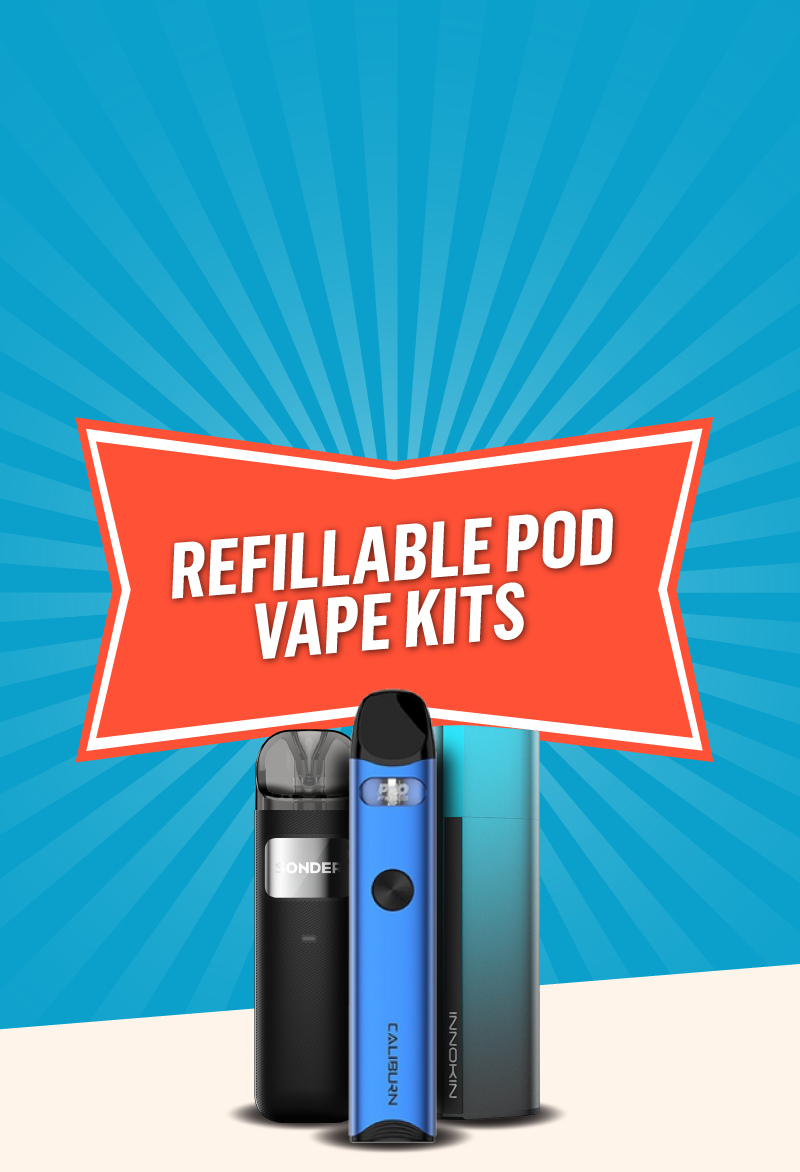 Collection:

Refillable Pod Vape Kits

About Pod Vape Kits
Pods are often small, simple and discreet devices that require no modification except to replace the pod or refill when the e-liquid is depleted.

A refillable pod device is an 'open vape system' that uses pods to contain e-liquids. Unlike the original 'closed system' pod kits, many refillable pod kits can be refilled with e-liquid once depleted. Simply remove the pod, re-fill with liquid and put back into the device.

While refillable pod devices provide vapers with the freedom to refill with an e-liquid flavour and formulation of their choice, pod vaping kits usually require very little maintenance except for refilling the e-liquid reservoir and replacing a pod when the coil needs refreshing.

Often utilising built-in coils, pod devices are much simpler to use and more convenient to maintain than larger box mod devices without compromising on the ability to cater for both mouth to lung (MTL) and direct to lung (DTL) vaping styles due to the variety of coil resistance levels available to pod users.

Including small and pen-shaped devices like the Vaporesso PM40 and Uwell Caliburn G, refillable pod devices are conveniently sized for using when on the go or for putting in your bag as a spare. Devices like these are best-suited to e-liquids with even measures of vegetable glycerine (VG) and propylene glycol (PG) such as Dinner Lady's 50:50 e-liquids and Nicotine Salts for a MTL vaping experience that most closely replicates the sensation of smoking a traditional cigarette.

Ever so slightly bigger than the PM40 and Caliburn G – though still pocket-sized – are the VooPoo Vinci Pod Mod and Smok Nord 2 which pack a punch with a 25 watt power output and a compatibility with low resistance coils to allow for a sub ohm vape with impressive cloud production. Like the PM40 and Caliburn G, these devices can be paired with coils with a higher resistance level and 50:50 e-liquids or Nic Salts for a mouth to lung vape. In addition to this, both the Smok Novo 2 and VooPoo Argus Air can be paired with pods containing lower resistance coils for a sub ohm, DTL vaping experience that produces impressive vapour and rich flavour. Simply pair with your favourite Dinner Lady High VG e-liquid such as 30:70 e-liquids or Shake n Vape Shortfills.

Whether pen-shaped or slightly larger, most pod devices utilise draw-activated vaping technology for a more convenient and less complex vaping experience that is more suited to both beginners and more advanced vapers who require a transportable, discreet and hassle-free vape.
Pocket friendly and convenient to use, the refillable pod is an excellent starter or on-the-go device and should not be ignored in the search for an all-rounder device that can be used for all vaping styles.