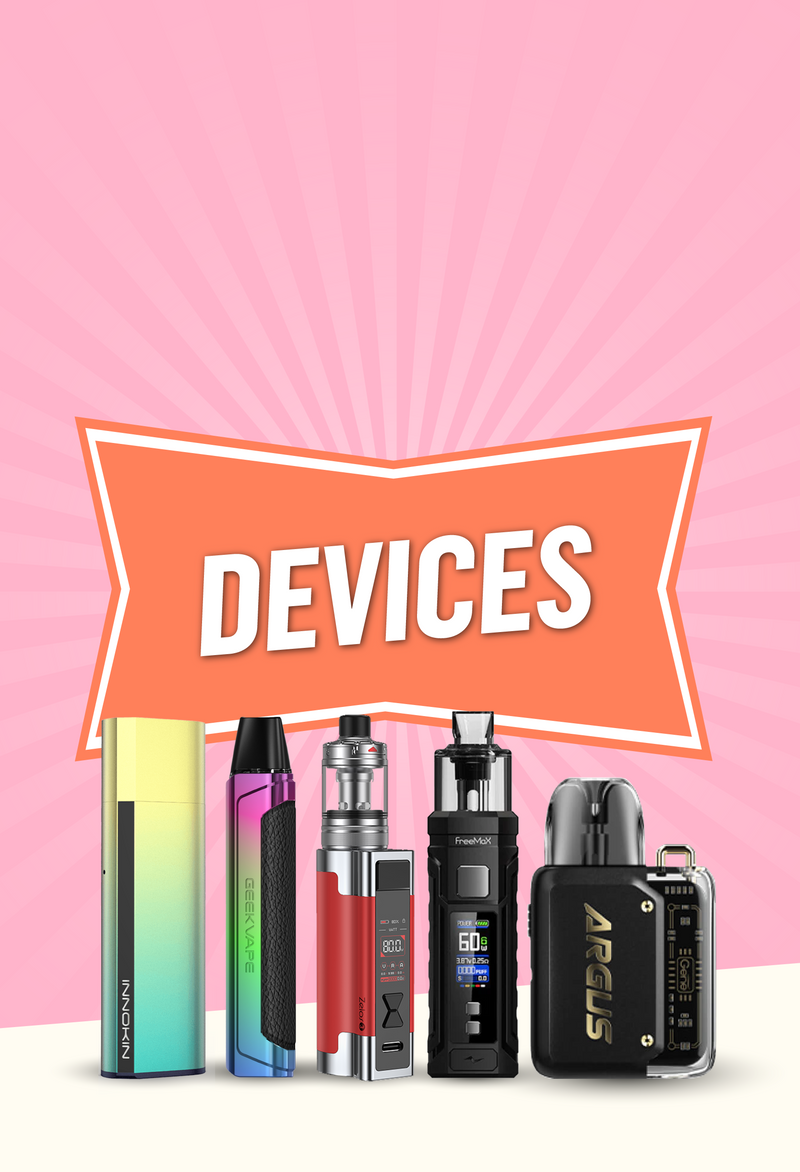 Collection:

Vape Kits & Devices

Vape Kits & Devices
Vaping devices are the power source that controls the way you experience vaping. Generating power and converting it to heat, vaping devices vaporise e-liquid to provide a great combination of flavour and vapour. Vape kits come in all shapes and sizes: from small, single-button device to large, sub ohm devices designed to produce big clouds, you are sure to find the perfect device for you at Dinner Lady.

Explore the full range of vape kits in Dinner Lady's mammoth range of devices from popular brands such as Aspire, FreeMax, GeekVape, Innokin, Lost Vape, Smok, Smoking Vapour, Uwell, Vaporesso and VooPoo.

A beginner's guide to devices

As if kicking the habit isn't challenging enough, entering the vaping world can often be an overwhelming feat due to the sheer number of products available on the market.

Whilst our fully comprehensive e-liquid guide helps you select the best liquid formulations for you and your device, you may still be left with the challenge of finding the right device to match your lifestyle and vaping preference.

So, what types of device are available to me, we hear you ask?

Created with the aim of developing the best disposable e-cigarette on the market, Dinner Lady's Disposable Vape Pen is the first and only device to be pre-filled with Dinner Lady's award-winning e-liquids.

The disposable e-cigarette is a small, pen-style device that easily fits in the pocket for on-the-go vaping. Made from a premium and durable aluminium body, the Dinner Lady Vape Pen has a smooth and rounded shape that is lightweight yet sturdy in the hand. Designed with convenience in mind, the device is disposable and requires no refilling or charging. Simply vape and dispose of when empty.
The convenience and lack of maintenance makes this e-cigarette an ideal device for those who are new to the world of vaping and those who require a small and transportable device to use on-the-go alongside a larger device.

Named for their resemblance to a pen, pen-style devices are designed with practicality and everyday use in mind. Often utilising a top-fill system, pen devices minimises the risk of mess and leakage for fuss-free vaping.

Now equipped with more powerful batteries than ever before, pen-style devices provide a great vaping experience within the convenient and easily transportable shape of a pen.

Pods are often small, simple and discreet devices that require no modification except to replace the pod or refill when the e-liquid is depleted.

A refillable pod device is an open vape system that uses pods to contain e-liquids. Unlike the original closed system pod kits, many refillable pod kits can be refilled with e-liquid once depleted. Simply remove the pod, re-fill the pod with liquid and put back into the device.

Pre-installed with coils of different resistance levels, refillable pod devices allow for the utilisation of different vaping styles such as sub ohm, direct to lung vaping and mouth to lung vaping for greater freedom within a conveniently sized vape device. Refillable pod devices also provide vapers with the freedom to refill with an e-liquid flavour and formulation of their choice.

As pod devices are often less complex than box mod type devices and are excellent starters or on-the-go devices.

Combining the convenience of a refillable pod kit but with the greater level of personalisation provided by a box mod, pod mod devices allow vapers to customise power output to customise the vaping experience.

Unlike many refillable pod devices, many pod mods utilise adjustable airflow settings and are compatible with a range of different resistance coils, allowing vapers to use both nicotine salts and freebase e-liquids. This means that pod mods provide vapers with greater freedoms over vaping preferences including mouth to lung (MTL) vaping which most closely resembles smoking a traditional cigarette and direct to lung (DTL) vaping which provides impressive clouds and rich flavour.

Designed for cloud chasers, the box mod device utilises one or two powerful, high-capacity batteries to create impressive cloud and rich flavour.

So named for their box-shaped design, box mods are large, customisable and equipped with innovative chipsets to provide a greater level of freedom over wattage, voltage and temperature settings for a personalised vaping experience. Box mods are so versatile that vapers are often granted the ability to change numerous aspects of the device including the battery type, atomizer and tank.

Though somewhat bulkier than the smaller pen-style and pod devices, box mods are especially advanced pieces of technology that deliver serious power to the coil to create an intense vaping experience with huge vapour and incredible flavour.

For advanced users, the box mod is a no brainer due to its durability and lifespan.