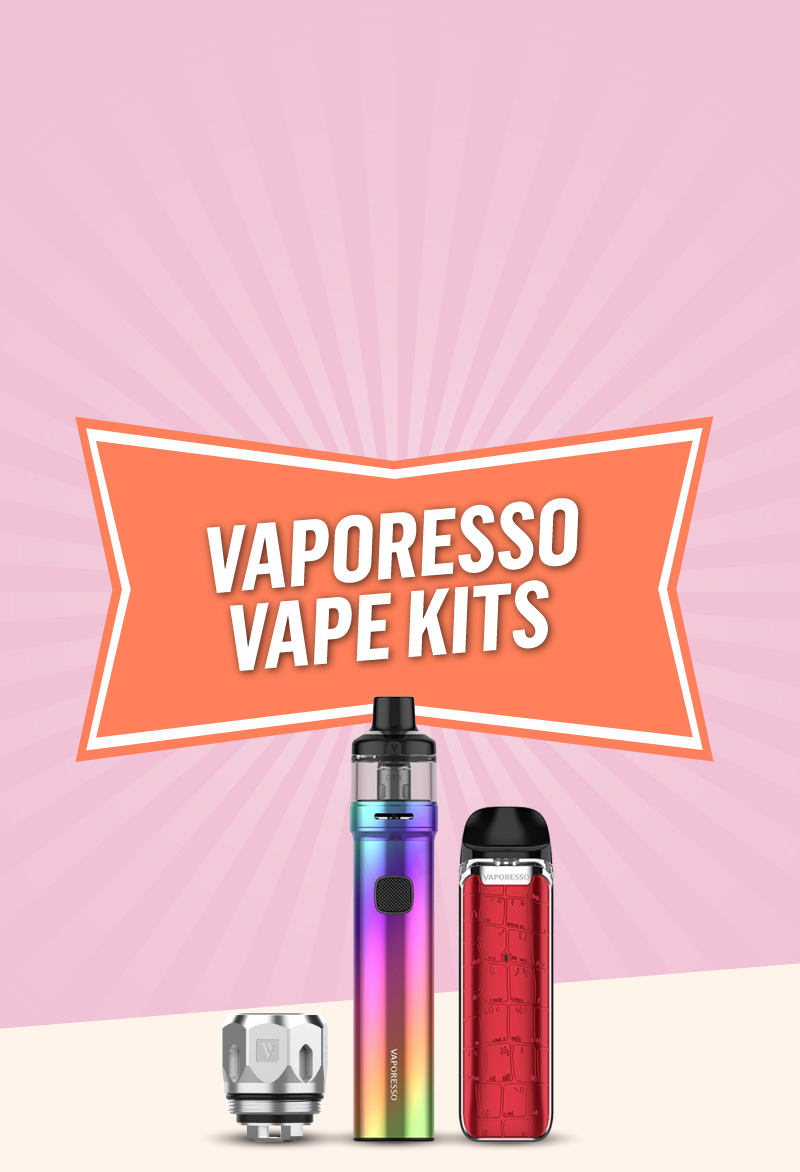 ABOUT VAPORESSO
Dedicated to their goal of creating a smoke-free world, Vaporesso aims to raise the quality of life of their users by creating vaping devices that suit vapers of all experience levels. Designing and producing both mouth to lung (MTL) and direct to lung (DTL) vapers, Vaporesso caters for all vaping styles and abilities.

Passionate about vaping culture and the vaping community, Vaporesso is dedicated to bringing innovative technologies to customers both old and new. Combining technological advancement with expert manufacturing, Vaporesso successfully produce safe, convenient, and accessible hardware to meet the needs of all vapers.

One of the largest and most innovative vaping brands, Vaporesso is committed to creating vape devices and technology that utilise the latest innovations in the vaping industry. Along with creating longer lasting coils, Vaporesso succeeds in making all aspects of the vaping experience more convenient and user-friendly than its competition.

By applying strict quality control measures and safety standards Vaporesso demonstrate their commitment to helping smokers kick the habit by transitioning to a cheaper and less harmful alternative. With more than three hundred patents in key areas of vaping design and technology and their own advanced electronics – the OMNI Board – Vaporesso technology ensures the creation of top-quality products that are fully compliant with all laws and regulations.

Vaporesso's innovations include Insta-Fire which has a near-instant 0.001-second fire rate to provide fuller flavour with thicker cloud density. A patented press-to-fill system also provides a simple e-liquid filling system while their extensive offering of coils, kits, tanks and mods, demonstrates their commitment to providing for each and every vaper, no matter vaping style nor device preference. What's more, Vaporesso stands out from the crowd of its competitors by offering ultimate convenience in the form of a whole collection of vape tanks that are compatible with all Vaporesso mods.

Providing all-in-one kits, Vaporesso aims to help you smoothly transition from cigarettes to e-cigarettes. The Osmall, Xiron and Click are excellent devices to start your journey into vaping, while Vaporesso mods like the Target PM80 SE and Target PM30 provide more advanced features for more experienced vapers.
Designed to not only look stylish but to offer an excellent vaping experience that suits the needs of both beginner and advanced vapers, Vaporesso vaping hardware is built to last using-high quality materials and comes from one of the most reliable premium brands in the industry.

What type of device is best for me?

Vaporesso Pens – Pen-style devices provide satisfying amounts of nicotine combined with great flavours and a smooth vape for an ideal introduction into the world of vaping.

Vaporesso Pods – Pods like the Vaporesso Osmall are convenient and easy to use while on the go. Like pen devices, pods provide a similar sensation to smoking a traditional cigarette and are best suited to Nicotine Salts or 50:50 e-liquids. As pods often integrate coils within replaceable pods, Pod devices promise ease of use and easy maintenance.

Vaporesso Pod Mod – Much like a Pod, but with the extra capabilities of a Mod, Pod Mods like the Vaporesso Target PM80 are the way to go when flavour means everything to you. Unlike Mods, Pod Mods often integrate coils within replaceable pods and so promise ease of use and easy maintenance. Delivering rich flavours in a simple and convenient device, Pod Mods are great for intermediate vapers who require ease and simplicity of use combined with more control over the vaping experience.

Vaporesso Box Mod – A large and powerful vape with numerous power and control capabilities, these devices are best suited to more experienced vapers who prefer a direct to lung (DTL), sub-ohm vaping style which produces rich flavour and impressive vapour when paired with High VG e-liquids such as Dinner Lady 30:70 e-liquids and Shortfills (Shake n Vapes).