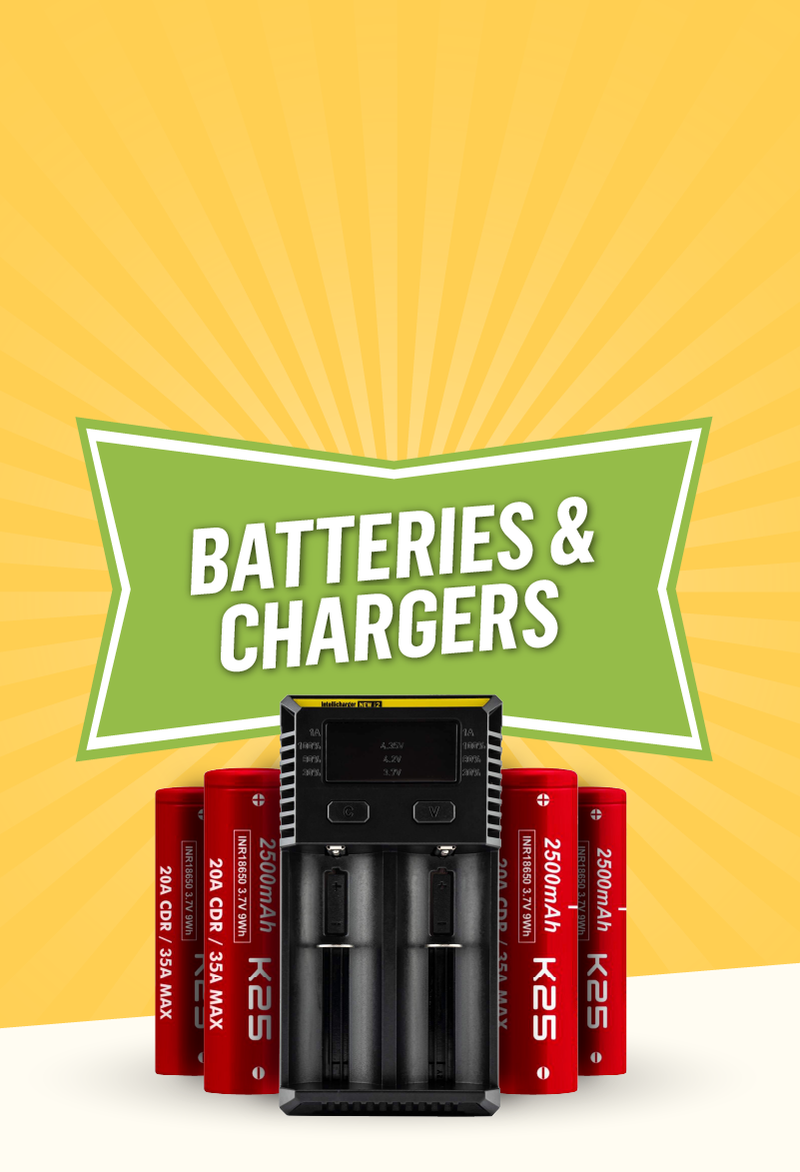 Collection:

Vape Batteries & Charging
About Batteries & Chargers
The only thing worse than running out of your favourite e-liquid is running out of charge in your batteries, especially when you still have e-liquid left in the tank!
Depending on the vape kit, you may need to buy external batteries to power your device. The most common battery required by vape kits is the 18650 vape battery which powers devices such as the VooPoo Vinci X, Smok RPM80 Pro, and Aspire Glint Box Mod. Devices like the Smok Rigel, Smok Alike, GeekVape Aegis X Zeus and VooPoo Argus GT, on the other hand, all require dual 18650 batteries for extra power.
Devices with external batteries almost always require external charging. External battery chargers like the Nitecore i2 Charger are great for charging vape pen batteries to ensure your device has enough capacity to power your daily vape.
Whether external or internal, vape batteries are usually Lithium-Ion and are rechargeable, portable and provide the right power your kit needs to turn your favourite e-liquid flavours into vapour.
FAQ
Are devices with built-in batteries more convenient to use?
As devices with built-in batteries are recharged via USB, many vapers prefer devices with built-in batteries due to the convenience and ease of use. However, built-in batteries are still consumables that eventually need replacing. Due to the built-in element, once the battery is completely depleted, the entire device will need replacing which will likely cost more money than simply replacing external batteries.
As external batteries are small and versatile, spare batteries can be carried around with you during the day so that you never have to worry about plugging your device in to recharge. Batteries can be carried around in cases like the Sony battery case for added safety when on the go.
Are vape batteries safe?
As long as they are used, charged and stored correctly, vape devices are as safe as any other type of battery. Checking battery health is vital, not just to achieve the best quality vape but also for safety.
What is the best 18650 battery charger for vaping?
There are numerous external battery chargers to choose from. The best 18650 battery chargers for vape batteries are those like the Nitecore i2. With a built-in microprocessor that identifies battery types and applies the correct charge setting to ensure the appropriate voltage and current, the i2 keeps your batteries safe and prolongs life expectancy. charges dual batteries With an impressive charging capacity of 1000mAh, the i2 charges two batteries with ease.