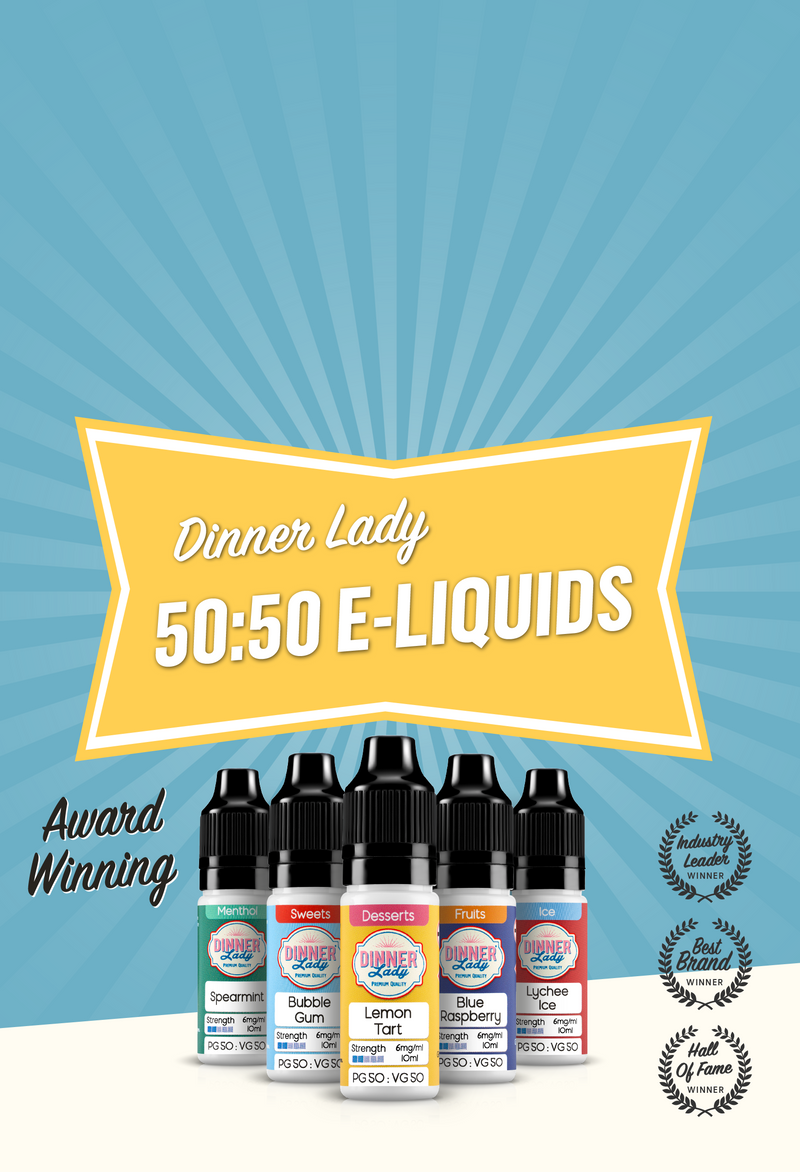 Collection:

50:50 10ml E-Liquids

50:50 E-Liquids
Dinner Lady manufactures over 100 different 50:50 e-liquids to provide vapers with a fantastic range of award-winning flavours. Dinner Lady 10ml e-liquids are available with varying nicotine strengths, providing vapers with a flexible way to enjoy their favourite flavours across a range of devices.  
What is a 50:50 E-Liquid?
E-Liquids consist of four major components: Propylene Glycol (PG), Vegetable Glycerin (VG), food-grade food flavourings and nicotine. Dinner Lady uses only the highest quality ingredients to create a premium Vape Juice with award-winning flavours that you won't find elsewhere.

50:50 e-liquids combine the perfect ratio of PG and VG for a balance of flavour delivery, a smoking-like throat hit and cloud-like vapour production. This combination provides vapers with a versatile Vape Juice that is compatible with a wide range of devices and coils to provide an MTL (mouth to lung) vape.
As 50:50 e-liquids give a gentle inhalation hit with plenty of flavour and are compatible with a wide range of devices of coils, they are the most popular Vape Juices on the market and are the best starter liquid for those making the switch from smoking to vaping.
Available in 10ml bottles as standard, vapers can choose between 4 nicotine strengths (3mg, 6mg, 12mg and 18mg) and a wide selection of flavours from the Dinner Lady Desserts, Fruits, Sweets, Tobacco, Menthol and Ice ranges.

Using and storing e-liquid: tips and tricks
Shake well before each use to distribute ingredients thoroughly.

Securely close the cap after use.

Store in a cool, dark environment away from direct sunlight.

There is no official expiration for e-liquid. If stored correctly, Vape Juices can last for around 2 years.