THE RISE OF DISPOSABLE VAPE PENS: OUR GUIDE TO BUYING DINNER LADY DISPOSABLE E-CIGS WHOLESALE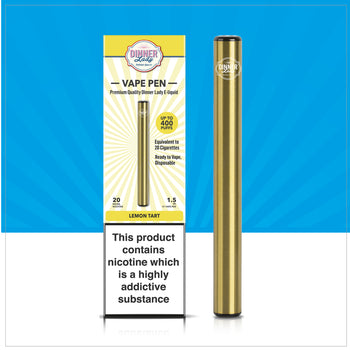 With many smokers looking for an alternative, disposable e-cigarettes are becoming an increasingly popular vaping device.
The Dinner Lady Vape Pen has many benefits and advantages over traditional vaping devices and is loved by customers and consumers alike. We believe the Dinner Lady disposable e-cig is the best wholesale disposable of its kind.
WHAT MAKES THE VAPE PEN SO SPECIAL?
Convenience and Ease of Use – no charging or refilling, just vape and go
With a built-in, grade-A battery and a pre-filled 1.5ml e-liquid reservoir, Dinner Lady's Vape Pen disposable e-cigarettes are ready to vape straight from the box. No charging batteries, changing coils or refilling e-liquids, simply inhale and go. Designed to run out of charge as the e-liquid reservoir empties, vapers need not worry about being caught out and about without their favourite vape juice.
Accessible and Discreet – ideal for new and experienced vapers alike
Lightweight and pocket-friendly, the Dinner Lady Vape Pen disposable e-cig provides minimal vapour with maximum flavour for a discreet vaping experience. Pre-filled with nicotine salt e-liquid to give a great mouth to lung (MTL) vaping experience that most closely replicates the sensation of smoking without the inconvenience and hassle of carrying a large mod device.
Competitive Pricing and No Commitment – no huge upfront cost or vaping knowledge required
Equivalent to a pack of 20 cigarettes, the Vape Pen disposable e-cigarette typically has a similar lifespan and provides up to 400 puffs. The low price point ensures that Dinner Lady's disposable pens are priced just right to appeal to new vapers who are apprehensive about investing into a more expensive vaping device.
The ease of use and convenience of the Dinner Lady Vape Pen disposable e-cig also provides a fuss-free entry into the vaping world. As disposable e-cigarettes require little to no knowledge about e-liquids, coils, batteries or even compatible devices, vapers can start vaping without spending precious time learning.
Habit – replicate hand to mouth motion and nicotine hit
Similar in size and shape to a cigarette, Dinner Lady's Vape Pen disposable e-cigarette replicates the hand-to-mouth action that many smokers find hard to break. Disposable e-cigarettes are also pre-filled with 20mg salt nicotine to satiate the nicotine craving that ex-smokers experience.
WHY SHOULD I STOCK DINNER LADY'S VAPE PEN
Whilst the combined convenience and accessibility of disposable cigarettes secures their popularity with beginner and experienced vapers alike, Dinner Lady's disposable e-cigarette is also a firm favourite among vape shops and retailers.
Available in a full range of up to 13 flavours, including Vape Pen exclusives Banana Ice, Citrus Ice, Fruit Mix, Mango Ice and Strawberry Ice, as well as Dinner Lady's iconic international award-winning Lemon Tart, classic best-sellers Bubblegum Ice, Lemon Sherbet Ice and Strawberry Macaroon. The small yet mighty Vape Pen is packed with features, including a better flavour, better coil and better battery, which combine to deliver 400 puffs of flavour to the end – making it the best disposable available. Each flavour has been specifically optimised for the device to create the best possible vaping experience, your last puff is as good as the first.
Ready to go straight from the box – no training required
A simple product with exceptional qualities surely speaks for itself. Dinner Lady's Vape Pen disposable e-cigarette requires no upselling or cross-selling and yet almost guarantees repeat purchases from smokers looking for a simple and convenient route into vaping.
Easy to display – counter-top units, no shelf space required
The Dinner Lady Vape Pen disposable range can be supplied in a counter-top unit to maximise its potential – carrying 45 units across nine flavours. This CTU bundle offers great value for money, simply place on top of your counter and let it do the talking.
Exceptional flavours – plenty to choose from
Despite its simplicity, with 13 flavours to choose from including Desserts, Fruits, Ice, Menthol and Tobacco classics, the Dinner Lady Vape Pen disposable e-cigarette will not be overlooked. Including the award-winning Lemon Tart flavour, Dinner Lady's Vape Pen disposable e-cigarette is the ideal device for all vapers no matter their flavour preference.
Not just an e-cig wholesale supplier in the UK but a customer-approved vape brand with excellent, user-friendly products, Dinner Lady is the go-to for wholesale disposable e-cigarettes, e-liquids and all other vaping products.
When you buy Dinner Lady's disposable e-cig wholesale, we provide exceptional customer service, product samples, marketing and promotional support, exclusive pricing, new product launch information and access to an excellent B2B ordering portal.
As more and more smokers switch to vaping, stocking a simple and convenient replacement is key. Popular among consumers and retailers, the Dinner Lady Vape Pen e-cigarette is a must-have for vape stores everywhere.
To find out how we can work together to fuel your business to great success, shoot an email sales@vapedinnerlady.com. Alternatively, complete the form below and a member of the Dinner Lady sales team will get back to you as soon as possible.