DINNER LADY'S TOP 10 COUNTRIES: France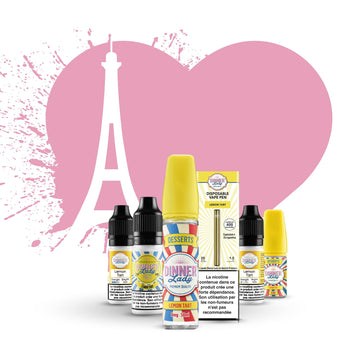 Here at Dinner Lady we're justifiably proud of our roots here in the UK. But, did you know our premium e-liquids are sold in 96 countries around the world and we're always expanding?
Through our network of e-liquid wholesale distributors and e-liquid retailers, our products can be found in every corner of the world – from Australia to Canada, Russia to Brazil.
After recently revealing our top 10 territories around the world, we're taking a more in-depth look at the countries where Dinner Lady's premium e-liquids are stocked.
This month, we take a look at the vape market in France, a country where vape is increasingly finding its place and its popularity as a less harmful alternative to cigarettes is growing – used daily by around 2.5% of those aged 15 to 75, of which 41.2% are ex-smokers. The latest figures suggest 4% of adults – 2.1m people – use vapes [eCig Intelligence, 2021].
VAPE AS AN ALTERNATIVE
A study by Public Health France / Sante Publique France in 2016 found that e-cigarettes have become the country's "leading smoking cessation method" – used by 27% of smokers during a quit attempt, ahead of nicotine replacement therapies at 18%. And the study Association Between Electronic Cigarette Use and Smoking Reduction in France found that smokers who vaped were at least 1.5 times more likely to quit completely.
A reduction of 1m smokers in France between 2016 and 2017 was initially attributed to public health initiatives to reduce smoking, such as price hikes and plan packaging, but a follow-up study also found two thirds of people felt the increasing popularity of vape was a more important factor.
In more recent research, published online at Statista in January 2021, the top two reasons to turn to e-cigarettes is to save money, according to 56% of respondents, or to find an alternative to smoking tobacco (53%). Almost half see them as a 'way to care for their health', according to the study.
By working closely with our strategic brand partners in France, we understand the market and can support any new French retailer wanting to join the Dinner Lady Family and stocking our premium e-liquids.
REGULATIONS ACROSS EUROPE
Dinner Lady's Head of Western Europe Luke Clayton said: "We know that specialist vape shops are very popular in France and that experienced vapers certainly prefer to buy their products there instead of at tobacco shops, because they get the expert customer service which the vape industry is known for around the world.
"Like the UK, French vapes are sold under the EU's TPD (2016) regulations, which limits the sale of nicotine-containing e-liquids to 10ml bottles, but there is also a great interest in 50ml Shortfills and a very large and developed market for DIY vapes, around 33% of vapers [eCig Intelligence 2021] – using products such as Dinner Lady Concentrates.
"Tabacs are still a key part of the French vape industry, offering a convenient place for cigarette smokers to first experiment with vape as an alternative. Closed pod devices are gaining popularity in this retail environment, and they're also where disposables such as the Dinner Lady Vape Pen, which is launching in France next month, are finding a home as they offer the introduction to vape for adult smokers.
"We understand that there is a degree of caution about e-liquids not produced in France. But, we assure any French vape retailer, that as a premium brand, as a UK brand, we manufacture our products to the same TPD regulations adopted in the UK legislation. We maintain our position at the top end of the vape market, with Dinner Lady's high quality e-liquids using food- and pharmaceutical-grade ingredients for a luxury vape experience."
GLOBAL CAPABILITIES
Little did we know when we launched our original award-winning Lemon Tart e-liquid that the business would grow so far and our e-liquids would become Loved The World Over.
Dinner Lady has an in-house compliance team, dedicated to ensuring our premium vape juices meet or surpass all local regulations for wholesale vape juice wherever you are in the world.
The e-liquids are manufactured at our multimillion-pound headquarters , following the stringent TRPR rules and regulations established by the UK Government, under the EU's framework for TPD compliant products. And now our best-selling wholesale e-liquids have been submitted for PMTA with the FDA in America.
Take a look at our top 10 countries here, and if your country isn't on the list, then email sales@vapedinnerlady.com to become a Dinner Lady VIP e-liquid stockist and increase your sales. Alternatively, complete the form below and a member of our sales team will reach out to you as soon as possible.