IN THE SPOTLIGHT: Right Vape, Northampton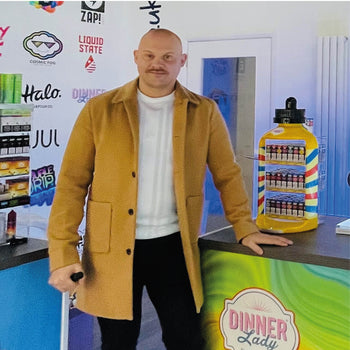 In the latest of our In The Spotlight features, we chat to Ryan from Right Vape about his fruity favourites and the 'brilliant, consistent quality' from Dinner Lady – in our products and our customer service.
Ryan launched Right Vape in Northampton in 2017, and has been stocking Dinner Lady products in-store and online for the past three years. Initially he bought from distributors, but now buys vape wholesale direct from Dinner Lady, enjoying the close relationship of knowing the trends we're leading the way with.
His current favourite is the new-for-2021 Dinner Lady Vape Pen, proving that the disposable e-cig has great appeal to experienced vapers, as well as those looking for a simple introduction to vape.
"My Dinner Lady favourites? The entire range!" Ryan said. "We love all the Shortfills, 50/50, Salts and Vape Pen disposables. My personal favourite e-liquids are Lemon Tart, Kiwi Melon and Tropical Fruits in 50/50 – I've always got Lemon Tart on the go in something I'm vaping.
"I was surprised at how much I use the new disposable, the Dinner Lady Vape Pen. I find nic salts can be a bit intense to have in my vape all day but using them in a disposable, for when I would like a cigarette, really works for me. Then I use my 50/50 all day when I'm just vaping casually. I've used the disposables a lot when I'm out walking and they will be amazing when the pubs are back in their full flow."
A DINNER LADY SINCE 2017
Here at Dinner Lady, we're proud to be a premium UK vape brand, and we work so carefully to create lasting retail partnerships. And that's something Ryan has recognised.
"I like having a dedicated account manager who knows the range and can keep me up to date with the direction the brand is going in," Ryan said. "This is a relatively new industry which is ever evolving and I like to know what is new and popular as trends change.
"You know what you are getting with Dinner Lady products, they are brilliant quality and quality that is consistent. At Right Vape we only stock quality brands and I'm proud to serve Dinner Lady to my customers.
"I just love the buzz of a big brand. Dinner Lady have always been so creative with their products and marketing and that makes our job in store so much more rewarding.
"From a wholesale vape point of view, Dinner Lady is such a professional company to deal with. Ordering is simple, delivery prompt, I'm not over-sold to but I'm totally supported if I need anything."
"SOMETHING FOR EVERYONE"
"I would recommend any retailer should definitely give Dinner Lady a go!" Ryan added. "I recommend Dinner Lady to any of my customers from a product point of view because there is something for everyone with regards to flavour and liquid type.
"And that's why the brand works for retailers – your customers will love the products and you won't get stuck with slow moving lines. They will also help you if you need any marketing or help with merchandising.
"My Account Manager is Maisie Black, she is so helpful and keeps me updated with new products and general news. The weeks fly by running the business, so I find her calling every few weeks really helpful with keeping up to date and organised with my orders and upcoming new releases. She isn't pushy and I really respect that."
To speak to our sales team and get the 'big brand buzz' of working with Dinner Lady like Ryan at Right Vape, get in touch by emailing sales@vapedinnerlady.com or fill in the form below.
Read more from In The Spotlight here