MEET THE TEAM – GET TO KNOW THE PEOPLE BEHIND THE BRAND: Hayley Allan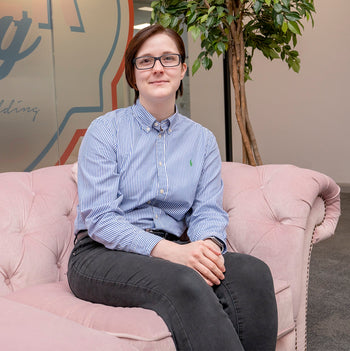 A new feature for vapedinnerlady.com, we're giving you the chance to Meet The Team and to get to know the people who put Dinner Lady right up there as a global brand, manufacturing premium vape liquids in the UK. 
MEMBER NAME & JOB TITLE: Hayley Allan, studio manager
HOW LONG HAVE YOU WORKED FOR DINNER LADY – AND ANY PREVIOUS POSITIONS IN THE COMPANY?
I joined the company two years ago, as a Graphic Designer. After six months, I was offered the chance to progress with a promotion to become Studio Manager. There had been a lot of growth in the design and marketing capabilities in a very short space of time which created the need for a management role to support the designers.
HOW / WHY DID YOU COME TO JOIN VDL?
I was approached by a former colleague who had gone on to join Dinner Lady, when she heard they were looking for a new graphic designer, with experience which matched my own. I was immediately impressed with the company set up, and the brand presence within the premium vape category. The opportunity to join an international company and to help further its growth and progression was too good a chance to miss. 
WHAT ARE YOUR FAVOURITE VDL PRODUCTS AND WHY?
I have a few different flavours which I bounce between, but they all come from the Ice range – that's my go-to profile, but Cola Shades is probably my current favourite. There's not a single Dinner Lady Ice e-liquid that I wouldn't vape. I had tried vaping before, but hadn't found a flavour which worked for me. The first Dinner Lady flavour I tried was Mango Ice, and I was immediately sold on the difference in quality. Now with the new Dinner Lady Vape Pens, the Ice flavours are different to the e-liquid Ice range but combined with excellent performance in the hardware, for such a compact device the flavour – especially the koolada – comes across really well.
WHAT'S BEEN YOUR BIGGEST CHALLENGE SINCE JOINING VDL?
Around the time I joined the company, there was a lot of expansion in Dinner Lady – so it was an exciting time to get involved. Due to that growth, particularly in the design team, I was very proud to take on the Studio Manager role. 
My first task was to get a strong structure in place, to pull the team together so that we could manage the increased volume of work and ensure the high quality of brand imagery that Dinner Lady is well known for. In doing this, we're able to support the sales teams as they work with Dinner Lady's retail and distribution partners to ensure the products we sell into 96-plus countries around the world are marketed and promoted in a compliant manner.
WHAT'S BEEN YOUR BIGGEST SUCCESS SINCE JOINING VDL?
I really enjoy the end-to-end process – being able to see a product through from a very early concept and first design drafts through to that product being in store, and noticing consumers responding to the design work. I've worked on the Dinner Lady Vape Pen from quite early on – now to pull up in front of a store and see my design work on bollard covers, posters, big screens, is a great feeling.
WHAT MAKES WORKING FOR DINNER LADY SPECIAL?
It's such a professional set up, yet friendly too – and that really comes through in people being able to have a voice. That's something I recognised and loved right from the start, that I could speak up with ideas and have an input on how projects are run and how the business develops. Also, the leadership team have shown me a lot of support and given a lot of time to encourage me and to help me develop the studio team.
There's also a huge diversity in the range of work we do. It's a bit of a cliché, but honestly no two days are the same – how can they be when you're working on products and marketing assets for 96-plus countries around the world? And that makes it a very exciting place to be.
WOULD YOU RECOMMEND WORKING FOR DINNER LADY TO OTHERS – AND WHY?
Absolutely, yes – if you're someone who is pro-active, forward thinking and ready to get stuck in. There's so many different areas within the company, which means there's a lot of opportunity for personal growth in both professional skills and in personal skills, adapting and changing to the demands of the company and the different channels.
If you're a vape retailer looking to source the premium vape juice from the award-winning e-liquid brand Dinner Lady, or looking to sell Dinner Lady's global disposable e-cigarettes wholesale, fill in the form below to find out more.