NEW VAPE PEN TO PACK A BIGGER PUNCH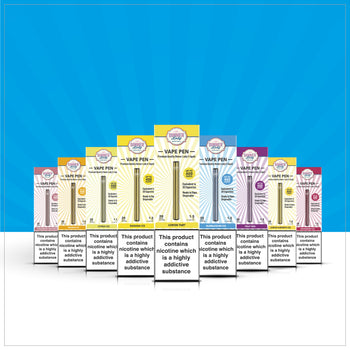 With 57% of UK vape stores now stocking Disposables – perhaps it's time to upgrade with the Dinner Lady Vape Pen.
It's been 12 months in development – and now Dinner Lady is excited for the UK launch of our new disposable Vape Pen.
The small-yet-mighty Vape Pen features nine premium Dinner Lady flavours with 400 puffs, and with new and improved hardware it's set to take the market by storm.
"It's the best disposable on the market," says Chief Marketing Officer John Taylor. "Our team here at Dinner Lady has carried out hundreds of hours of product development and market research with retail customers and consumers to make sure we got it right – and we know it's going to be a big hit with vapers."
Vapers will love five NEW-TO-THE-UK Vape Pen EXCLUSIVE Dinner Lady flavours: Banana Ice, Citrus Ice, Fruit Mix, Mango Ice and Strawberry Ice, plus best sellers Bubblegum Ice, Lemon Sherbets Ice and Strawberry Macaroon – and not forgetting the all-time favourite, the one which started it all, the five-time international award-winning Dinner Lady classic Lemon Tart.
Packed with features, the Vape Pen has a better flavour, better coil and better battery than any other disposable on the market – all combining to deliver 400 puffs, with no flavour fade: Your last puff is as good as your first.
Each Vape Pen flavour has been specifically optimised to create the best taste experience, combined with 20mg salt nicotine in the 1.5ml tank. The e-liquids have each been tailored to react at a particular temperature to give better flavour delivery, better nicotine delivery and the correct balance of vapour.
In a recent Dinner Lady survey, we found that 57% of specialist vape stores in the UK are now stocking disposables.
Now Dinner Lady is setting a new standard: The Dinner Lady Vape Pen is the disposable which will be a big hit with the other 43%.
Dinner Lady Chief Marketing Officer John Taylor said: "Disposable e-cigarettes are already worth an estimated £200m per annum in the UK, and are predicted to be the fastest growing area of the e-cigarette market. And retailers are telling us customers want disposables – they buy their regular e-liquid, and grab a disposable or two as spares.
"We carried out a lot of research to develop the Vape Pen to meet the needs of smokers switching to vape, and to create a simple, affordable back-up device for established vapers – while retaining the premium Dinner Lady vaping experience.
"The Dinner Lady Vape Pen comes ready to vape; simply open the packet and go. And it's a great way to discover and experiment with flavours to find your perfect match.
"With all that in mind, we know the Vape Pen will be a big success as a 'must-stock' item for retailers, and the best disposable on the market."
THE VAPE PEN HAS TWO MAIN TARGET CUSTOMERS:
Supporting adult smokers to transition away from cigarettes with an affordable and simple introduction to vape, allowing them to experiment with flavours to find a perfect match.
Established vapers are increasingly choosing disposables as a back-up device. With no spare parts or refills needed, the Vape Pen is perfect when out and about.
The new Vape Pen disposable has a 350mAh grade A Li-ion battery, with a stainless steel, 1.6oHm atomiser (tight wound) for quick heat/vapour delivery and consistent output, and a bespoke mixed cotton blend wick – to optimise the flavour delivery.
The device also has internal fibreglass fireproofing, a food grade mouthpiece and stainless steel body, in an electric paint finish – which can also withstand more than 9kg of pressure, and a micro-control unit for additional safety protection.
The Dinner Lady disposable Vape Pen retails at £4.99 and is available to order from your Dinner Lady account manager or business development manager now.
To stock Dinner Lady's best-selling Vape Pen, get in touch with our world-class sales team today at sales@vapedinnerlady.com. Alternatively, complete the form below and a member of the Dinner Lady sales team will get back to you as soon as possible.