Two New Awards Won By Vape Dinner Lady at Vaper Expo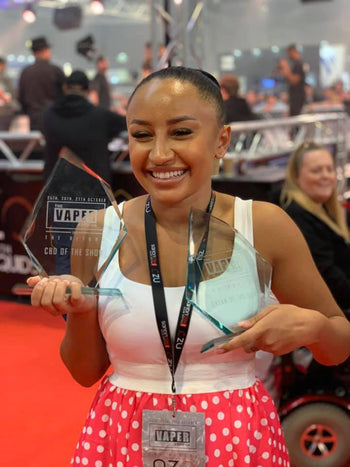 Vape Dinner Lady, the UK's leading premium quality vape brand, has received two awards from Vaper Expo in Birmingham, for the quality of their CBD products and for one of their Fruits range, Tropical Fruits (originally called Guava Cream).
Speaking on behalf of the company, Vape Dinner Lady's Chief Marketing Officer, John Taylor said, "We are all delighted by the response we have had from consumers and buyers alike at this Vaper Expo, not only did we have a chance to connect directly with our loyal customers and show them our new premium e-liquids and Disposable Pod e-cigarette, we also won a further two awards for our Fruits and CBD products."
While the company is  famous for its award winning premium e-liquids, its Lemon Tart has won UK Best Favour of the Year for three years on the run, this year's exhibition stand was focused upon the company's latest innovation, a new Disposable Pod E-Cigarette available in three flavours: Lemon Tart, Blue Menthol and Smooth Tobacco.
The Disposable Pod is a world's first as it is the only disposable e-cigarette that is pre-loaded with Vape Dinner's premium e-liquids. The product has been designed to appeal to smokers looking to move away from tobacco, and also appeal to existing vapers in need of a back-up device in case they run out of batteries or e-liquids in the course of the day.
The Vape Dinner Lady stand at Vaper Expo allows the company to connect directly with their vaping consumers and network with their business contacts. So positive was the interaction on their stand that the company sold out of the stock of e-liquids they had brought to the event.
The CBD range from Vape Dinner Lady is a new addition this year but is built on the same principles of high quality that the company has already established within its brand values. In addition to creams, edibles and tinctures, the company has announced it will shortly be introducing CBD vape disposables to the UK; these are nicotine and THC free and supply 50mg of CBD in each device.
Press enquiries
For further information on the Vape Dinner Lady and Vape Dinner Lady products contact Adam Moss, Associate Director at Brazen PR on 0161 923 4994 or via adam@wearebrazenpr.com
About Vape Dinner Lady  
Vape Dinner Lady, is part of the GM Group of Companies  and an award-winning, Blackburn based market-leading, premium vape company, selling high-quality liquids and devices. We have global distribution in over 95 countries. 
In just three years, Vape Dinner Lady has won more than 20 prestigious international awards. The company has invested significantly in state-of-the-art manufacturing and operations to control quality and ensure a superior consumer vaping experience. 
For more information, visit:
linkedin.com/company/vape-dinner-lady