Mist Review On Dinnerlady's Fuyl Range of Disposables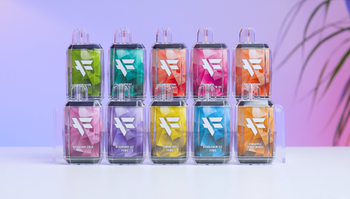 Dinner Lady is no stranger to producing some of the best-tasting dessert vape juices, winning numerous awards for our e-liquid brand that have put us at the forefront as the dessert-flavoured e-liquid experts not only in the United Kingdom but throughout the world.
Our new line of disposable vapes called FUYL brings Dinner Lady's rich and premium flavours into one reliable and convenient device.
And, our friends from MIST - a leading
UK vape retailer
- having tried our Lemon Tart and Vanilla Tobacco, were keen to see whether if FUYL has captured and retained the characteristically rich flavour of Dinner Lady e-liquids. Here are their honest impressions.
The MIST Methodology
Dinner Lady has supplied MIST with all the available flavours of the FUYL 600 Nic Salt Disposable Vapes. They are as follows:
Cherry Cotton
Pink Lemonade
Kiwi Passion Guava
Raspberry Cola
Strawberry Dragon Fruit
Pineapple Peach Mango
Apple Peach
Lemon Tart
Vanilla Tobacco
Blueberry Ice
Bubblegum Ice
Spearmint Menthol
Watermelon Ice
Blood Orange Pineapple
The FUYL line is available in nic strengths of 20mg, 10mg, 5mg and 0mg. MIST received the strongest nic option available - 20mg.
Kiwi Passion Guava
Score: 9/10
While not an unusual combo of flavours, this disposable puts a unique - but very welcome - emphasis on the guava. Ordinarily a bit of a background character, the guava spreads its wings here with a moreish and unique fruity profile.
The kiwi adds an almost jammy layer of sweet pleasure to the arrangement, with passion fruit playing an uncharacteristically restrained rhythm in the back—a great take on a classic tropical selection.
Raspberry Cola
Score: 10/10
This one's a real treat! The classic cola flavour comes across *perfectly*, with just enough sweetness and 'fizz' to replicate the world's most recognisable sparkling beverage. Unlike many rivals, it conveys the soda taste without straying into 'candy' territory.
The raspberry is restrained, offering just enough vibrancy to keep the flavour playful while never overshadowing the beverage notes—a smash hit.
Strawberry Dragon Fruit
Score: 8/10
There's a deliciously strained sweetness from the Dragon Fruit, an exotic bouquet with a sweet yet mellow taste. The strawberry is gentle, adding just enough sugariness to prevent the Dragon Fruit from becoming too dominant.
A slightly perfumed edge accompanies the overall profile, delightful as a taste and as an exhaled aroma! Certainly a beer garden conversation starter!
Pineapple Peach Mango

Score: 9/10
I expected an overly sweet flavour from this zesty paradise combo, yet the overall taste is remarkably mellow and very session-friendly. The mango and pineapple flavours feel very 'natural,' with a savoury flavour you rarely find in synthetic fruit flavours.

It almost tastes as though it has a touch of cream, possibly an aspect of the peach flavour; likely an unintended effect but a very welcome one! I was surprised by how much I enjoyed this one, as these aren't my go-to flavours.
Apple Peach
Score: 6/10

The crisp, sugary apple notes wrestle with the sumptuous peach flavour for dominance, a clash of fruity tastes that dazzles the tastebuds. It does leave a slight aftertaste, which may only be to some preferences. Still, the peach flavour, in particular, is very authentic and soothing.

While a tasty arrangement, but it's almost a bit tame compared to the other FUYL vapes on offer.


Lemon Tart
Score: 10/10

Dinner Lady's classic champion returns! The spiced and buttery flavour of the pastry surges forth immediately with indulgent flavour, with a strong note of sweet citrus following on to leave a zesty kiss on the tongue. The tartness of the lemon is notably dampened, ensuring no overly sour notes of flavour.

It's no wonder why Lemon Tart is the vape flavour that earned Dinner Lady worldwide acclaim, an instant classic.



Vanilla Tobacco

Score: 7/10

A silky layer of velvety vanilla spice weaves through the dark and earthy notes of rolling tobacco, granting it an indulgent edge of dessert flavour. The tobacco flavour is rich and toasted and seems to carry an extra touch of sweetness for an almost - but not quite - fruit edge.

A delicious take on tobacco vapes, though pure tobacco fans are likely to find it overly sweet.




Blueberry Ice
Score: 8/10
The gentle, mellow blueberry sweetness sings out beautifully, with a subtle taste that never becomes overwhelming or too sweet. The ice assists with a palate cleanse, making each berry puff as refreshing as it is playfully sweet.
It is an excellent choice for anyone seeking an all-day session vape that won't overload you with sugar and sweetness.
Bubblegum Ice
Score: 7/10

Now that's an old-school treat! Unlike many bubblegum vape flavours, this one genuinely captures the taste. One puff, and I instantly remembered those gumballs you used to get at the bottom of ice-creams! The ice helps convey this classic flavour brilliantly while preventing the taste from becoming too strong or overly sweet.
Spearmint Menthol
Score: 8/10
Pure herbal refreshment. There is little to no sweetness in this vape, nothing to distract from the strong - but not TOO powerful - menthol waves of cool ice. The taste of mint leaves keeps the flavour from being too functional, and they've managed to capture that freshly picked taste.

Maybe not for fans of sweet flavours, but a menthol fan's dream and one of the most 'herbal' tasting mint vapes I've ever tried.


Watermelon Ice


Score: 7/10

A vigorous cascade of watermelon juice flavour hits the throat immediately, with what tastes like an added layer of sugar, elevating the taste away from pure fruit and towards gummy candy. The ice ensconces the fruity flavour all the way down to the lungs. However, it's a little lighter than the cold additions to other flavours featured today.

An excellent choice for anyone who enjoys either tropical fruit vapes or vapes with sweet-shop notes, though a little too sugary for 'pure fruit' fans.
Blood Orange Pineapple


Score: 9/10

A uniquely strong citrus note hits you right out of the gate, with an extra tartness that blood oranges are renowned for, almost straying into grapefruit territory. The pineapple flavour is slightly more restrained, though it carries that same natural note as the Pineapple Peach Mango flavour sampled above.

It is easily the best orange-flavoured vape juice I have ever tried and another excellent outing for Dinner Lady's natural pineapple flavour.

Cherry Cotton
Score: 8/10

Cherry flavour bursts forth from the offset, carrying with it a hint of eucalyptus or possibly menthol. The cotton candy flavour is a tasty extra level of sweetener, successfully conveying the taste of spun sugar with cherry sauce added to the mixture.

Surprisingly not too sweet, it's a tasty choice for an all-day fruity candy vape!
Pink Lemonade
Score: 7/10


The strong note of citrus soda comes through loud and clear, with possibly a faint touch of ice for beverage refreshment vibes. Layers of fragrant and playful berry juice settle on the tongue after the initial lemon onslaught, adding an extra tartness.

While not quite an outright sour vape flavour, Pink Lemonade captures a certain zest that makes it stand out from the myriad pink lemonade flavours available.



The MIST Verdict

Dinner Lady has absolutely smashed it with this range of disposables. Not only do they offer up unmatched Dinner Lady flavour plateaus, but they also offer a range of nic strengths that no other disposables manufacturer currently produces.

While I enjoyed the entire range, there were a few standout highlights:

Raspberry Cola - I have tried dozens of cola vapes, and few have conveyed that distinctive dark soda flavour nearly as well as this dazzler.
Lemon Tart - The original and best Lemon Tart is as much a celebration of sumptuous pastry as sweet, tart citrus.
Pineapple Peach Mango - The most complex flavour tried today. It eschews the usual candied direction of tropical fruit vapes to let the natural flavours shine through.

Final Score: 9/10
 To wacth the full review Click here