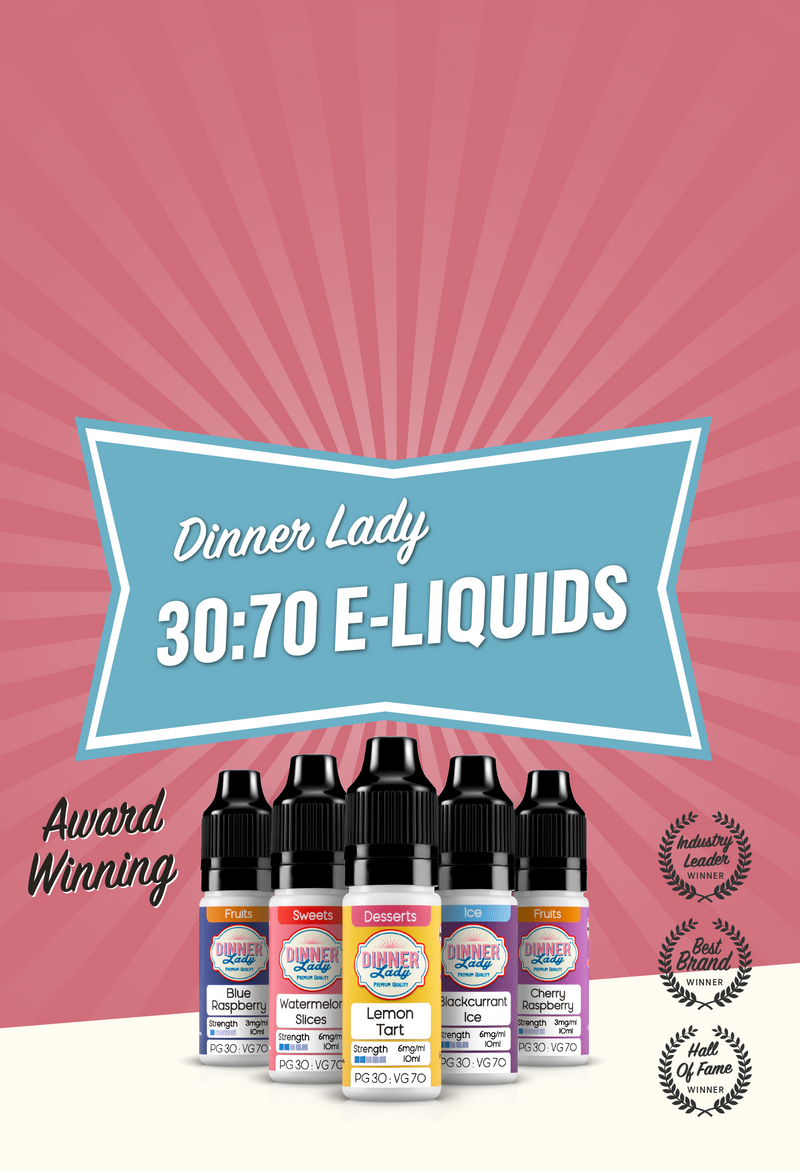 Collection:

30:70 10ml E-Liquids

High VG E-Liquids 10ml
High VG e-liquids create denser clouds that appeal to sub-ohm vapers. Sometimes referred to as cloud-chasing juice, the Dinner Lady range of High VG E-Liquids focuses firmly on rich flavours with impressive clouds.

Commonly known as sub-ohm liquids, these Dinner Lady e-liquids have a high VG content that works well with sub-ohm devices to provide rich flavours with impressive clouds. Sub ohm vaping is a direct-to-lung (DTL) inhalation method that produces a high level of vapour. As sub ohm vaping requires a deep inhale, PG-based e-liquids cannot be used for sub ohm vaping. It is for this reason than sub ohm vaping is a method typically used by more experienced vapers who use high VG e-liquids.

Higher proportions of VG in e-liquid tend to produce denser clouds that tend to be milder, sweeter, and smoother than 50:50 VG:PG formulations, causing a less intense throat hit with a denser mouthful of flavour. High VG liquids are therefore often preferred by vapers wishing to vape all day.

While High VG e-liquids are readily available in nicotine-free 50ml Shortfill (or Shake and Vape) bottles, this collection provides a selection of High VG E-Liquid that is available premixed with 3mg and 6mg nicotine strengths for convenience. Dinner Lady High VG 30:70 e-liquids also give vapers the opportunity to try a lower cost Shortfill sample to find their favourite flavours at a fraction of the Shortfill price.

Available in four of Dinner Lady's best-selling flavour ranges, including Desserts, Fruits, Sweets and Ice.

For best results, use kits or tanks with sub-ohm coils with a low resistance between 0.1 and 1 ohm. These lower resistance coils vaporise liquids at a higher temperature and so need a thicker, high VG, e-liquid to slow the process. Similarly, the more powerful batteries in vape mods are also ideal for heating the e-liquid and create thick, fluffy clouds.