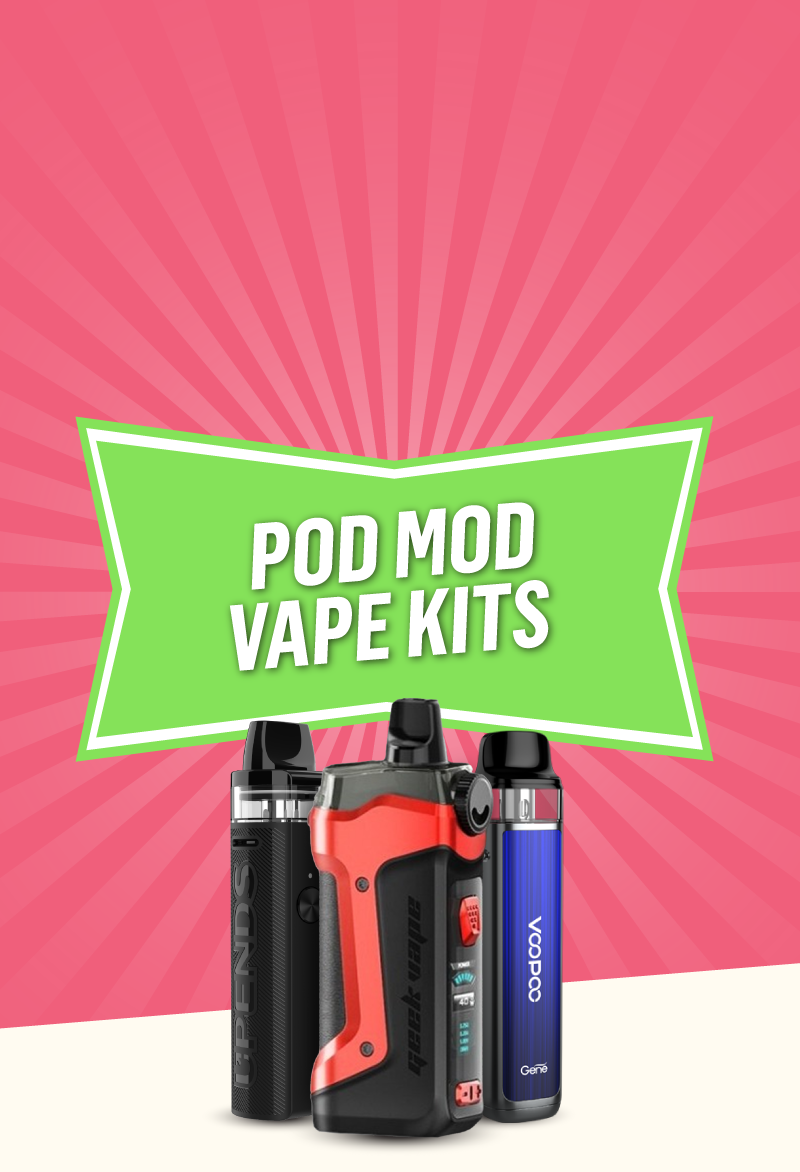 Collection:

Pod Mod Vape Kits
About Pod Mods
Combining the convenience of a refillable pod kit but with the greater level of personalisation provided by a box mod, pod mod devices allow vapers to customise power output to customise the vaping experience.

Instead of larger tanks, pod mods utilise small pods that are compact, lightweight and easier to carry about. Many pod mods also incorporate push-fit coils for a more simple and convenient maintenance method. Often compatible with different coil resistances, pod mods also support different types of e-liquids from high VG liquids to 50:50s and Nicotine Salts.

Unlike many refillable pod devices, many pod mods utilise adjustable airflow settings and are compatible with a range of different resistance coils, allowing vapers to use both nicotine salts and freebase e-liquids. This means that pod mods provide vapers with greater freedoms over vaping preferences including mouth to lung (MTL) vaping which most closely resembles smoking a traditional cigarette and direct to lung (DTL) vaping which provides impressive clouds and rich flavour.

Pod Mods also tend to have higher battery power capacities than other pods, pens and disposable devices, meaning they can provide a much more powerful vape and can often last much longer throughout the day before recharging becomes necessary.

To achieve an impressive cloud chasing vaping experience within a small and compact device, Dinner Lady recommends pod mods such as the Vaporesso Target PM30, VooPoo Vinci Pod Mod, Smok RPM80 and the Smok RPM80 Pro.

For vapers who like to have the option to choose between mouth to lung and direct to lung vaping styles, Dinner Lady recommends the VooPoo Vinci X, VooPoo Drag S and Smok Thallo S, all of which are compatible with higher resistance coils and have the option to adjust wattage output.

Integrating the functions of a pod and mod device into one powerful yet portable unit, pod mods are stylish and compact devices that can handle all-day vaping with ease.