HAPPY 5TH BIRTHDAY DINNER LADY!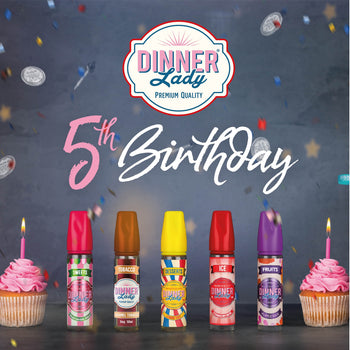 Happy birthday to us, happy birthday to us, happy birthday dear Dinner Lady… Happy birthday to us!
Apologies for that, but we're in a party mood as this month marks the fifth year since Vape Dinner Lady first launched into the UK vape market to great acclaim, before going on to conquer the world.
We can't quite believe where the time has gone; they say time flies when you're having fun, and that's definitely been the case for our team here.
From launching at the Vape Expo UK in Birmingham in 2016, where we picked up the Best Stand In Show trophy, through to selling 18 million bottles of premium e-liquid worldwide and launching our global range of Vape Pens, it's been a big journey.
From a single e-liquid – the now iconic Lemon Tart, loved the world over – to a global range of hundreds of flavour and formulation combinations.
From just two staff to a team of 200-plus, and distribution and sale of our products into 96 countries around the world. Our in-house compliance team work tirelessly to ensure our ranges are ready for distribution and sale in all these territories, while our in-house logistics experts capitalise on our strategic location on transport routes to ship around the world from our base in Lancashire, UK.
Since that first expo in Birmingham, we have gone on to win more than 45 international awards – for our excellent flavours and ranges, as well as our brand presence and execution… With Lemon Tart still leading the way thanks to numerous 'best dessert' titles, including FIVE consecutive Best Dessert Flavour awards from the vaper-voted Ecigclick Vape Awards.
Now, we sell our e-liquids wholesale and direct to the independent vape sector, as well as through FMCG partners. We're proud to work closely with each and every one of our retail partners to ensure their success as well as our own.
While much of our success comes thanks to the hard-work and dedication of the members here at Dinner Lady – even more of that success is down to you, our loyal retail partners and consumers of all shapes and sizes in all corners of the globe. So, we thank you from the bottom of our hearts.
What's next…? We'll keep you posted!
To speak to the Dinner Lady team and be part of the next five years, please fill in the form below and we'll be in touch.