WHY A MENTHOL CIGARETTE BAN LOOKS SET FOR THE USA?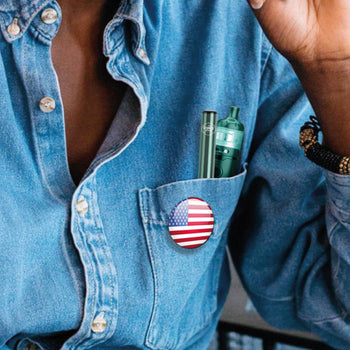 As far back at 2013, the American Food and Drug Administration (FDA) was speaking out against the danger of menthol cigarettes as being more harmful than other cigarettes.
Back then, the agency reported findings that menthol cigarettes were less harsh, due to their cooling and anaesthetic properties, which made them more appealing to smokers. This also contributed to making it easier to start smoking menthols – and harder to quit them.
But it held off taking action in the form of banning menthol cigarettes for the benefit of public health.
Fast forward a few years, and continued lobbying surrounding the negative health impact that menthol cigarettes have on certain communities in the US saw the FDA last month move to introduce a ban on menthol cigarettes. Its aim is to 'significantly reduce disease and death from using combusted tobacco products, the leading cause of preventable death in the US.'
THE MENTHOL PROBLEM
In the US, menthol cigarettes account for more than one in three cigarette purchases – and are favoured within 'communities of colour, low-income populations, and LGBTQ+ individuals', with associated health disparities experienced within these groups, as highlighted by acting FDA commissioner Janet Woodcock.
The proposed ban also takes in menthol and other flavoured cigars, but there is no mention of menthol vape juice or e-cigarettes.
While tobacco use in the US has been in decline in recent years, the proportion of menthol smokers has risen – particularly within black neighbourhoods, and data from the US Centers for Disease Control and Prevention shows African Americans die from tobacco-related illnesses at much higher rates.
Although the ban aims to reduce public health discrepancies, there are counter-claims that a prohibiting a product that is popular among African Americans would be discriminatory, and that it would lead to increased underground sales and law enforcement issues.
WHERE EUROPE LEADS
Whatever the outcome of the FDA's proposed ban, there is likely to be an uptick in interest on menthol vape products – both disposable e-cigs and premium menthol e-liquids. Following on from the UK and EUs menthol ban in 2020, there's been a definite increase of menthol products on the market, particularly in closed devices which offer smokers an introduction to vape as an alterative to cigarettes.
Any decision on the US ban and its implementation will take months, maybe years, giving plenty of time for US vape retailers to ensure they have the best menthol e-cigs and premium menthol e-liquids ranges in store.
The FDA is also continuing its regulatory process on e-cigarettes and other electronic nicotine delivery systems (ENDS), through the PMTA process. Dinner Lady's US range of e-liquids have recently been accepted into the PMTA, and are currently subject to a preliminary scientific review.
If you would like to know more about stocking Dinner Lady's range of menthol e-liquids, in the UK, EU or USA, or would like details of our PMTA Accepted e-liquids range, fill in the form below and one of our team will be in touch.