MEET THE TEAM - GET TO KNOW THE PEOPLE BEHIND THE BRAND: Kenny Monro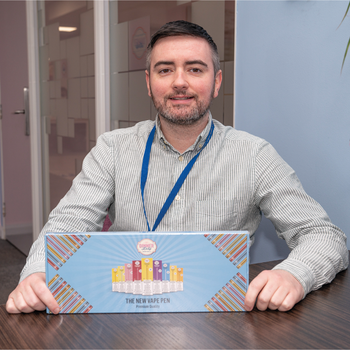 A new feature for vapedinnerlady.com, we're giving you the chance to Meet The Team and to get to know the people who put Dinner Lady right up there as a global brand, manufacturing premium vape liquids in the UK.
MEMBER NAME & JOB TITLE
Kenny Monro, Business Development Manager – Rest Of World
HOW LONG HAVE YOU WORKED FOR DINNER LADY – AND ANY PREVIOUS POSITIONS IN THE COMPANY?
I'm relatively new to Dinner Lady having joined in January 2021, after previously working in sales in the hospitality industry.
HOW/WHY DID YOU COME TO JOIN VDL?
It sounded a really interesting prospect to join a premium e-liquid brand like Dinner Lady – especially in the international team.
I vape myself, so was intrigued to find out more, because from the outside looking in, I could see there's a lot of growth in the industry. It stuck out to me that there were a lot of jobs on offer at Dinner Lady, at a time when many other industries aren't recruiting, it showed me that it's a growing company with a lot of ambition.
WHAT ARE YOUR FAVOURITE VDL PRODUCTS AND WHY?
I really like the Vape Pen, and really enjoyed the Mango Ice version of Dinner Lady's disposable e-cig. In fact, I would choose the Vape Pen over anything else at the moment, the flavours are excellent and the convenience of being able to unwrap and go is ideal.
I'm working my way through the all the flavoured vape juice – but I've been converted to Dinner Lady's superior quality flavours and formulations. I used to buy whatever e-liquid was available, but now I can really tell the difference between a budget e-liquid and a high quality vape juice like Dinner Lady. Berry Blast from the Dinner Lady Salts range is currently in my device, but nothing has disappointed me yet.
WHAT'S BEEN YOUR BIGGEST CHALLENGE SINCE JOINING VDL?
Understanding a totally new industry and a new market has been a huge task since joining Dinner Lady. I've worked on some high-level accounts but it's always been UK-based, so learning about vape and learning about vape in Africa, and all the variations of regulations, the changing landscape in the market, even the geography – it's been really interesting. 
In the UK and Europe, regulations limit bottles to 10ml e-liquids, but if I offered that in South Africa they'd laugh – they're used to 100ml vape juices, or bigger. Then there's all the questions of taxation, imports etc., there's a lot to learn but I've loved it.
WHAT'S BEEN YOUR BIGGEST SUCCESS SINCE JOINING VDL?
Securing new accounts has been a real buzz – especially when it's a totally new market for the company like Mongolia. From an in-bound enquiry, I've won a disposable e-cigarettes wholesale contact to supply the Vape Pen Max and the global Vape Pen, and we're hoping this new account will grow pretty quickly. 
WHAT MAKES WORKING FOR DINNER LADY SPECIAL?
Speaking to people in so many different countries has been a real highlight – I've got a new e-liquid wholesale contract this week in Mongolia. Never did I expect to be able to do that until joining Dinner Lady.
I work on accounts across Africa, and primarily South Africa, but working alongside the whole Rest Of World (ROW) team it's been fantastic to see how well known and loved Dinner Lady is and the reputation the brand has around the world. From speaking to customers, I've had such a great reaction to being with an award-winning vape company like Dinner Lady, customers see us as an excellent company – and that's helped build the relationships. It's exciting to be part of such a high quality company.
I've asked so many questions since starting, but everyone has been so supportive with information, and really make you feel part of the Dinner Lady family, and that's something which everyone here tries to share with their customers too.
WOULD YOU RECOMMEND WORKING FOR DINNER LADY TO OTHERS – AND WHY?
Absolutely, it's a great team and a company that is going places. Dinner Lady is selling a high quality vape product and draws so much respect from customers thanks to its global reputation, yet internally it retains a family feel to the business.
Walking around the head office, it's been exciting to meet the different teams – our internal studio and designers, marketing, outreach and engagement, compliance, there's so much goes on behind the scenes to support the sales teams and to make Dinner Lady the market-leading brand it has become.
If you're a vape retailer looking to source the premium vape juice from the award-winning e-liquid brand Dinner Lady, or looking to sell Dinner Lady's global disposable e-cigarettes wholesale, fill in the form below to find out more.