HELP NEW CUSTOMERS THIS VAPRIL WITH OUR VAPE BEGINNERS FAQ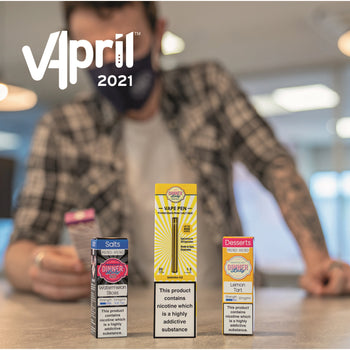 With vaping increasingly discussed as a less harmful alternative to smoking, we want to help vape retailers support new customers as they make the switch this VApril.
Adult smokers need to be armed with the facts about vaping so they can make an informed decision to move away from cigarettes towards a less harmful alternative.
By stocking Dinner Lady's premium e-liquids and Vape Pen disposable e-cigs, retailers are giving their customers the chance to experience some of the very best vape products on the market – offering high quality flavours and smooth delivery, which will support their vaping journey.
In the latest of our VApril blog posts, we're giving our vape retail partners a resource to support adult smokers in finding out more about their choices, with this handy FAQ guide to vaping for beginners, looking at some of the most common questions about vaping.
WHAT ARE E-CIGARETTES?
E-cigarettes, also known as vapes or e-cigs, have become a very popular alternative to cigarettes in the UK – backed by the NHS and Public Health England for smokers looking for an alternative to cigarettes and traditional tobacco products.
HOW DO E-CIGS WORK?
All e-cigs work by heating e-liquids to create a vapour. They allow a user to inhale nicotine through this flavoured vapour, rather than through tobacco smoke produced through combustion.
Different types of e-cig are available from disposable Vape Pens to rechargeable devices – which are refilled with e-liquids, containing differing strengths of nicotine. These range from the sleek personal vaporisers, perfect for most users, through to the sub ohm or mod devices used for blowing bigger clouds at lower strengths.
HOW WILL VAPING HELP ME STOP SMOKING?
There are 3.2m vapers in the UK – 2m of those are ex-smokers, 1.2m are current smokers, according to figures from ASH in October 2020.
Vaping combined with face-to-face support is twice as effective as other nicotine replacement products, eg. gum or patches, according to a major UK trial in 2019.
Vaping works by allowing consumers to combine the right e-liquid formulation, with the right nicotine strength with the right device to help them manage nicotine cravings. Vapers are encouraged to use their device as much as they feel necessary, especially in the early days, to find their personal balance of use in replacing cigarettes as part of their daily routine.
The best benefits from vaping are seen when users stop smoking cigarettes completely.
IS VAPING SAFE?
E-cigs and vaping products in the UK are highly regulated for safety and quality, under the EU's TPD compliance framework - which was adopted into the UK under the Tobacco and Related Products Regulations (TRPR) in 2016. Dinner Lady's full range of e-liquids and vape devices are manufactured under the UK's stringent guidelines.
E-cigarettes, Vape Pens and vaping products don't produce tar or carbon monoxide – two of the most harmful elements of cigarette smoke – because they do not burn tobacco.
Nicotine is a highly addictive substance, but in itself is relatively harmless. However, many people think that nicotine is the cause of smoking-related cancers. It isn't. Although nicotine causes serious addiction, it is the 5,000-plus other chemicals in cigarette smoke which cause most of the harm, such as tar and carbon monoxide.
E-cigs are not completely risk free, but they carry a small fraction of the risk of cigarettes. They do not contain the most harmful elements of tobacco smoke.
WHAT DO E-LIQUIDS CONTAIN?
The main base ingredients of e-liquids are propylene glycol (PG) and vegetable glycerine (VG), with nicotine and flavourings. PG and VG are commonly found in many household products and consumables. PG is commonly used in processed foods to maintain stable moisture levels and in personal hygiene and cosmetic products. VG is found in cough syrup and gum sweets, and is typically made from rape seed, palm oil or other vegetable extracts.
Low VG e-liquids, such as Dinner Lady's 30:70 or Shake 'n' Vape / Shortfill ranges, allow for greater vapour production – perfect for cloud chasing, but they do not carry nicotine as effectively. High PG vape juice gives sharp flavours and satisfying throat hit.
HOW MUCH DOES VAPING COST?
A smoker can make the switch for as little as £4.99 for a Dinner Lady Vape Pen, an ideal alternative to cigarettes, offering 400 puffs – equivalent to 20 cigarettes, at around half the price of a packet.
As a smoker makes their more long-term transition away from cigarettes, a refillable and rechargeable vape device is the best value vape option, costing as little as £15, rising to hundreds for customisable mod devices. Then there's the on-going cost of tanks, coils and batteries – around £10-20 a month, and e-liquids which cost anything from £1 for low cost vape juices, through to premium e-liquids around the £4-£6 mark for 10ml.
Of course, personal use will then dictate the exact running costs, but consumers can get an idea of their savings compared with cigarette smoking by using the Dinner Lady savings calculator on our website.
HOW DO I CHOOSE THE RIGHT E-LIQUID OR VAPE FOR ME?
The Dinner Lady disposable Vape Pen is a ready-to-vape e-cig, filled with award-winning e-liquid flavours in a salt nic formulation, offering 400 puffs, equivalent to 20 cigarettes, and an ideal product for adult smokers new to vape.
The Vape Pen has been designed to support the transition away from the harm of cigarettes by supporting the triggers of smoking such as the hand-to-mouth movement, the draw action, throat hit, and the production of visual vapour.
Salt nicotine e-liquids – aka nicotine salts, salt nic, nic salts – is a next-gen vape product and are well suited to those new to vape, delivering higher strengths of nicotine without a harsh throat hit. Salts also absorb into the blood stream more quickly and easily, to satiate the nicotine cravings more rapidly, more effectively supporting those making the switch from cigarettes to the less harmful alternative of vaping.
These two options are a great place to start when making the switch.
SUMMARY
Vaping is a highly regulated and less harmful alternative to cigarettes, which when used correctly – and with appropriate support, can be a highly effective tool in tobacco harm reduction.
As a vape retailer and vape wholesale distributor partnering with a well-loved reputable UK vape brand such as Dinner Lady, you can rest assured, that you are supplying high quality e-liquids sure to drive return custom and repeat sales.
To find out more about partnering with Dinner Lady and becoming a stockist of some of the best e-liquids, fill in the form below and our team will be in touch. And if there's a question you hear regularly from new consumers that we've not covered – let us know and we'll add to the post…