TRY BEFORE YOU BUY – THE IMPORTANCE OF GETTING SAMPLES WHEN BUYING E-LIQUID WHOLESALE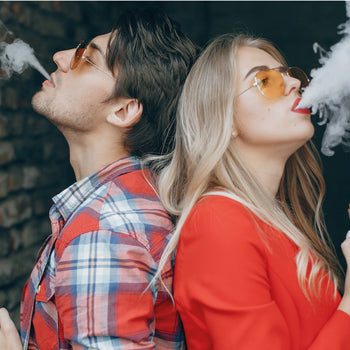 Whether it's a taste-tester in the supermarket, or a weekend test drive for a luxury car, we all like to know what we're getting into when there's a new purchase to be made.
And that's no different for vape wholesale – we know you want to try before you buy. So here at Dinner Lady we invite our customers to sample our premium e-liquids before they commit.
TASTE THE DIFFERENCE
It's easy for us to say our products are the best vape juices, that our superior flavour e-liquids are they best on the market. But we want you, the retailers to experience them and to be able to share that experience with your customers.
It's clear that not all vape juices are the same. We think of Dinner Lady e-liquids as being like a fine wine – they linger on the palette and have complex flavour profiles. And the different formulations all have an impact on the flavour and the nicotine delivery. From Salts to 30:70, from 0mg nicotine to 20mg, and even the Vape Pen, they all vape slightly differently.
That's why it's always worth trying something new to see how it works for you.
FANCY SOMETHING FRUITY?
If Dinner Lady Fruits have been your best-selling vape juice for a while – is it time to try something new? Lots of our Fruits have complementary Ice versions, and there's also the refreshing Drinks Iced Tea range, combining fruity notes with bitter tea and cooling ice.
Does 50:50 e-liquid sell well in your store or wholesaler? Perhaps you'd like to sample Dinner Lady Salts – an excellent beginners e-liquid, which has that familiar throat hit for cigarette smokers who are switching to vape. Alternatively, you could try our nicotine-free, high VG Shortfill 30:70 vape juices, which is perfect for the cloud chasers out there.
Requesting some free Dinner Lady samples is the best way to find new flavours and formulations which you might love.
SHARE THE LOVE
Once you've tried some fresh new Dinner Lady flavours – it's time to Share The Love and allow some of your regular customers to sample them too. We love to get feedback on our range, from vape juice wholesale outlets, from vape store owners and from the consumer.
We know that difference formulations and different flavour ranges are popular in different countries. In Germany, the Shortfill and Longfill nicotine free Shake n Vape high VG options are regular best-selling e-liquids, meanwhile Concentrates are a hit in Greece.
But, who's to say these won't fly off the shelves in your outlet? By taking up the offer of free samples, you can select some of the more unusual ranges to find out if they would be popular with customers.
A NEW OPPORTUNITY

New to the UK and Europe in 2021 is the Dinner Lady disposable Vape Pen – and our sample pack allows you to try NINE great flavours from the range, including the ever-popular multi award-winning Lemon Tart to new to the UK and Europe Banana Ice and Strawberry Ice.
The Vape Pen has proven popular around the world since its launch last year, and now the TPD-compliant, 20mg salt nicotine disposable device is coming to Europe – with better flavours, better battery and better could comparable products on the market. The Dinner Lady e-liquids have been specially optimised for the hardware.
Disposables are currently worth an estimated £200m per annum in the UK, and are predicted to be the fastest growing area of the e-cigarette market – which is set to grow by 50% to £1.5bn by 2024.
The new Dinner Lady Vape Pen disposable has better flavours, better coil and better battery than comparable products on the market. Each one delivers 400 puffs of 20mg salt nicotine e-liquid, approximately equivalent to a 20-pack of cigarettes, with a retail price of £4.99.
WHAT NEXT?

Email sales@vapedinnerlady.com to speak to one of our team about your free sample pack. Alternatively, complete the form below and a member of our world-class sales team will get in touch as soon as possible.