Award-Winning Vape Dinner Lady Appoints New Marketing Chief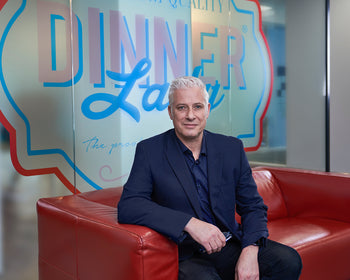 Award winning Vape Dinner Lady, has appointed John Taylor as it's new Chief Marketing Officer.
John Taylor, was previously Group Brand and Marketing Director for Thinksmart, an AIM listed, disruptive digital retail finance business based in Old Trafford, Manchester.
In 2017, Taylor led the set-up and go to market strategy and execution for a new disruptive digital finance brand called ClearPay, which was set up and spun-out of ThinkSmart, leveraging the company's proprietary technology SmartCheck and a new mobile app – resulting in the sale of ClearPay to AfterPay (which today has a market cap of £8.7bn and operations in Australia, USA and now the UK).
The hire of Taylor by Vape Dinner Lady to lead its marketing activity comes on the back of a hugely successful couple of years for the Blackburn based vaping firm. Part of the GM Group, Vape Dinner Lady has won over 22 awards for its premium products since it was first established in 2016 and has gone on to secure distribution deals in 95 countries.
Multi-million pound investments have been made in Vape Dinner Lady's manufacturing facilities. The company now employs more than 150 people across the North West, with 70 additional roles recruited in the past 12 months alone.
As Vape Dinner Lady's new Chief Marketing Officer,  John Taylor said: "Vape Dinner Lady is well positioning to take advantage of the global growth opportunity presented by the nascent Vape and CBD markets.
The company has invested several million pounds in developing its own operations and production capability to make the premium quality products on which it has made it name and is one and is a new emerging fast growth company in the UK.
It's great to be joining such a successful business operating in the North West."
Press enquiries
For further information on the Vape Dinner Lady and Vape Dinner Lady products contact Adam Moss, Associate Director at Brazen PR on 0161 923 4994 or via adam@wearebrazenpr.com
About Vape Dinner Lady  
Vape Dinner Lady, is part of the GM Group of Companies  and an award-winning, Blackburn based market-leading, premium vape company, selling high-quality liquids and devices. We have global distribution in over 95 countries. 
In just three years, Vape Dinner Lady has won more than 20 prestigious international awards. The company has invested significantly in state-of-the-art manufacturing and operations to control quality and ensure a superior consumer vaping experience. 
For more information, visit:
linkedin.com/company/vape-dinner-lady