BLACKBURN ENTREPRENEUR SHARES LIFE STORY TO INSPIRE FUTURE BUSINESS LEADERS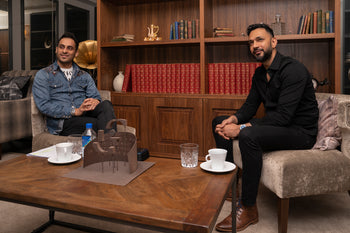 Business leaders across East Lancashire joined forces – in a virtual sense – in supporting Blackburn Youth Zone to hear the inspiring back story of GM Group chief executive officer Mohammed Patel.
Mr Patel grew up in Little Harwood in Blackburn and went on to become the founder of the multi-million pound GM Group, which now employs 200-plus people in the region, selling products into more than 96 countries worldwide.
Live streamed from the company's world-class headquarters, the Blackburn Youth Zone patrons' breakfast, was opened by youth zone chairman and former Blackburn MP and cabinet member Rt Hon Jack Straw.
During the event Mr Patel was interviewed by lifelong friend and business peer Ebrahim Sidat, of AMS Accountants Group Ltd.
RISING TO SUCCESS
Mohammed, who became a youth zone patron in 2019, shared his personal experiences of growing up, and the challenges he faced during his teenage years and in the early stages of establishing his first businesses. 
He ultimately found his way to success through resilience and courage as he developed the GM Group – a message he hopes will inspire the children and young people who use the services at Blackburn Youth Zone.
Mr Patel said: "The work done at Blackburn Youth Zone is something I, and all of us here at GM Group, completely admire. It bridges a gap in the community and resonates with me so strongly.
"There weren't many doors open to me as a teenager, maybe arcades or snooker clubs, but no real resource. That's one of the reasons why when I heard about Blackburn Youth Zone and saw what was going on, with arts, crafts, music, that I wanted to work with them – to inspire the next generation of Blackburn entrepreneurs."
The online event was attended by 30-plus patrons and business representatives, and a recording will be shared with schools in Blackburn through the youth zone's network.
MAKING CONNECTIONS
BYZ board member and patron Mr Sidat said: "I wanted to share Mohammed's story with the patrons because connecting with disenfranchised youth is very important. Blackburn Youth Zone is there to help young people in a similar predicament, where they may face making the wrong decisions but to ultimately guide them to the right judgements."
Youth Zone vice chairman Andrew Graham MBE added: "It was truly inspirational to hear Mo speak at our patrons' breakfast - as it was the first time I met him at a BYZ dinner. I had a vision 10 years ago that we would help children become the best version of themselves, and have a network of businesses to help us do that."
ENDS
Picture: Ebrahim Sidat, left, and Mohammed Patel at GM Group headquarters for the Blackburn Youth Zone patrons' breakfast.
For more information, contact Vape Dinner Lady's PR Executive Anna Cryer on 01254 972033 or by emailing anna.cryer@vapedinnerlady.com
ABOUT GM GROUP
GM Group was founded by Mohammed Patel in Blackburn in 2005 and comprises of four companies employing more than 200 people across the region. The company has invested several millions of pounds in state-of-the-art manufacturing and operations and is home to one of world's leading premium e-liquid brands Vape Dinner Lady, legal firm Lance Mason, Hayes Medical and the Cigara retail chain.