DINNER LADY COLLECTS TOP AWARD FOR 'BEST UK BRAND 2023'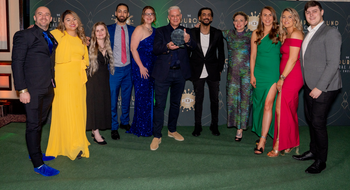 Dinner Lady, one of the UK's fastest growing businesses in the burgeoning $50bn global vape market, has been recognised as the 'Best UK Vaping Brand in 2023' by its industry peers.
Receiving the award at the prestigious Vapouround Global Award ceremony, the company has been recognised for its remarkable success in the sector.
This is the 4th major accolade Dinner Lady has received in the last 18 months, having been recognised as the 'Industry Leader', 'Best Global Vape Brand' and with the very first 'Hall of Fame' award. Awarded in recognition for innovating and shaping the global $50bn global vape market.
In just six years, the company has built market leading capability to develop and produce Premium Quality, Fully Compliant, e-liquid in the UK which it has exported and has sold across 115 Markets around the world.
In particular, Dinner Lady's Lemon Tart branded flavour of e-liquid has proved to be extremely popular, selling millions of bottles every year since it was first launched in 2016.
The award ceremony was held at the National Event Conference Centre, where judges recognised Dinner Lady as the stand-out entry.
Dinner Lady chief marketing officer John Taylor said: "We are delighted to receive this industry accolade for 'Best UK Brand' from Vapouround, the respected voice of the vape industry.
Dinner Lady's impressive growth in distribution has been enabled by our capability to develop fully compliant products to suit the needs of consumers in different markets around the world.
From our world class head-quarters in the UK, we can control the whole process from flavour profile design, manufacture, compliance and sales and marketing to bring about the development of new products whilst maintaining the premium quality and appeal in local markets".
"It is great to see that Dinner Lady, A British Company which started in 2016 by Founder and Chief Executive Officer - Mohammed Patel - has become a household name in many international markets employing hundreds of people in such a short space of time", said John Taylor.
ENDS
13.05.23
NOTES
Picture caption: `Chief Marketing Officer, John Taylor, Receives Top Industry Award for 'Best Brand' on behalf of Dinner Lady.'
For more information, contact Vape Dinner Lady's PR Team john.taylor@vapedinnerlady.com
ABOUT VAPE DINNER LADY
Vape Dinner Lady is part of the GM Group of companies and is based in Blackburn, Lancashire, United Kingdom. It is a market-leading company, manufacturing and distributing premium quality e-liquids and devices. Established in 2016, the company has grown rapidly and now distributes its products in 115 countries. Since launching, Vape Dinner Lady has won more than 4 Industry Lifetime Achievement Awards and 55 prestigious international awards for its range of e-liquids. The company has invested several millions of pounds in state-of-the-art manufacturing and operations to control quality and ensure a superior consumer vaping experience.
www.linkedin.com/company/vape-dinner-lady