DINNER LADY LAUNCHES NEW E-CIGARETTE INTO 350 ASDA STORES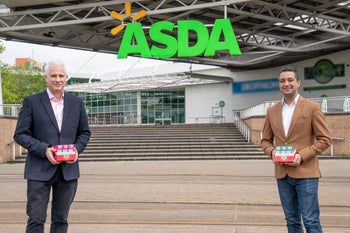 UK based Vape Dinner Lady has partnered with ASDA supermarkets to be the first to launch its new range of e-cigarettes.
Available both online and across 350 ASDA supermarket stores, the new disposable e-cigarette is the UK's first to be pre-filled with premium quality Dinner Lady e-liquid.
The revolutionary no fuss e-cigarette will feature two new flavours, Pink Berry and Fresh Menthol and will offer consumers a premium alternative to traditional menthol tobacco products.
In addition, the supermarket has chosen to sell the full range of five Dinner Lady e-cigarettes, including; Blue Menthol, Smooth Tobacco and the company's flagship Lemon Tart flavour, to ensure their customers have the widest possible choice.
Vape Dinner Lady Chief Marketing Officer John Taylor said, "We are delighted to be launching our new range of disposable e-cigarettes with ASDA and this comes on the back of the huge success of our first wave of flavours like Lemon Tart, for which we have won multiple international awards."
"Vape Dinner Lady's e-cigarettes have proven to be very popular with consumers looking to switch from traditional tobacco products and we expect our new flavour Fresh Menthol, and Blue Menthol to appeal widely at this time, particularly as the menthol tobacco products are now restricted from sale."
Sales of the company's e-cigarette have continued to boom across Europe during the first half of this year, as more consumers have chosen to switch from smoking tobacco to vaping.  Following this trend, the company has chosen to develop a new range of flavours to support its growing international fan base.
"Many retailers we talk to recognise that e-cigarettes are an essential part of their product range and in particular they like the combination of the premium quality e-liquid and vaping device that Dinner Lady offers.
ASDA is one the UK's best known supermarkets with one the largest number of stores and online shopping services, serving customers across the country. 
In addition to the new range of e-cigarettes ASDA will be offering a wide range of Dinner Lady flavoured e-liquid for vaping devices including shake and vape and nicotine salts.
Ends
Caption to Photo: NEW Dinner Lady Disposables launched in 350 ASDA stores.
Chief Marketing Officer John Taylor (Left) and Head of FMCG - UK & Europe Navin Changrani (Right)
Press Links:
https://www.business-live.co.uk
https://www.lancashirebusinessview.co.uk
https://www.lancashiretelegraph.co.uk
https://www.thisislancashire.co.uk
For further information on the Vape Dinner Lady and Vape Dinner Lady products contact Adam Moss on 0161 923 4994 or via adam@wearebrazenpr.com
About Vape Dinner Lady
Vape Dinner Lady, is part of the GM Group of Companies  and an award-winning, market-leading, premium vape company, selling high-quality liquids and devices. The company has global distribution in over 96 countries.
In just three years, Vape Dinner Lady has won more than 40 prestigious international awards.
The company has invested significantly in state-of-the-art manufacturing and operations to control quality and ensure a superior consumer vaping experience.
www.vapedinnerlady.com
linkedin.com/company/vape-dinner-lady
facebook.com/VapeDL
Instagram: vapedinnerlady