Nisa And Costcutter Partners With Vape Dinner Lady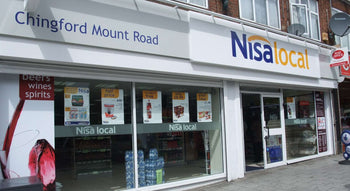 Blackburn based Vape Dinner lady has partnered with two of the UK's leading convenience store brands to stock a new disposable e-cigarette.
NISA and Costcutter will roll out the award-winning vaping company's Disposable Pod available to its retailers from today.
Vape Dinner Lady products were first listed by NISA in November 2018 and the success of vaping sales at the convenience store brand has prompted the new deal for the Disposable E-Cigarette.
NISA and Costcutter customers can already purchase Dinner Lady's full range of premium quality e-liquid vaping flavours – including Ice, Fruits, Desserts, the flagship Lemon Tart and Menthol, all proven to have a wide appeal for use in broad range of open device systems.
But today NISA and Costcutter have agreed to range Vape Dinner Lady's new Disposable e-cigarette – the UK's first e-cigarette pre-filled with award-winning Dinner Lady premium e-liquid.
The Disposable E-Cigarette – a complete, no fuss, e-cigarette solution – will be available in 3 flavours; Lemon Tart, Smooth Tobacco & Blue Menthol.
Vape Dinner Lady Chief Marketing Officer John Taylor said:
"Today's announcement comes on the back of recognition of our premium quality credentials."
"We're delighted to partner with such market-leading convenience retailers and are certain that, as first national stockists of our unique Disposable Pod, they will enjoy first mover advantage.
"Vape Dinner lady's disposable e-cigarette is best-in-category, pre-filled with premium Vape Dinner Lady e-liquid – it's the ultimate convenience product for convenience channel retailing – ready to go, straight out of the box."
Most recently the company has moved to a world class head office in Blackburn having invested millions of pounds in state of the art manufacturing and operations, employing more than 150 people and creating an additional 70 high quality roles in Blackburn in the last 12 months alone.
Nisa is a £1.45 billion turnover company with 1,300 retailers, operating almost 3,500 stores, across the UK. It has been established 41 years and in May 2018 was acquired by Co-op.
Costcutter is part of Costcutter Supermarkets Group, consisting of Costcutter, Mace, Supershop, and Simply Fresh, throughout the UK and Republic of Ireland.
Press enquiries
For further information on the Vape Dinner Lady and Vape Dinner Lady products contact Adam Moss, Associate Director at Brazen PR on 0161 923 4994 or via adam@wearebrazenpr.com
About Vape Dinner Lady  
Vape Dinner Lady, is part of the GM Group of Companies  and an award-winning, Blackburn based market-leading, premium vape company, selling high-quality liquids and devices. We have global distribution in over 95 countries. 
In just three years, Vape Dinner Lady has won more than 20 prestigious international awards. The company has invested significantly in state-of-the-art manufacturing and operations to control quality and ensure a superior consumer vaping experience. 
For more information, visit:
linkedin.com/company/vape-dinner-lady