Vape Dinner Lady Showcases Disposable E-Cigarette at InterTabac Germany, 2019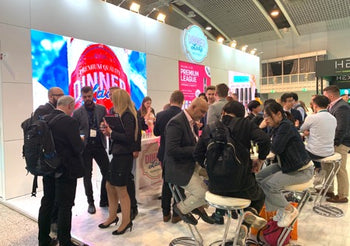 Vape Dinner Lady, the UK's leading premium quality vape brand, is attending the 2019 InterTabac trade fair in Dortmund Germany where it will be showcasing its new disposable e-cigarette, a next generation device and the first to be pre-filled with Dinner Lady e-liquid.
InterTabac is the world's largest tobacco trade fair and this year runs from 20 to 22 September with over 40,000 sqm of exhibition space. Situated at the entrance to Hall 2, in the 'Next Generation Products' section, Vape Dinner Lady will also present its new range of e-liquids and merchandising solutions for convenience retailing.
John Taylor, Chief Marketing Office of Vape Dinner Lady said, "Vape Dinner Lady now sells its products to 96 countries around the world and we are very excited to be showcasing our new products at InterTabac this year".
"Our new e-cigarette has proved very popular with a broad range of consumers in trials where they have consistently told us that they love the convenience it provides, together with the flavour of the premium quality Vape Dinner Lady e-liquid".
Vape Dinner Lady's new Disposable e-cigarette is pre-filled and pre-charged, allowing vapers to start vaping straight out of the box. The product has been designed to appeal to smokers looking to move away from tobacco, and also to existing vapers in need of a back-up device in case they run out of batteries or e-liquids in the course of the day.
It is available in three flavours, Dinner Lady's signature and award-winning Lemon Tart, Blue Menthol and Smooth Tobacco.  Each Disposable Pod provides approximately 220 – 250 puffs which is approximately equivalent to a packet of 20 cigarettes and contains 20mg of salt nicotine.
A blue LED is activated on inhaling, and a smoked transparent tapered mouthpiece acts a visible reservoir to see how much liquid remains.
Press enquiries
For further information on the Vape Dinner Lady and Vape Dinner Lady products contact Adam Moss, Associate Director at Brazen PR on 0161 923 4994 or via adam@wearebrazenpr.com
About Vape Dinner Lady  
Vape Dinner Lady, is part of the GM Group of Companies  and an award-winning, Blackburn based market-leading, premium vape company, selling high-quality liquids and devices. We have global distribution in over 95 countries. 
In just three years, Vape Dinner Lady has won more than 20 prestigious international awards. The company has invested significantly in state-of-the-art manufacturing and operations to control quality and ensure a superior consumer vaping experience. 
For more information, visit:
linkedin.com/company/vape-dinner-lady