Vape Dinner Lady Announces £12 Million Turnover In First 18 Months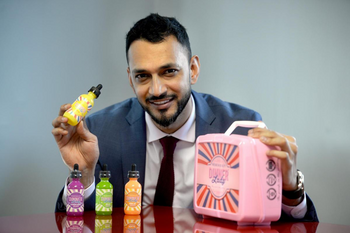 Vape Dinner Lady is pleased to announce that it has generated £12 million in the first 18 months of its operation.
Since its inception in June 2016, the company has won 11 international awards and created a very popular range of flavoured e-liquids, inspired by beloved desserts, including Lemon Tart and Strawberry Custard.
The company's culture is focused upon ensuring that only the highest quality ingredients are used in its e-liquids, and that the needs of the consumer continue to be their top priority.
It's a combination that is delivering incredible growth for a company with just two employees, that now sells to over 50 countries across Europe, Australia and America.
Mohammed Patel, the entrepreneur who set up Vape Dinner Lady said: "In everything we do, we want to make people smile. We stay focused on the customer.
"Our underlying business – and life – principle is based on taking ordinary people and doing extraordinary things. I think we've achieved that with Vape Dinner Lady."
Currently based in Duckworth Street in Bolton, the company is looking to expand and move to a new site that provides more room to support their plans for growth and commercial success.
Press enquiries
For further information on the Vape Dinner Lady and Vape Dinner Lady products contact Adam Moss, Associate Director at Brazen PR on 0161 923 4994 or via adam@wearebrazenpr.com
About Vape Dinner Lady  
Vape Dinner Lady, is part of the GM Group of Companies  and an award-winning,  market-leading, premium vape company, selling high-quality liquids and devices. We have global distribution in over 95 countries. 
In just three years, Vape Dinner Lady has won more than 20 prestigious international awards. The company has invested significantly in state-of-the-art manufacturing and operations to control quality and ensure a superior consumer vaping experience. 
For more information, visit:
linkedin.com/company/vape-dinner-lady