And the Oscar goes to......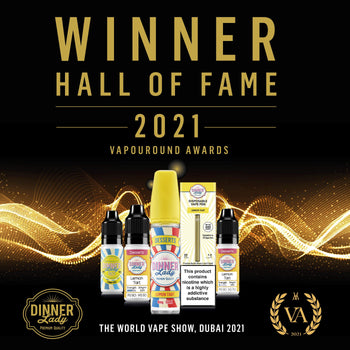 We came, we saw, we conquered!
Home to the Best Dessert Flavour five years running, Dinner Lady is loved around the world for its range of iconic e-liquid flavours.
This year at the prestigious 2021 Vapouround Awards, Dinner Lady has been awarded with the first ever 'Hall of Fame' award. Awarded at the World Vape Show – the first international vape show to be held in the United Arab Emirates, the award recognises Dinner Lady's contribution to the global vape market.
And the good news doesn't end there!
Dinner Lady also placed second for 'Best Dessert' (Lemon Tart) and third for 'Best Disposable' – both excellent results that highlight Dinner Lady's commitment to creating a superior customer experience for vapers everywhere.
Zero to hero: where we came from
Founded in 2016 with just two employees, Dinner Lady has grown from strength to strength and is now one of the world's leading vape brands with retail partners in over 100 countries.
Dinner Lady's Chief Executive Officer (CEO) and founder, Mohammed Patel, said: "It is such an honour to be recognised in this way by the vaping industry.
This is the first time such an award has been given and I am delighted that Dinner Lady has been recognised as making the single biggest impact on the global vaping market.
Back in 2016, we set out with a mission to make exceptional products that would delight customers everywhere and this award represents a key milestone on that journey.
I would like to thank Vapouround and all our customers who backed us from the very beginning, as well as those that are new to us. They continue to support us every day and that is something for which we are very grateful."
Up, up and away! Where to next?
Dinner Lady is committed to providing a superior customer experience with superb vape products that facilitate the switch to a less harmful alternative to smoking. No matter the next steps on our journey, it's safe to say that you, our loyal customers, will be at the heart of everything we do.
Watch this space for Dinner Lady news including new product launches, never-seen-before promotions and all things vape.
Want to be the first to know? Subscribe to our mailing list using the form below.