Stealth Vaping: Vape Like a Pro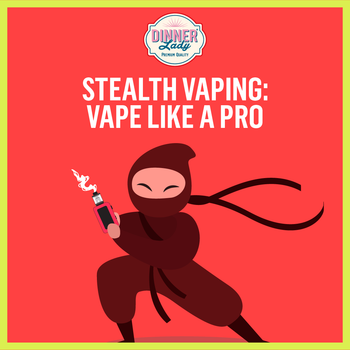 Expelling low amounts of vapour, stealth vaping is an apt name for this popular vaping style. Stealth vaping is inconspicuous and allows a great deal of privacy, making it ideal for those new to vaping or those needing to vape discreetly.
Though this may seem like a pointless feature to many experienced vapers, stealth vaping is loved by many new vapers who prefer a discreet vaping method. Huge amounts of vapour are not always welcome in public places – think cafes, restaurants, pubs, public transport, and other places where the space may be limited and contact with others is unavoidable.
Stealth vaping is also super easy. No special equipment is needed, meaning any adult vaper can get started with stealth vaping.
WHAT IS STEALTH VAPING?
Stealth: the quality of carrying an action out secretly, so that people do not know it is happening – Cambridge Dictionary
Stealth vaping is the act of vaping with minimal vapour production. It is ideal for vaping in places where vaping is frowned upon.
BEST WAY TO STEALTH VAPE
If you're new to stealth vaping, you're probably wondering exactly how to stealth vape. Stealth vaping can be achieved with any low-powered vape kit and e-liquids with high PG e-liquids such as 50:50s and Nic Salts.
BEST STEALTH VAPE KITS
Slim, portable and pocket-sized, the Smok Gram 25 has a variable airflow and variable output of up to 25W, making it an excellent choice for stealth vaping.
Small, lightweight and inhale-activated, the Innokin Endura M18 has a 10W power output that is ideal for minimal vapour production.
The Uwell Caliburn G is equally suited to stealth vaping. Like the Endura M18, the Caliburn G is a refillable pod kit that makes vaping simple and easy. 
Likewide, Upends' Uppen and Uppen Plus are ideal for vaping with minimal vapour. Low-powered pen-style kits with high resistance coils, the Uppen and Uppen Plus are great options for stealth vaping.
The Smok Gram 25, Innokin Endura M18, Uwell Caliburn G, Uppen and Uppen Plus are some of the very best refillable stealth vape devices that are ideal for vaping discreetly when on-the-go.
BEST E-LIQUIDS FOR STEALTH VAPING
Most vapers recommend a high PG for stealth vaping. This is because high VG e-liquids like 30:70s and Shortfills are thicker in consistency, making serious clouds. Since cloud production is exactly what stealth vapers want to avoid, e-liquids with a lower VG content are best-suited to this vaping style.
E-liquids like Dinner Lady's 50:50s and Nic Salts both have an even measure of Propylene Glycol (PG) and Vegetable Glycerin (VG). Since vapour production is kept to a minimum, these e-liquids are excellent choices for stealth vaping.
WHY STEALTH VAPE?
Stealth vaping provides great taste without the intense clouds. It is discreet and most like smoking a traditional e-cigarette.
Whether you're a new or existing vaper, stealth vaping has plenty of benefits. For new vapers, it can help to deter unwanted attention while switching to a less harmful alternative to cigarettes. For existing vapers who like sub-ohm vaping on occasion and mouth-to-lung (MTL) vaping at other times, stealth vapes can give vapers the convenience of a smaller vape kit that works well on the go.
Are you ready to get started with stealth vaping?
Shop our range of stealth friendly hardware here.