Dinner Lady's New and Improved Nic Salts Ice E-Liquid Range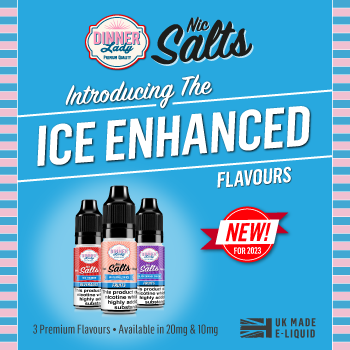 With the temperature rising, there's no better time for vapers to try our new and improved range of ice e-liquid flavours. Whether you're lounging by the pool or enjoying a day at the beach, our new range of nicotine salts e-cig liquid is here to make your summer ice cold!
New Nic Salts E-Cig Liquid
Fresh for the summer, our new and improved range of Nicotine Salts includes nine ice-cold e-cig liquid flavours. The optimised formulation quickly absorbs into the bloodstream to satisfy cravings.
Ice-Cold Flavours
The optimised Nic Salt range includes nine Ice e-liquid flavours to keep you cool all summer long.
Bubblegum Ice
Dinner Lady's improved Nic Salt range includes Bubblegum Ice, a refreshingly nostalgic taste of berry-infused bubblegum. With the addition of koolada, Bubblegum Ice elevates the nostalgic flavour profile with a cool twist set to refresh and invigorate your palate.
Also available in Dinner Lady's best-selling Disposable Vape Pen formulation.
Lemon Sherbets Ice
A fizzy and tangy concoction, the Lemon Sherbets Ice e-cig liquid is the go-to for fans of tangy lemon candies. Enhanced with a touch of icy coolness, each inhale delivers a fresh burst of citrus goodness followed by a refreshing cooling sensation for even the hottest of days.
Blueberry Lemonade
Indulge in the sweet flavour of ripe blueberries enveloped in a cool mist of frosty lemonade. Blueberry Lemonade balances fruit sweetness and icy refreshment that will transport you to sun-kissed shores.
Banana Ice
Enjoy a tropical escape with Banana Ice. Combining the sweet notes of ripe banana and creamy vanilla, Banana Ice is a breath of fresh air in a single Nicotine Salt Ice e-liquid flavour.
A refreshing breath of koolada brings a burst of freshness to the flavour, mimicking the feeling of a cool island breeze. With each exhale, you'll be embraced by the rejuvenating freshness that completes the tropical escape.
Banana Ice is also available in both Vape Pen and Vape Pen Pro formulations for convenient on-the-go vaping.
Tropic Chill
Escape to a tropical paradise with Tropic Chill, a fusion of tropical lemons, limes and oranges blended with koolada. Close your eyes and imagine yourself surrounded by lush palm trees, vibrant flowers and the gentle sound of waves crashing against the shore.
Tropic Chill is also available in the much-loved Disposable Vape Pen formulation, an ideal solution to help ex-smokers transition from cigarettes to vapes.
Watermelon Ice
Watermelon Ice is the perfect accompaniment to summer afternoons spent in the scorching heat. This Nic Salt e-liquid captures the essence of ripe, juicy watermelons and combines it with a refreshing coolness that will invigorate your senses.
The exhale brings a cooling sensation that wraps around you like a refreshing breeze, providing a momentary escape from the sweltering heat.
Watermelon Ice is also available in Dinner Lady's best-selling Disposable Vape Pen Pro formulation, a long-lasting vape device for new and experienced vapers alike.
Black Orange Crush
A Dinner Lady classic optimised for the new and improved Nic Salt range, Black Orange Crush is a tantalizing blend of sweet blackcurrants and tangy ripe oranges. The addition of icy cool koolada takes this flavour to the next level for a fresh and invigorating intake.
Black Orange Crush is also available in Shortfill and Concentrate formulations for existing vapers who like to concoct their own e-liquids.
Pink Lemonade
Quench your thirst with the tantalizing taste of Pink Lemonade. This flavour sensation combines the tanginess of ripe red berries and succulent strawberries with the zing of tangy lemonade. With each inhale, you'll be greeted by a sharp and fruity explosion of flavours, complemented by the refreshing chill of ice.
Pink Lemonade is also available in Disposable Vape Pen Pro formulation, a sleek, durable and discreet device that promises a smooth throat hit with enhanced flavour.
Red Thunder
Get ready to experience a surge of energy and flavour with Red Thunder. Inspired by the exhilarating taste of energy drinks, this e-liquid captures the essence of an iconic beverage, without the midday crash.
The fusion of juicy fruits and icy undertones creates a refreshing vaping experience that will leave you feeling invigorated and ready to conquer the day.
Red Thunder is also available in Disposable Vape Pen Pro formulation for enhanced flavour and discreet cloud production.
New Nic Salts
Dinner Lady's new and improved Nic Salts Ice e-liquid range is a game-changer for vapers seeking a refreshing and cool vaping experience this summer. Whether you're a fan of berries, citrus, bubblegum, or tropical flavours, there's a flavour in this range that's sure to keep you feeling refreshed all summer long.
Beat the Heat with Dinner Lady
Don't let the heat get the best of you! Dive into Dinner Lady's Ice e-liquid range to experience an optimised blend of flavour and vapour that's perfect for the summer sun.
Try out the new and improved formulas today – selected Ice e-liquid flavours also available in Disposable Vape Pen and Vape Pen Pro formulations.