Your Questions, Answered: Everything You Need to Know About Nicotine Salts E-Cig Liquid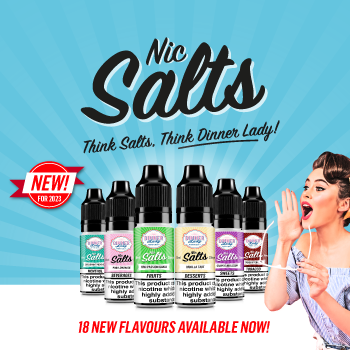 In advance of Dinner Lady's anticipated release of 15 new Nicotine Salt flavours, we're here to cover everything you need to know about Nic Salts. From their composition to their purpose,
Understanding Nic Salts
In recent years, Nicotine Salts have grown increasingly popular with vapers – and for good reason.
Nic Salt e-liquids are formed by adding regular freebase nicotine to acids like benzoic acid. Since freebase nicotine has a higher pH, and therefore increased alkalinity, the benzoic acid helps to reduce the pH level and brevity of the throat hit. The combination of the two therefore helps to minimize the alkalinity to create a smoother throat hit at the strongest nicotine strengths.
Nic Salts vs Freebase: what's the difference?
Unlike freebase e-cig liquids, Nicotine Salts are more quickly absorbed into the bloodstream and therefore more closely mimic the instant hit of nicotine experienced by smokers. For this reason, Nic Salts are preferred by vapers who vape in short, quick bursts.
Freebase e-liquids, on the other hand, take longer to absorb and lead to more frequent vaping in an attempt to satiate the cravings. They are, however, better suited to sub-ohm vaping with less cloud production.
Choosing the Right Strength
Nicotine salt e-cig liquids are available in two strengths: 10mg and 20mg. 20mg Salts are well-suited to heavy smokers whilst 10mg Salts are ideal for medium to light smokers. Find out more about nicotine strengths here.
Choosing the Best Vape Kit
Owing to simple vaporisation and high strength, Nic Salts are best suited to low-powered e-cig devices. Refillable pods and pod mods that are designed for mouth-to-lung vaping are the ideal vaping options.
Avoid devices like high-powered box mods that are specially designed for sub-ohm, direct-to-lung vaping styles. These vape kits are best suited to freebase liquids that are designed for vapour production.
To make things simple, we've curated a selection of vape kits to make it easier to find the ideal e-cig to pair with Nic Salt liquids. Shop here.
The Difference is Dinner Lady
One of the world's leading e-cig liquid brands, sold in more than 115 countries with over 55 awards, Dinner Lady's Nic Salt range is bigger and better than ever before. Free yourself from the burden of average flavours – try 15 new 
New Flavour Options
Enhancing the original range with an additional 15 flavours across 6 different flavour ranges: Desserts, Fruits, Beverages, Sweets, Menthol and Tobacco.
Desserts
Key Lime Tart - Featuring a crumbly, buttery filled crust, with a slight tang of lime custard. A perfect balance of sweet and tart!
Vanilla Tart - This dessert blend is a combination of a crisp pastry shell and a creamy, smooth vanilla filling. A true nostalgic treat!
Beverages
Blueberry Lemonade – a burst of mixed sweet blueberries and ripened raspberries for a whole new take on the famous flavour profile.
Pink Lemonade - A sharp and fruity blend of red berries and strawberries combined in a tangy lemonade, served on ice. 
Red Thunder - Our new energy drink Flavour that's just how you would imagine, but without the caffeine or the mid-day crash.
Fruits
Black Orange Crush - Black Orange Crush tastes like a concoction of blackcurrant and orange crushed over ice.
Grape - Purple and red grapes, sweet, lightly sour, and punchy.
Grape Bubblegum - Indulge in the taste of tangy ripe Grapes, perfectly balanced with a juicy nostalgic Bubblegum.
Kiwi Passion Guava - A trio of tropical fruits that blend to create a delicious and exotic flavour combination, for those who enjoy a refreshing experience.
Cherry Blast - This combination of ripe Cherries, and a blast of cooling Menthol is a must try for any fan of the classic cough drop.
Strawberry Watermelon - A medley of fresh sliced watermelon, honeydew and cantaloupe, complimented by succulent strawberries and a thin layer of kiwis.
Watermelon Ice - A newer take on our famous watermelon profile! With sweet cantaloupe, fresh honey dew and crisp watermelon, this trio will have watermelon lovers across the globe hooked. 
Tobacco
Vanilla Tobacco - This dessert blend is a combination of a crisp pastry shell and a creamy, smooth vanilla filling. A true nostalgic treat!
Sweets
Bubble Mint - Combines classic sweet bubble-gum and a fresh burst of natural mint. Love a "pop" of nostalgia? Then this lip-smacking juicy flavour is for you.
Menthol
Spearmint Menthol - An incredible fusion of spearmint eucalyptus and menthol. Some might say its's the perfect all day vape of menthol profiles. 
Enhanced Flavours
Three of our original flavours have been modified to enhance the flavour. These flavours are Lemon tart, Smooth tobacco and Bubblegum.
Think Salts Think Dinnerlady
If you have more questions about Nic Salts, please send an email to support@vapedinnerlady.com or give us a call on 01254 865915. It would be our pleasure to help you find the best e-cig juice for you.