MIST Reviews Latest Dinner Lady Nic Salt Range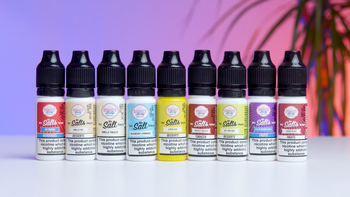 Dinner Lady is one of the most renowned e-liquid manufacturers in the United Kingdom, started in 2016 by two people with an incredible Lemon Tart vape juice recipe and a dream.
Since then, we've expanded our vape juice range, offering e-liquids for MTL puffers and sub-ohm cloud chasers along with elegantly designed disposable vapes - there's likely a Dinner Lady e-liquid for anyone.
Our friends from MIST, a UK vape brand and shop, tried our Nic Salts range. Here are their impressions. 
Key Lime Tart
Score: 8/10 
As mentioned in the intro, Dinner Lady's Lemon Tart brought them to international attention. I was interested to see whether Dinner Lady could get that same zesty flavour to another citrus-fruit tart juice, and I wasn't disappointed.
The distinctive buttery pastry base flavour hits you right away, a rich and slightly creamy taste that immediately lets your tongue know it's in for a treat.
The lime comes in afterward with an interestingly restrained profile. I'll admit I had expected a slightly more 'sour' flavour from a lime vape juice, but the gentle taste of lime zest delicately scattered over the creamy base flavour adds a delightful twist that, in one way, grounds the buttery sweetness while also preventing the sour notes from overpowering the profile, a real risk with lime vapes.
A sweet and moreish pleasant surprise!
Blueberry Lemonade
Score: 7/10
This is a new flavour from Dinner Lady which I'm honoured to give an early tasting. Berry lemonade vape juices are quite a common option nowadays, so I was interested to see Dinner Lady's take on it.
Now I'll admit; blueberry vapes aren't normally my thing. Usually, I find it too subtle a flavour, yet this juice gave me pause! 
The first flavour you notice is the lemonade, and you can taste hints of that classic Dinner Lady lemon flavouring amidst the sweet and sugary soda profile.
The blueberry hits right away, giving a rounded sweetness to the lemony flavour with just the faintest hint of tartness, but not enough to turn it into a sour vape. I also detect the lightest touch of ice in there for a cool palate cleanse on the exhale.
I'm surprised to find myself praising a blueberry vape, but Dinner Lady's delicate balance of sweet flavours really sings with this one.
Vanilla Tart
Score: 9/10
Oh, now THIS is indulgent! I love vanilla flavours and was keen to see how Dinner Lady combined that most prized spice with their famous pastry base flavour, and my god, does it deliver!
The vanilla is loud and proud, immediately hitting you with a velvety cascade of sumptuous sweetness. After that initial blast of creamy flavour, the buttery base notes unfurl magnificently, ensconcing the vanilla taste within walls of rich flakey pastry that settle gently on the tongue.
I had expected a bit of a lingering aftertaste from such a sweet vape juice but found that wasn't the case at all. Indeed, Dinner Lady has crafted quite the session juice with Vanilla Tart, a lovely blend of dairy tastes with a moreish flavour I found myself going back to again and again, even between the other juices I was testing for this review!
Vanilla Tobacco
Score: 10/10
Any cigarillo smoker knows that vanilla melds well with tobacco, and it made sense that Dinner Lady would be keen to bring a pudding note to classic tobacco flavours.
The first thing you taste is Dinner Lady's distinctive tobacco blend. Spiced, rich, earthy, and just a bit fruity; it's quite similar to the kinds of tobacco blend used in shisha pipes.
The vanilla arrives shortly afterward, draping a comforting velvet duvet over the earthy notes. The creamy component works extremely well alongside the tobacco, and Dinner Lady's vanilla is notably creamier and sweeter than the kind you find in other vape juices.
This is easily one of the best juices from the line I've tried, and without question, one of the best vanilla tobacco blends I've ever tried in my decade of vaping. An absolute smash hit.
Smooth Tobacco
Score: 9/10
Now for something rather different. As we've seen, Dinner Lady is very capable of crafting a delicious pudding vape, but what about something a bit more traditional that doesn't have creams and pastry to lean on?
It turns out they've got more than a few tricks up their sleeves! The flavour carries the same spicy, fruity profile of the tobacco used in Vanilla Tobacco, but without the creamy edge - the toasted tobacco notes are really allowed to spread their wings!
It's certainly a lot sweeter than most tobacco vape juices, but if that's a surprise to you, I'm not sure why you were seeking bitter baccy from a company like Dinner Lady!
I found this a delightful session vape, packed full of earthy notes with a lovely sweet edge that proves how much more enjoyable vaping is than smoking. If you're a smoker who can't quite move away from tobacco smoking, try this; the additional sweetness makes it all the more enjoyable without ever becoming overbearing.
Cherry Blast
Score: 10/10
I wasn't totally sure what to expect from Cherry Blast. Fruit, indeed, but what about it is going to blast?
Turns out it was my taste buds.
A luscious sour cherry juice hits your tongue immediately, tangy and sweet in equal measure, and sure to delight fruity vape fans. But right away, you're hit with a powerfully cool note of either ice or menthol, the chill really going out of its way to enhance the cherry flavour.
There's also something else going on with this, a light touch of botanical flavour which elevates the sweetness even further and grants it a nice 'echo' that sticks around on the tongue without becoming too sugary. It lends the juice a nice edge of refreshment that keeps you puffing away frequently.
Cherry Blast may be one of my absolutely favourites from this selection, and I went in with no idea of what to expect! But fans of cool fruit vapes will adore this e-liquid for its balance of fruity sweetness and subtle cooling notes.
Red Thunder
Score: 8/10
Red Thunder is Dinner Lady's effort at an energy drink vape. It's not an easy flavour profile to pull off, as energy drinks have a rather mysterious flavour that's often best described as "mixed fruit and a pound of sugar."
Against all odds, they really managed to capture that distinctive bouquet, a rich and rounded fruity profile with strong sour notes playing in the background. There's a 'strained' taste to it that really does feel reminiscent of a freshly cracked can of energy drink.
There's also a perfectly balanced use of ice in the flavour as well, not enough to impact the taste while still sending a cool blast of tundra chill down your throat to accompany the sweet beverage notes.
Refreshing and invigorating without the midday crash, the perfect way to enjoy that characteristic energy drink flavour and probably the best energy drink vape juice I've ever tried!
Black Orange Crush
Score: 9/10
The rather ominously named Black Orange Crush is another beverage vape effort, but quite a distinct one that I can't quite place the inspiration for.
Right after the inhale, you get the dark, rich taste of blackcurrants. Tangy and sweet, they perfectly lend themselves to a drink-based vape juice flavour. Following up right is the luscious flavour of freshly squeezed oranges, a zesty citrus note that dances well with the berry notes.
A generous dose of ice is also included to conjure a summery poolside drink vibe, seductive and stirring to the senses.
Interestingly, the sweetness hits right at the back of the tongue, likely aided by the icy addition. It's a novel way for a vape flavour to hit, making Black Orange Crush a unique but extremely memorable flavour that I reckon will become a surprise hit for many.
Bonus: Lemon Tart
Score: 10/10
Finally, we felt it was important to return to roots for the last flavour. Lemon Tart is, of course, the flavour that made Dinner Lady famous. I was looking forward to trying this one to see if the flavour profile has been adjusted over the years.
The buttery pastry profile we saw in Key Lime Tart hit immediately, accompanied by a far zestier citrus note of sweet Sicilian lemons. Dinner Lady ensures that the zest never dominates the profile - difficult for a lemon vape! It lets the pastry notes speak first, with the lemon aroma slinking in afterward to drench your tongue in sweet fruity notes.
It's incredibly nostalgic, and not just in terms of being a classic British pudding treat. It harks back to vaping's early years when everyone was trying to land upon that one killer flavour that would bring the boys to the yard.
There's definitely a sweeter note than before, with an emphasis on dessert vibes rather than just simply citrus pleasure. Despite the years, Dinner Lady has accomplished the task of perfecting their lemon tart flavour, and the vaping world is all the better for it.
MIST's Verdict 
Final Score: 9/10
Having given each of these Dinner Lady Nic Salts a try, we are happy to say that Dinner Lady very much deserves their reputation for greatness. All e-liquids offer a spectacular balance of flavours. Our favourites include:
Vanilla Tobacco:

A mesmerisingly tasty exploration of just how well velvety vanilla can enhance the naturally rich flavour of tobacco, perfect for recent smokers.

Cherry Blast:

A real dark horse winner, celebrating natural cherry sweetness with a mentholated enhancement that really makes the fruity notes sing.

Lemon Tart:

The returning champion, with a sweeter profile than before that lets the buttery pastry notes take centre stage with every pudding puff.
MIST Methodology
Dinner Lady supplied MIST with the e-liquids tested for this review. All of them are nicotine salts with a 50 VG / 50 PG mix ratio and a 20mg nicotine strength. The juices received and tested were as follows:
Key Lime Tart

Vanilla Tart

Vanilla Tobacco

Smooth Tobacco

Cherry Blast

Red Thunder

Blueberry Lemonade

Black Orange Crush

Bonus Juice: Lemon Tart
As for the vape device, we used a Freemax Maxpro 3 Pod Kit with 1.2ohm MD Mesh Pods since its coils provide the best flavour.  
To watch the full review please CLICK HERE