Dinner Lady's Black Friday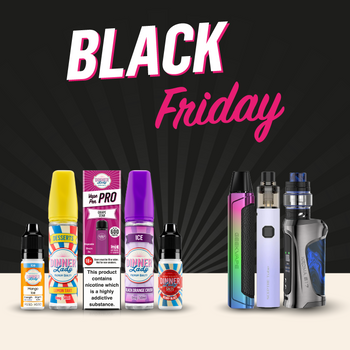 2022 Black Friday Vape Deals - Vape Dinner Lady Sale
This Black Friday we are introducing great vape deals on selected products, including 60% Off 50:50, 30:70, Nic Salts and Shortfill E-Liquids.
History of Black Friday
The history of Black Friday goes back all the way to the 19th century associated with the financial crises and no sales weekend. The first time Black Friday was used to describe a financial crisis was in 1869. Jim Fish and Jay Gould, two Wall Street financiers bought so much gold to drive the market prices high and sell it later for profits. It caused the gold market to crash and eventually the stock market was sent into free fall bankrupting everyone.
Dinner Lady's Black Friday Deals – 25th - 30th November
This year, Dinner Lady is going to give customers the best Black Friday vaping deals on some of the best Dinner Lady vaping products. Dinner Lady's Black Friday deals will start from 25th - 30th November 2022. With a wide range of vaping products to some of the best Award-Winning E-Liquids around the world.
We have prepared mind-blowing deals for people who want to switch to vaping from smoking. So enjoy incredible savings on everything from disposable vape to perfect vape juices. 
Black Friday Buyers Guide
Black Friday is around the corner, Dinner Lady is launching exciting Black Friday vape deals with plenty of surprises lined up for you. 
Disposable Vapes
One of the easiest and hassle-free ways to get started with vaping. These are small and portable devices that come with up to 400 puffs in our Vape pen and up to 600 puffs in our new Vape Pen Pro.
Standard 50:50 10ml Bottles
With an even blend of VG and PG, 50:50 e-liquids provide a balance of flavour delivery and vapor production. Dinner Lady 50:50 liquids are versatile and can be used in a range of devices to provide both an MTL (mouth to lung) and a DTL (direct to lung) inhalation hit. 50:50 liquids are available in a range of flavours with 4 different nicotine strengths; 3mg; 6mg; 12mg and 18mg.
Nicotine Salts 10ml
Nicotine Salts (also commonly known as Nic Salts) are a relatively new innovation with the advantage of being most like smoking due to the strength of the nicotine and the chemical composition of the compound being quickest to enter the bloodstream.
As Nicotine Salts are the most similar form of nicotine that you would find in tobacco, they are an effective nicotine replacement option with a reputation as a smoother vape with a higher flavour intensity and longer-lasting hit. Nic Salts are compatible with Pen, Refillable Pod and Pod Mod devices.
Shortfills 30:70 10ml
Following the EU's Tobacco Products Directive of 2016, e-liquid with nicotine can only be sold in 10ml bottles. Dinner Lady Shortfills contain 50ml nicotine-free e-liquid in a 60ml bottle, allowing vapers to add either a nicotine or CBD "shot" to create their own, DIY Shake and Vape formulation.
Often referred to as Cloud-Chasing Juice, Shortfills combine 70% VG and 30% PG to create impressive, dense clouds with a rich flavour.
Concentrates 30ml
Despite being a worldwide market leader in creating realistic flavours, Dinner Lady recognises that some vapers like to experiment. Concentrates are the ideal e-liquids for vapers who like to create their own DIY flavour combinations. Concentrate e-liquids are 100% PG, serving as the perfect base on which to create a unique flavour palette.
Gifts For Vapers – Christmas Vape Gift 2022
Looking for the perfect gifts for vapers this Christmas? For someone who wants to swap from smoking to vaping, we offer Disposable vapes and vape kits on our website. If you are an experienced vaper or a beginner, you'll know there are many essential things to put in Christmas gifts.
Christmas is near and Black Friday deals are the perfect way to purchase vape gifts for you and your vaping buddies. This Black Friday is a great way to save some money and get a great piece of vaping kit or try some of our disposables including the new Vape Pen Pro.
Keep in mind, vaping is not completely nicotine free, you can adjust your nicotine intake with vaping devices. Gift vaping products to someone this Christmas who is looking for the best alternative to reduce cigarette cravings.
Conclusion
We here at Vape Dinner Lady think that Black Friday is a great way to get the products you always wanted at a bargain of a price. What did you think of this blog? Is there anything you would like me to change going forward? Tell us on our socials.
Thanks, From everyone at Dinner Lady.